Alumni Spotlight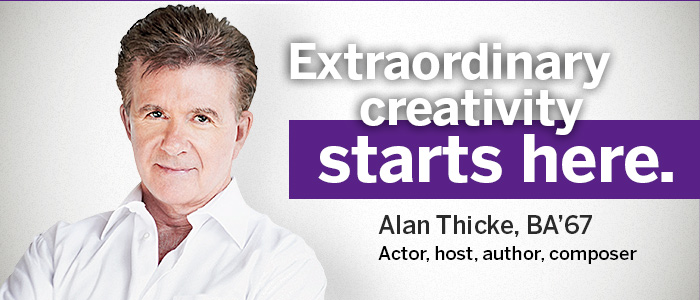 Award-winning entertainer, Alan Thicke, BA'67, has many talents. After more than four decades as an actor, host, author and composer, he continues to entertain and shine. And his star power first sparked at Western.
Alan Thicke's new reality television show, Unusually Thicke debuts this April. Thicke and his family returned to Western last summer to shoot scenes for the third episode in the season. Alan proudly toured his family across the campus of his alma mater, sharing many poignant and comical stories along the way. Faculty of Arts & Humanities student Elizabeth Nash acted as tour guide during his visit, and was able to show Alan's teenaged son Carter the vibrant Western campus enjoyed by students today. The Thicke family were extremely friendly and gracious during their visit to Western, and our staff had a great time interacting with them over the two days of filming. Tour guide Elizabeth, a third year English student, reflects on her time spent with the Thicke family:
Diving into the Thicke of Things 
From my time here at Western, I've learned that Western has over 250,000 alumni in over 150 countries across the globe. But as a current student, I never paid attention to the details: who were the faces behind the numbers?  
I recently had the opportunity of meeting Alan Thicke, BA'67. The first thing that struck me about Mr. Thicke was how "at home" he seemed. With a sweeping gesture of his arms that encompassed University College hill, he dived into telling stories from his years on campus. From football to fraternities to academics, Mr. Thicke had experiences with each aspect of campus life. He even knows the school song! 
Of course, campus has changed since 1967. Mr. Thicke was enthusiastic in seeing his old haunts, such as the Great Hall, but as well as discovering new places. He had never seen Conron Hall before – and I encourage anyone reading this to see the room as well! I truly feel like I'm at Hogwarts. Between the stained glass windows and the vaulted ceilings, campus truly does seem magical.   
Mr. Thicke's son, Carter, accompanied us on our visit. Carter is considering coming to Western, and wanted to get to know his father's alma mater. Carter's interests, primarily in the faculty of Arts and Humanities, led us into great conversations: why I chose Western, Carter's upcoming decisions with his school, and how he feels living with a famous Dad. 
Looking back, not only did I have the great opportunity of meeting Mr. Thicke, but as well of meeting one of Western's alumni.  It's easy for current students to get caught up with essays, exams, and cramming for tests – but it's nice to step back and hear about what alumni have done with their degrees. Each alumnus and alumna has his or her story, and I can't wait to discover more.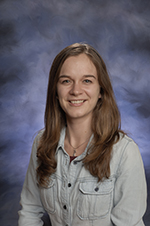 Elizabeth Nash, 3rd Year Honours Spec. in English Language and Literature and Creative Writing with a Minor in French Translation and Language, is the incoming President of Western's Arts & Humanities Students' Council