Dr. Audrey Bouvier
Isotope Cosmochemistry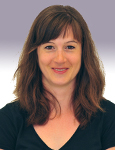 Assistant Professor
Ph.D. École Normale Supérieure de Lyon, 2005
Office: BGS 1040
Phone: 519-661-2111 x.88516
Fax: 519-661-3198
Email: audrey.bouvier@uwo.ca
Research Interests
Understanding the formation and evolution of planetary bodies within the inner Solar System through chemical and isotopic studies of planetary materials.
High resolution chronometry of planetary processes based on short- and long-lived radionuclides to study the dynamics of the solar nebula, planetary formation and differentiation, and impact histories of planetary surfaces in the Solar System.
Development of new geochemical approaches and cutting edge laboratory techniques.
Selected Publications
Bouvier A., Wadhwa M., Simon S. B. and Grossman L., 2013. Magnesium isotopic fractionation in chondrules from the Murchison and Murray CM2 carbonaceous chondrites. Meteoritics & Planetary Science 48, 339-353.
Moynier F., Day J. M. D., Okui W., Yokoyama T., Bouvier A., Walker R. J. and Podosek F. A., 2012. Planetary-scale strontium isotopic heterogeneity and the age of volatile depletion of early Solar System materials. The Astrophysical Journal v. 758, 45-51.
Bouvier A., Spivak-Birndorf L. J., Brennecka G. A., Wadhwa M., 2011. New constraints on early Solar System chronology from Al-Mg and U-Pb isotope systematics in the unique basaltic achondrite Northwest Africa 2976. Geochimica et Cosmochimica Acta v.75, p. 5310-5323.
Bouvier A., and Wadhwa M., 2010. The age of the Solar System redefined by the oldest Pb-Pb age of a meteoritic inclusion. Nature Geoscience, v. 3, p. 637-641.
Bouvier A., Blichert-Toft J., and Albarède F., 2009. Martian meteorite chronology and the evolution of the interior of Mars. Earth and Planetary Science Letters, v. 280, p. 285-295. 
Bouvier A., Vervoort J. D., and Patchett P. J., 2008. The Lu–Hf and Sm–Nd isotopic composition of CHUR: Constraints from unequilibrated chondrites and implications for the bulk composition of terrestrial planets. Earth and Planetary Science Letters, v. 273, p. 48-57.
Teaching
ES3313A: Igneous Petrology
ES2250Y: Introductory Field Mapping Techniques
Students
Opportunities for M.Sc. or Ph.D. students interested in isotope geochemistry and cosmochemistry research in meteorites, planetary materials, and terrestrial impact craters will be available starting in Fall 2013. Contact Dr. Audrey Bouvier (audrey.bouvier@uwo.ca) for further information.