Pushing the Boundaries of Discovery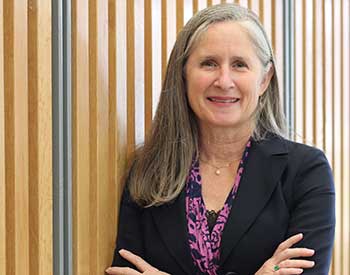 With six schools and an interdisciplinary graduate program, what ties the Faculty of Health Sciences together is a commitment to improving human health around the globe.
We are uniquely positioned to push the boundaries of discovery and work together, across disciplines and with our partner faculties and institutions, to develop a greater understanding of the scientific and social factors that impact our health.
The research conducted in the Faculty of Health Sciences is at the foundation of all we do. It influences how we teach, at both the undergraduate and graduate levels, and shapes our vision for the future of this faculty. 
We look forward to growing our research portfolio, while also maintaining our commitment to providing a student experience that is second to none, as our students are our top priority.
Yours in Health,

S. Jayne Garland
--
More About S. Jayne Garland, PhD
Dean - Faculty of Health Sciences
Professor - School of Physical Therapy
PhD (McMaster)
MClSc (Western)
BScPT (Queen's)
Western University (Health Sciences)


Professor and Dean: 2016 - present

University of British Columbia (Department of Physical Therapy)

Western University (Physical Therapy)

Director: 2000-2008
Professor: 1989-2000
Motor Control
Stroke Rehabilitation
Canadian Physiotherapy Association
Society for Neuroscience
Canadian Institute of Health Research (Reviewer)