HRS student earns research award at AudiologyNOW! 2014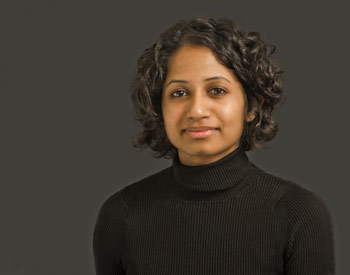 Health and Rehabilitation Sciences PhD student Viji Easwar was one of five recipients of the Student Research Forum Award presented at the 2014 AudiologyNOW! Conference of the American Academy of Audiology, held March 26-29 in Orlando, Florida.
Studying in the Hearing Science stream of the HRS program, Easwar's research is based at the National Centre for Audiology under the supervision of Susan Scollie and David Purcell.
Her presentation at AudiologyNOW! focused on the utilization of speech-evoked Envelope Following Responses (EFRs) to improve the evaluation of hearing aid fittings in infants.
Prior to coming to Western, Easwar practiced as a pediatric audiologist in the Royal Hospital for Sick Children in Glasgow, Scotland. She completed her clinical training (MSc) at the University of Southampton (England), and received her BSc at the University of Mysore (India).