Partnering research and industry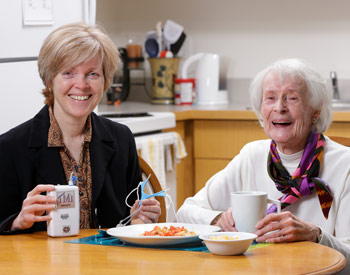 Technology helps prompt swallowing in humans

by Nicole Laidler
Swallowing is one of those things that most of us take for granted. It seems as natural as breathing, and is just as important to our survival.
So it's a bit surprising that there are so few options available to people who suddenly lose the ability to swallow after a stroke, or due to illnesses such as Parkinson's disease, dementia, and certain cancers.
But better help for people with dysphagia – or difficulty swallowing – may soon be on its way thanks to Professor Ruth Martin of Western's School of Communications Sciences and Disorders.
Martin has spent a good part of her career studying swallowing, research that has led to her current work with Trudell Medical International on the development of a therapeutic device that can effectively prompt a swallow in humans.
"Swallowing is one of those under-recognized problems that affect a lot of patients," says Martin. The inability to swallow can lead to pneumonia, and contribute to dehydration and malnutrition. "A swallowing problem can be life or death,"
she says.
Current treatments for dysphagia include a restricted or liquid diet, or the use of a feeding tube. "There are problems with these solutions, in terms of quality of life," says Martin, who was motivated
to find a better solution.
With a background in speech pathology, Martin came to Western in 1994 to continue previous research mapping the part of the cortex that controls swallowing in animals. Using the functional MRI scanner at the Robarts Research Institute, she was able to map the swallowing neural representation in humans.
"The studies showed that it's not just one part of the brain involved in swallowing, but several brain areas working together," she says. "And in large part those areas are not just motor control areas, they are sensory processing areas."
That research, combined with her previous work with animals, led Martin to ask the question: Can we develop a way to prompt swallowing in humans?
After exploring various sensory stimulation techniques, Martin and her team discovered they could evoke a swallow by introducing trains of air pulses to the back of the mouth.
Martin, who serves as the Faculty of Health Sciences' Director of Industry Research Partnerships and Innovation, licensed her technology to Trudell Medical in 2009. Working closely with Trudell's product development team, she has now developed a portable device that can be used in both a hospital setting and at home.
Currently called Swallowing Air Pulse Therapy, or SWAPT, the prototype consists of a small control unit attached to a lightweight, disposable mouth piece that delivers oscillating air pulses to the back of the mouth.
A successful clinical trial has already been completed with a small group of patients at Parkwood Hospital in London, and Martin is looking forward to conducting a larger randomized trial that will look at health outcomes in patients with dysphagia.
"Ruth is extremely rigorous in her scientific pursuit and very creative," says Trudell Medical president and CEO, Mitchell Baran. "We recognized that quality in her, recognized an unmet need, and hope we can take the device to market and help a lot of people affected by the problem."