Research with Purpose
Partnering to create positive change
by Ann Jolliffe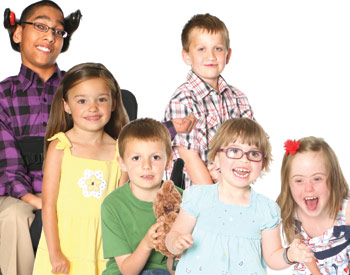 Life is filled with unanswered questions. For some, answers are essential for growth and change. For others, seeking answers is a passion and a way of life.
Just like any great relationship, seeking the partner that complements you best can make finding answers much less daunting. For the Thames Valley Children's Centre, this perfect match has been found at Western University.
Serving London and Southwestern Ontario for more than 60 years, the Thames Valley Children's Centre provides a wide range of rehabilitation services to children from pre-birth to young adulthood. The centre focuses on rehabilitation for physical disabilities, communication disorders, developmental delay and autism spectrum disorders.
With more than 7,000 children being helped every year, TVCC has long stood as a diverse training ground for students in Western's Faculty of Health Sciences. As future leaders in their perspective health care fields, Western students receive hands-on training in a leading edge rehabilitation centre.
Due to high demand for services offered at TVCC, there is a constant need for answers to questions posed by clinicians, families and clients.  It is at this point that Western University researchers stepped in to help.
Kimberly Simpson, a research coordinator in the Faculty of Health Sciences says, "There has been a long standing partnership between TVCC and Western, and we are realizing how beneficial this relationship can be. Clinicians have questions and researchers have the ability to find answers to those questions."
By having mutually beneficial relationships between institutions and communities, so much change and progress can be made. Solutions can be found for real-life problems by collaborating resources. Simpson notes, "It's about people-based research. Engaging clinicians, asking researchers questions, doing the project and giving back results."
To help fuel dialogue, the Faculty of Health Sciences will host its inaugural Child Health Symposium in May 2014. As just one of the many outcomes from the partnership between TVCC and Western, the Symposium presents researchers, clinicians and students with the opportunity to not only share knowledge and ideas, but also to ask questions and present current research interests.
As a time to network and build relationships with other professionals working in the child health field, the Child Health Symposium will create another platform for collaboration between the community and the university.
Karen Lowry, Director of Quality Management at TVCC says, "The Child Health Symposium is a great opportunity to get people who may not have the time and resources to do extensive research together with those who do."
"In some cases we have found that researchers at Western are already working on projects that can benefit Thames Valley Children's Centre greatly. By implementing more formal channels of communication eyes will be opened to new research that each organization is working on," notes Lowry.
Similar partnerships have been created in the past, such as one between researchers at Parkwood Hospital and Western University. The Aging, Rehabilitation and Geriatric Care Symposium was established in 2008 and has made great progress in opening up channels of communication for health research with the aging population.
Although both partnerships are making real changes, there is one difference. The driving force behind the TVCC-Western relationship was the need to fill a gap felt by those in the community. Researchers in the Faculty of Health Sciences are supplying clinicians, families and clients of TVCC with information to better their services and, ultimately, the lives of those in need of the services offered.
"We have therapists hearing new information from Western students regarding research findings and then being able to use that information to make changes to client practices," states Lowry.
"Although this has been a long standing relationship," says Lowry, "it's never been a systematic approach. Now there is an organizational commitment to one another which will help foster so much positive change.
After 25 years of informal collaborations between TVCC and the Faculty of Health Sciences, the partnership has grown into a formal commitment determined to better serve those in the community. By opening the lines of communication between clinicians at Thames Valley Children's Centre and researchers at Western University, positive changes can be made to benefit those in need of rehabilitation services in Ontario.
"At the end of the day it's about making a difference in the lives of many children and families," Lowry states.
A strong relationship has been born between an organization needing answers and an institution passionate about finding them. With the same goal in mind there are only great things to be done.