Shauna Burke, PhD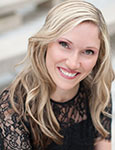 Assistant Professor
School of Health Studies
Room 216, HSB
519 661-2111 x82214
sburke9@uwo.ca
@ShaunaMBurke
Education
MA, PhD (Western University)
BKin Hons (McMaster)
Supervising Graduate Students
Research Interests 
Infant, child, and youth health
Childhood obesity
Measurement and promotion of physical activity in children and adults
Breastfeeding and infant feeding practices
Health promotion
Group dynamics
Research Affiliations
Faculty researcher in the Health Promotion Laboratory at Western University
Principal investigator of the Children's Health and Activity Modification Program ("C.H.A.M.P.") and "C.H.A.M.P. Families" program

Family-based programs targeting childhood obesity in the London, Ontario community.
Teaching Areas
Personal Determinants to Health
Child and Youth Health
Research Methodology and Scientific Writing in the Health Sciences
Awards
Faculty of Health Sciences Recognition of Achievement for outstanding contributions to teaching: 2007, 2008, 2009, 2012, 2013
"Outstanding Reference Source" award from the American Library Association for: Carron, A. V., & Burke, S. M. (2010). Group cohesion. In J. M. Levine & M. A. Hogg (Eds.), Encyclopedia of Group Processes and Intergroup Relations (pp. 316-320). Thousand Oaks, CA: Sage.
Professional Activities
Member of the Canadian Obesity Network (CON; 2007-present)
Member of the North American Society for the Psychology of Sport and Physical Activity (NASPSPA; 2003-present)
Member of the International Society for Behavioral Nutrition and Physical Activity (ISBNPA; 2008-present)
Member of the HealtheSteps Chronic Disease Network (2012-present)
Member of the International Lactation Consultant Association (ILCA; 2012-present)
Recent Publications
Harden, S.M., Burke, S.M., Haile, A.M. & Estabrooks, P.A. (2013). Generalizing the findings from group dynamics-based physical activity research to practice settings: What do we know? Evaluation and the Health Professions.
Pearson, E.S., Irwin, J.D., Burke, S.M. & Shapiro, S. (2013). Parental perspectives of a 4-week day-camp for children with obesity. Global Journal of Health Science, 5(2), 111-122.