Building Services - Working Together to SHAPE Our Future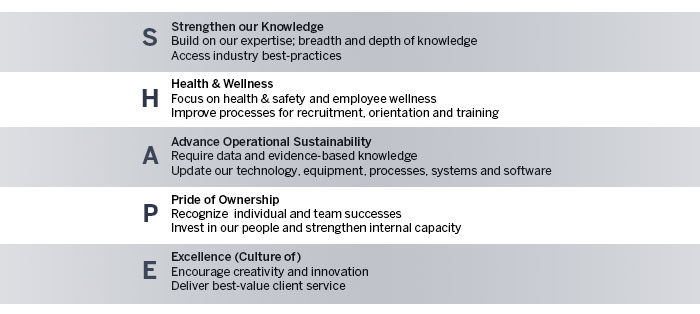 COMMUNICATIONS MATERIAL
FM Connects - Presentation Slides - Oct 18, 2017
SHAPE Consultant Selection and Next Steps - Sept 21, 2017
Western News Article - April 27, 2017
SHAPE Presentation Slides from April 18 Town Hall
SHAPE Information and Contact Handout from April 18 Town Hall
INFORMATION SESSIONS
Town Hall - Building Services Employees - April 18th, 2017 @ 11am in McKellar Theatre (UCC)
Town Hall - Building Services Employees - April 18th, 2017 @ 1pm in McKellar Theatre (UCC)
Town Hall - Building Services Employees - April 18th, 2017 @ 8pm in London Hall, Rm. 100
FREQUENTLY ASKED QUESTIONS
The Study will focus on FM's Building Services operations only. Throughout the process, in addition to our Building Services team members, we will look to gather input from our key clients and keep them updated with respect to our progress. Other Universities will provide a comparison for how we rank in the standards for educational institutions.
As we move through the Study, we will look for opportunities to share input provided by our internal team as well as key findings from the consultant. While we do not expect a final report from the consultant, there will be a number of milestones with associated communications.
If you have feedback, connect with whomever you feel most comfortable - that may be your Building Manager or another member of the FM leadership team, your Union Executive or Lead Hand. You can also pass feedback along to fm-shape@uwo.ca.
Communications shared through fm-shape@uwo.ca will be routed to three members of the Study Team: Kelly Seguin, HR Consultant; Brandon Watson, Communication Officer; and Sabrina Tingle, Project Coordinator. They will review feedback and coordinate responses. While the email is not confidential, your name will not actively be attached to your feedback - it will be noted for communication purposes only and shared further only if the sender signals it is OK to do so. If you don't feel comfortable communicating in this manner, there will also be an opportunity to communicate anonymously through the consultant.
We will design a multitude of ways in which staff can contribute including, but not limited to, surveys, focus groups, team meetings and our established fm-shape@uwo.ca email. We will also ask the consultant to set up a confidential avenue for collecting feedback.
In our Town Hall presentation, we listed the initial Study Team members. This early team focused on communications and language relating to the Request for Proposal (RFP) process associated with our consultant search. As we move forward, the team membership and focus will change. Moving forward, we assure you there will be multiple ways for every members of the Building Services Team to contribute. We both want and need your input for this initiative to be successful.
This is a collaborative process and we want to make sure we hear a lot of voices. We will be working with the consultant to ensure they obtain feedback from a representative cross-section of our Building Services team. If you would like to volunteer, you can send an email to fm-shape@uwo.ca - we will note your interest and look for ways to engage you.
To support communication and transparency, we have set up a communication page on the FM Intranet website (from the FM home page, click on Employee Tools and input your Western user name and id to access the site). The intranet will contain information and communications relating to the Study and will be continually updated. For example, the Town Hall presentation and summary handout are available on the site.
In 2010, an external consultant, DCS Global Enterprises, was brought in to assess cleanliness levels across our campus. This study was of limited scope and resulted in the implementation of some improvement actions, however, much of our staff and leadership team has changed since this study was completed. This is an ideal time to review our operations and consider how we can collaboratively improve our operations to sustain a strong position for the future.
There are several reasons we decided to move forward with a Caretaking Study at this time. Firstly, we have been listening and noting your concerns as raised over the past few years with the leadership team, at Union Management meetings and through the performance dialogue process. Secondly, we recognize that many of our processes our outdated - for example, the Caretaking Manual is from the days of the typewriter. We have never done a complete examination of our entire Building Services operations. Lastly, we are also seeing future budget pressures and need to reconsider how we deliver services in order to navigate through the constrained environment. We want to make it clear that this Study is in no way linked to current CUPE negotiations - this Study will begin in earnest later this fall well after the collective bargaining process is complete.
A Request for Proposal (RFP) is a solicitation process that Western uses to seek competitive offers from vendors for the procurement of goods and services. The RFP outlines the deliverables, evaluation process, contract terms, and provides guidance on how vendor proposals should be formatted and submitted.
Evaluation criteria have been chosen to rate each of the vendors submitting a proposal. These criteria include the vendors past experiences, the project plan, overall duration of the project, interviews and, of course, their cost proposal. As well, we assess the vendors on the mitigation of risks they have identified for the project and the value added ideas they bring forward in their proposals. All of these items are scored for each vendor and the highest overall scoring vendor will be invited to enter contract negotiations with our team.
The Caretaking Study is for the benefit of our Building Services team. Different units will go through studies at various times as part of the strategic planning process. For example, our Operations team recently participated in a Utilities and Infrastructure Study.
At this stage, we wanted to communicate early details around the Caretaking Study and to let you know that we will be issuing a Request for Proposal in the coming weeks. We expect to complete a review of consultant proposals and be through the interview process later this summer. Ideally, the selected consultant will be on site later this summer and into the fall. At this point, it is unclear what timelines the consultant will require - it may be that their review can be wrapped up early in 2018 or they may need a longer period of time to gain a complete understanding of our complex operations through a full annual cycle. We commit to keep you posted as consultant activities are defined and timelines are established.
We want to make sure the consultant has an opportunity to review our complex operations. That means they will need to understand our diversity in terms of campus/residence operations, team member status (RF, Sessional, PT, TF), operational shifts, as well as cyclical processes such as restorative cleaning, conference services support, and residence turnovers. The consultant will gather information through a number of methods including observation, interviews, surveys and focus groups. We are mindful that September is a busy time of year for our team, so it may be that the consultant uses that time to conduct facility audits and make observations. At this stage, we are not sure how much of our operations the consultant will need to observe firsthand rather than through interviews - it will depend on their knowledge base and preferred method of data collection. It is of utmost importance that the consultant has all the information required to complete a thorough review and if the Study runs longer than anticipated, we are willing to be flexible with our timeline.
We believe that our caretaking services provide Western with a competitive advantage and that, when compared to universities that have chosen to outsource, we are stronger performers. We can, however, still compare ourselves with those institutions as there may be some things their service providers are doing that we can learn from.
We currently follow the Association of Physical Plant Administrators' (APPA) Operational Guidelines for Educational Facilities and we do not expect that will change. We do, however, need to understand how we rank in the standards and the consultant can add that clarity. At this point, it is difficult to predict how our Study will impact our cleaning standards.
Feedback