Parking Tip of the Month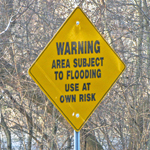 Springtime melts and summer storms can cause flooding on campus. Look for signs that designate whether a parking area is subject to flooding or check Western's weather page for campus weather conditions and any related impact on operations.
Announcements
Welcome to our new website!
We hope you'll find our new site easy to navigate, however, if you run into any difficulties please email sbenko2@uwo.ca with your query.
2014/15 Academic Year Permits
We are now processing Faculty/Staff Permits and Student Permits for the 2014/15 academic year. All applications must be completed online.
Please Note: Processing of permit applications may take up to 3 business days. Vehicle Registration and Western ONECard are required for validation of all new parking accounts.
What We Offer