o.v.e.r.p.a.c.t. at The Arts Project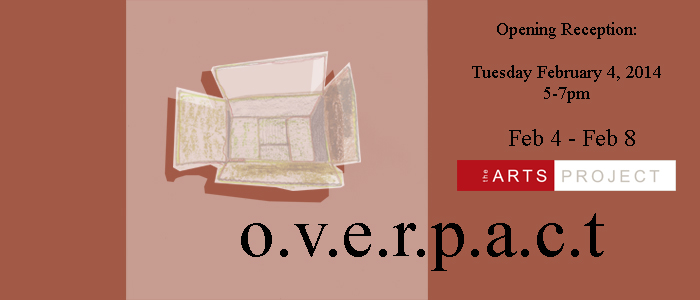 This show is a gathering of the artistic practices of eight young artists in London. These works are 'overpact' in variety of medium and conceptual ideas. We all have different areas of artistic interest, including painting, drawing, video art, print making, and performance.
This exhibition is part of the ongoing academic offerings at Western University and was organized by Prof. Kim Moodie in conjunction with his Class: VAS 3382A - Honors Studio Seminar II.
Ôdré Lefebvre
Victoria Delle Donne
Erik Skouris
Randi Aiken
Patrick Nunziata
Amy Harrington
Caroline Vejvoda
Taylor Doyle
February 4-8, 2014
Opening Reception: Tuesday February 4, 5-7pm

The Arts Project
203 Dundas Street
London, Ontario, N6A 1G4

More information: http://www.artsproject.ca/gallery/o-v-e-r-p-a-c-t