Western's Caucus on Women's Issues is proud to present its latest video, VOICES OF DIVERSITY. The goal of the video is to help create a culture of safety, respect and belonging on campus. Copies of the DVD are available through The Book Store at Western - ORDER NOW!

CAUCUS ON WOMEN'S ISSUES PRODUCES NEW DVD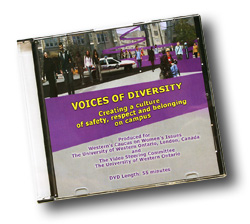 DECEMBER, 2008 - Provocative, insightful and highly personal, VOICES OF DIVERSITY: Creating a Culture of Safety, Respect and Belonging on Campus is a timely and unique video. The video challenges viewers to consider what it means to study, live and work at a Canadian university or college today.

Order Now! More Information...
Also from this web page:
Contact Information
Associate Professor
T: 519-661-2111 (X84521)
E: bmacl@uwo.ca
---