Graduate Research
Vanier Canada Graduate Scholarship recipients are selected based on leadership skills and high standard of scholarly achievement in the social sciences, humanities, natural sciences, engineering and/or health sciences. Each scholar receives $50,000 annually for up to three years. 
2020
Florence Wullo Anfaara
PhD, Women's Studies and Transitional Justice
Promoting Community Health and Wellbeing in Liberia: The role of Peace Huts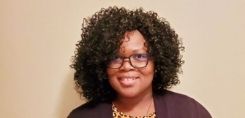 Liberian women who work in peace huts were instrumental in ending the 2014 Ebola epidemic. Yet, little is known about the strategies they used to contain the outbreak.
In addition to international responses, women in peace huts were active in mobilizing Ebola-affected communities to create local interventions that helped end the outbreak.
Established about 17 years ago, peace huts are spaces where women meet to resolve disputes and domestic violence through mediation and conflict resolution and promote community health and well-being. Liberian women viewed the end of Ebola as vital to sustainable peace.
Florence Wullo Anfaara uses a mixed-methods approach to address three objectives: First, to identify, document, and disseminate the strategies used by women to support Ebola-containment efforts and how in the context of limited resources these strategies can be replicated to prevent future outbreaks. Second, to assess how women view these strategies as connected to their peace work; and third, to examine how peace huts contribute to community health and well-being.
Findings from this study will inform the design of robust health policy on infectious diseases in sub-Saharan Africa, and in Liberia in particular, as it strives to meet the Sustainable Development Goal 3.3 on ending infectious diseases by 2030.
Jessica du Toit
PhD in Philosophy
Human Vulnerability and Medical Ethics: Towards Proper Protections For All Vulnerable Research Participants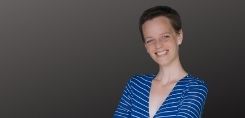 The protection of vulnerable research participants is a central tenet of human research ethics. Despite this fact, we lack a thorough understanding of what makes certain human participants vulnerable.
This has serious practical implications. Without this understanding, we are unable to identify all of those needing special protections. Thus, we run the risk of exploiting many vulnerable research participants.
Terrible in and of itself, this could also lead to an erosion of public trust in the research enterprise, and the ultimate demise of human participants research.
To avoid these prospects, Jessica du Toit will focus on the concept of vulnerability. She will consider three questions: What does vulnerability mean for human participants research? Who is deemed vulnerable? What special protections are owed to vulnerable research participants?
She will develop, test and refine conceptual conclusions, as well as develop knowledge translation materials so her work can be used to better protect vulnerable research participants.
---
2019
Jemima Nomunume Baada
PhD, Women's Studies and Feminist Research, with the collaborative specialization in Migration and Ethnic Relations
Examining the Dual Effects of Climate Change and Multilateral Investment on Agrarian Migration in Ghana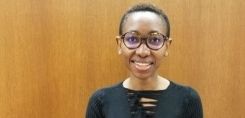 In Ghana, the effects of climate change are worsening in the northern sector. Therefore, most people who depend on farming and forest resources migrate to southern Ghana for better lives. At the same time, growing foreign investments in the south are attracting migrants. Yet, we know little about how changing climates and growing foreign investment affect people in rural migration origins and destinations.
It is important to study the combined effects of climate change and foreign investment on migration in Ghana as existing research focus on one or the other, although they are linked. Furthermore, rural dwellers – particularly women and children – tend to be excluded from most studies on climate change, migration and investment in developing regions.
Baada's research explores the lives of return-migrants and non-migrants in the Upper West, which has high rates of outmigration, and eyes migrants' access to resources in rural areas of the middle belt which are migrant and foreign investment hubs. Through that, she will identify how foreign investment could be better used to improve the lives of rural migrants in Ghana.
---
2016
Melanie Stone
Women's Studies and Feminist Research
Making Her Life Work: Re-presenting Motherhood, Disability and Work Engagement Using Photovoice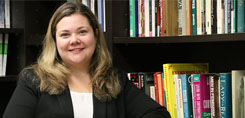 Melanie Stone, a PhD candidate in the Department of Women's Studies and Feminist Research, is among 166 recipients of the Vanier Canada Graduate Scholarship.  
Melanie Stone wants you to see through the eyes of disabled working mothers – women navigating employment on top of the challenges that stem from being differently-abled.
"There are real barriers, and they're put in place, sometimes through well-meaning policy," said Stone.  Read Western News article
---
2015 
Mayme Lefurgey
Women's Studies & Feminist Research
Transitional Justice & Post-Conflict Reconstruction
Reimagining Transnational Women's Advocacy on Issues of Violence Against Women
Mayme Lefurgey explores the intersecting complexities of transnational advocacy and problematizes 'solidarity across borders' through a discussion of tensions observed within global advocacy projects to end violence against women. Despite best efforts, many initiatives have come under scrutiny by scholars and women's rights organizers for failing to foster solidarity, relying on means of representation rather than generating space for more genuine collaboration. In speaking to the burgeoning concerns of transnational organizing and ideals of a global sisterhood among women's rights organizers, Lefurgey's research explores key themes such as Global North and South divides, as well as neo-colonial and neo-imperial continuities. In order to explore the contentions of good intentions, she draws from decolonizing peace theory and post-colonial feminism as tools for reorientation in probing the broader implications of the theoretical discourses surrounding the various projects and campaigns she discusses.
---
2014
Alexandre Sannen
Literature, French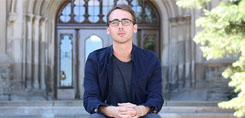 Understanding love in literature: Studying the history of hedonism, the origins and how it is represented in post-modern Romanticism Further to the rise of consumerism and the sexual revolution during the 1970s, hedonism has taken an important place in all discussions about pleasure. Its resurgence is correlated with the development of the postmodern condition which can be characterized by the transition from a 'production society' to a 'consumption society,' by the emergence of the late capitalism, and by suspicion about metanarrative stories which make space for nihilist hedonism. These changes have affected artistic expressions. As much in form as in content, French postmodern novels reveal these new societal paradigms where individuals are under the obligation to increasingly experience and accumulate pleasures. In this context, hedonism appears as an engine of contemporary literary practices which has consequences for the act of reading and artistic creation as expressions. Sannen analyzes postmodern French novels as a space of social practices aroused by hedonism to further understand our relationship to pleasure and how this relationship has changed during the 20th century.
---
2013
Andrew Peterson
Philosophy, Rotman Institute of Philosophy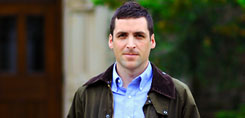 By building bridges between the humanities and sciences, Andrew Peterson hopes to address pressing conceptual problems head on. A member of both the Rotman Institute of Philosophy and the Brain and Mind Institute, Peterson analyzes the ethical and epistemological problems related to the use of brain-computer interfaces in patients with acquired brain injuries. "Questions regarding the verification of decision-making capacity in this patient group, assessment of a patient's ability to experience pain and the disclosure of diagnostic information to patients' families have presented difficult conceptual challenges for scientists working in this field," he said. The belief is solutions to these issues not only require the historical strengths of philosophy in identifying and clarifying important questions, but also an understanding how the problems arise in the course of scientific practice. The goal is that novel solutions will be produced that have a direct and measurable impact on the lives of brain injured patients and their families.
---
Moustapha Diop
French Studies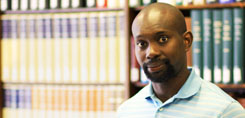 Shuffling through the gamut of literary, film and adaption theory, Moustapha Diop aims to revive the work of late Senegalese filmmaker and writer Sembène Ousmane from a- 3 - theoretical standpoint. "Much has been written about him, but it is his militant ethics, not his film and literary aesthetics, that has so far elicited much interest from critics." There are several implications to this revival, but the most significant is debunking myths associated with artistic practice in Africa. "(Notably) the African artist is either an epigone standing under the influence of a Western father figure, or is drawing inspiration from his or her traditional culture to castigate contemporary mores," he said. Diop believes both premises are misguided, and, through his writing, aims to withdraw these notions from circulation in academia.