Testimonials


---
by Kathryn Manning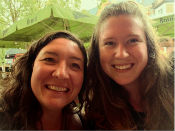 "I was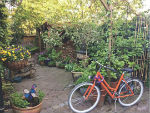 lucky enough to participate in an exchange in Dr. Christian Beckmann's Statistical Imaging Neuroscience Research Group at the Donders Centre for Cognitive Neuroimaging (DCCN) in Nijmegen, NL.
I brought our large, multi-modal MRI dataset following female rugby players overtime and longitudinally after a concussion. My experience at the DCCN was so beneficial. I was able to quickly learn and apply advanced analysis techniques to understand the inter-subject variability in these images and how they relate to acute and longitudinal concussion brain changes.
It was interesting to experience a new centre and how they organize their facility, run their imaging studies, and collaborate across fields."
---
by Chao Gu
"Last spring, I had an opportunity to work in Dr. Pieter Medendorp lab at Donders Institute for Brain, Cognition and Behaviour in Nijmegen, the Netherlands.
For 3 months, I studied how the motor system processes completing visual stimuli. Specifically, I collected data for two datasets, in which we separated the completing stimuli either by time or space. It was a great opportunity to work in a new environment and to exchange ideas with different people.
In addition to my research, Pieter encouraged me to travel around Europe, so I could visit other countries such as Spain (see photo), Ireland, and Germany."
---
by Molly Henry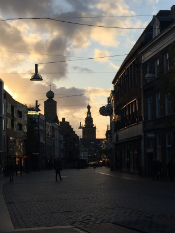 Visiting the Donders Center for Cognitive Neuroimaging was a fabulous training opportunity. I went for two months to Floris de Lange's lab, and collected data on for an MEG project looking at how brain dynamics change during the process of settling into "regularity" (as during suddenly picking up on a "beat" in musical rhythms).
The Donders Center for Cognitive Neuroimaging is an amazing and well-run facility with lots of opportunities for interaction. The group was extremely welcoming and incorporated me into all their scientific as well as social events. The science was state-of-the-ar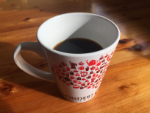 t, but it was also an amazing opportunity to be in a new place and meet new people.
---