Heather Laschinger Research Measurement Tools
Heather Laschinger, PhD (1945-2016), is best known in academic circles for her work leading a broad research agenda examing issues related to the planning and management of nursing health services. Dr. Laschinger passed away in 2016 at the age of 71.
The research tools presented in this site are a key part of her legacy of research and the impact her work has had in the field. Please use the navigation menu to the left to access information regarding:
About Heather Laschinger, PhD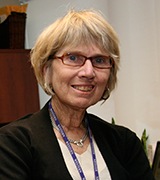 She came to Western in 1987 as an assistant professor in what was then called the Faculty of Nursing, earning tenure in 1993, and quickly established herself as a world-class scholar. In 2009, she was named the Arthur Labatt Family Nursing Research Chair in Health Human Resource Optimization as she continued to be a world leader in assessing the impact of nursing work environments on nursing and client outcomes. She was the first member of the Faculty of Health Sciences to receive Western's Distinguished University Professor Award in 2006 and was presented with the institution's Hellmuth Prize for Achievement in Research in 2010.
The list of awards she received extended far beyond the walls of Western. She was elected as a Fellow of the Canadian Academy of Health Sciences in 2008, inducted as a fellow of the American Academy of Nursing in 2009, received the Canadian Association of Schools of Nursing Award for Excellence in Nursing Research in 2014 and was presented with the American Organization of Nurse Executives Foundation Nurse Research Award in 2015.

Her academic body of work boasted more than 200 publications, including four books, and included supervision of more than 100 graduate students and postdoctoral scholars.