Upper Extremity Rehabilitation
Upper Extremity Rehabilitation Master's Program

Advance your health care practice.
This program is designed to prepare occupational therapists and physical therapists to offer specialty care in upper extremity rehabilitation.
Offered fully online, with face-to-face clinical mentorship experiences, this interprofessional educational experience helps students develop clinical skills, research methodology, depth of knowledge, and the professional behaviours to enable assessment and evaluation, and management and rehabilitation of upper extremity conditions.
Exposure to specialized practice will position graduates of the program to effectively manage the complexity of clinical presentations and enable best practice in upper extremity rehabilitation.
Partners in Enhancing Patient Care
This program combines the academic, research and clinical expertise of Western University's School of Physical Therapy with that of the Roth McFarlane Hand and Upper Limb Clinic, a world-renowned centre of excellence in education, research and the diagnosis, care and treatment of patients with complex conditions affecting hands, wrists, elbows and shoulders.
Expanding Expertise
Designed for practicing occupational and physical therapists in search of advanced-level knowledge and skills in upper extremity rehabilitation, this program helps students developed the skills and knowledge to provide enhanced patient care for upper extremity injuries and conditions and to seek advanced accreditation and recognition nationally and internationally. The ideal candidates for the program are:
Therapists who are interested in gaining initial experience and preparing for employment in upper extremity rehabilitation
Experienced therapists seeking to advance their practice in upper extremity rehabilitation
Those who have some direct practice experience in upper extremity rehabilitation who would like to prepare to challenge the Certified Hand Therapist Examination
Admission and Applying
Prospective students are advised that offers of admission may be made only after the university's own quality assurance processes have been completed and the Ontario Universities Council on Quality Assurance has approved the program.
A minimum bachelor's degree from a recognized university and at least a (B) standing (or equivalent) over the final two years of the program
A current license to practice in Canada if seeking mentorship practice opportunity in Canada
Physiotherapists/Occupational Therapists practicing outside of Canada must be licensed to practice in their country of residence
Advanced computer skills
Two references

Academic (if attended university within the last five years) and professional

Demonstrated English language proficiency, including both written and oral communication

See below for more information
Applicants whose first language is not English must provide evidence of English language proficiency (TOEFL or IELTS is recommended)
A minimum TOEFL score of 620 (paper-based), 105 (internet-based), 260 (computer-based) or an IELTS score of 8 is required
Students who, after admission, show an inadequate command of spoken or written English must improve their proficiency to the satisfaction of the Faculty of Health Sciences
Students may be asked to withdraw from the program if their command of English interferes with their ability to provide quality professional services
Students who are required to present evidence of proficiency in English must make their own arrangements to write the TOEFL and to have the official results sent directly to the School of Graduate and Postdoctoral Studies
The English language proficiency requirements outlined above do not apply to students from Quebec
To apply to the Advanced Health Care Practice program, students should:
Visit the online application website
Follow the instructions on that page to access the application
Select "Advanced Health Care Practice MClSc" from the program options in the application and select the appropriate field
Program Structure and Course Offerings
With courses offered fully online, through synchronous and asynchronous virtual learning environments, this program allows students to achieve their learning goals while balancing the demands of their professional and personal lives.
The curriculum and course offerings of this program are built around the idea that specialized rehabilitation of the upper extremity reflects a synthesis of occupational therapy and physical therapy theory and practice that combines comprehensive knowledge of the structure of the upper limb with function and activity to inform evidenced-based rehabilitation.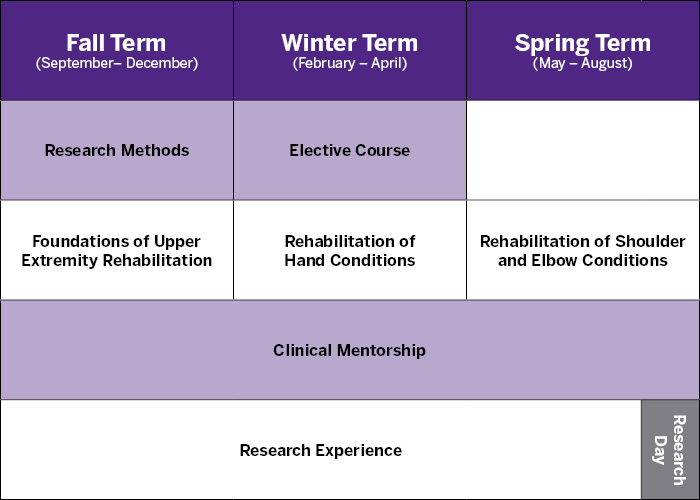 Research Methods
Foundations of Upper Extremity Rehabilitation
Clinical Mentorship
Research Experience
Advanced Professional Practice
Rehabilitation of Hand Conditions
Clinical Mentorship (continued)
Research Experience (continued)
Rehabilitation of Shoulder and Elbow Conditions
Clinical Mentorship (continued)
Research Experience (continued)
Through a Continuing Professional Development framework, this course facilitates the synthesis of the theoretical and practical aspects of a student's development through a period of mentorship within the work-based/practice environment and documented with a professional portfolio. Students will have the opportunity to work within a variety of settings to enable development of existing knowledge and skills and advanced practice in upper extremity rehabilitation. The Clinical Mentor(s) will enable a student's development through a partnership of teaching; researching; managing; observing and discussing with innovative practice being encouraged within the framework of safe, legal, and ethical practice as made explicit in any applicable published standards (e.g. professional registration body, specialist competencies etc). Clinical mentorship for this field would come from hand therapists/upper extremity therapists who are willing to act as mentors.
The student will undertake pre-mentorship preparation through an online half-day study day, and online preparatory study. Students will undertake a minimum of 150 hours of experience in a work -based/practice environment. Learning needs may necessitate a range of environments as part of the mentored experience to ensure that all outcomes are achieved. The selection of the work-based environment is negotiated by the student in collaboration with the field leader, dependent upon their individual learning needs and their program field and any specialist requirements. A variety of patterns of delivery of the 150 hours experience are possible, encompassing part-time and full-time modes as well as a variety of models of experience e.g. clinical practice, observation of practice, case analysis, situational online clinical reasoning, telehealth, e-mentoring, FTF mentoring etc. Current registration with appropriate professional/regulatory bodies is required as appropriate to the negotiated mentored practice.
Learning Outcomes
Upon successfully completing the program, students should have the ability to:
Critically analyze and integrate the principles underpinning upper extremity rehabilitation to inform interventions across the lifespan
Evaluate clinical history and examination findings to inform individualized client-centred rehabilitation within a biopsychosocial and interdisciplinary framework
Implement and justify evidence-informed rehabilitation interventions to optimize clinical outcomes
Synthesize knowledge, skills and attributes to demonstrate advanced practice in upper extremity rehabilitation
Develop research skills enabling active participation and competency in clinical research
Communicate and apply ethical principles and practices in patient care and research activities
Develop communication strategies that foster therapeutic alliance and shared decision-making with the client
Develop iterative self-reflection skills and continued life-long learning