Carla Filomena Silva, PhD
Carla Filomena Silva, PhD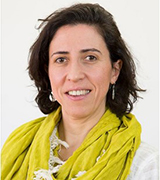 Assistant Professor
Room 345, HSB
519 661-2111, 86680
csilva42@uwo.ca
Education
PhD (Loughborough University, UK)
MSc (Katholieke Universiteit of Leuven, Belgium)
BSc (Technical University of Lisbon)
BA (University of Lisbon)
Academic Appointments
School fo Health Studies
School of Kinesiology
Supervising Graduate Students
Research Interests
Capabilities approach as a tool for exploring social justice
Disability sport
Qualitative methods
Social cultural exploration of different bodies
Philosophy and disablement
Intellectual empathy and health studies
Additional Information
Recent Projects
Arts and Humanities Research Council – UK 'Re-presenting para-sport bodies: Disability and the cultural legacy of the Paralympics' (PI M. Silk; Co-holders C.E.M Hodges, R. Scullion, R. Rich, P. Howe, L. Misener, D. Jackson, C.F Silva, and K. D.Stutterheim Feb 2017 – Aug 2019 £694,576. http://pasccal.com/
Ongoing Projects
Special Olympics Canada – 'A Cultural Analysis of Parenting of Special Olympians in a Canadian Community' (PI P. D. Howe; Co-holder C. F. Silva) $15,000
A comprehensive list of publications is available through Google Scholar.
Silva, C. F. and Howe, P. D. (2019). Sliding to Reverse Ableism: An Ethnographic of (Dis)ability in Sitting Volleyball. Societies 2019, 9, 41; http://doi:10.3390/soc9020041
Howe, P. D and Silva, C. F. (2018). The fiddle of using the Paralympic Games as a vehicle for expanding [dis]ability sport participation. Sport and Society: Culture, Commerce, Media, Politics. Vol. 21(1) 125-136. http://dx.doi.org/10.1080/17430437.2016.1225885
Silva, C. F. and Howe, P. D. (2018) The Social Empowerment of Difference: The Potential Influence of Parasport. Physical Medicine and Rehabilitation Clinics of North America. Vol. 29(2): 397-408. https://doi.org/10.1016/j.pmr.2018.01.009
Silva, C. F. (2017). On the Way to Rio 2016: Coaching Paralympic Volleyball in Brazil. In: Kohe, G. & D.M. Peters, ed. High Performance Disability Sport Coaching. London: Routledge
Silva, C. F. and Howe, P. D. (2012). The [In]Validity of Supercrip Representation of Paralympic athletes. Journal for Sport and Social Issues. Vol. 36 (2) 174-194.
Silva, C. F. and Howe, P. D. (2012). Difference, Adapted Physical Activity and Human Development: Potential Contribution of Capabilities Approach. Adapted Physical Activity Quarterly. Vol. 29 (1) 25-43.