Bike Shelter and Locker Information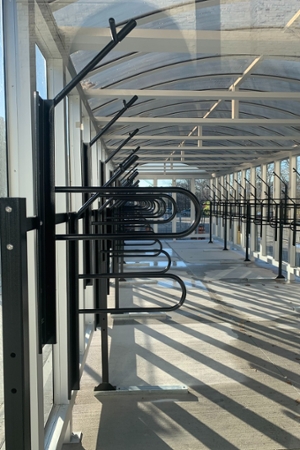 *NEW - Bike Shelter 
Located just inside the Alumni Thompson parking lot, our new shelter is a convenient, secure, weather-protected space which can accommodate up to 60 bicycles. The vertical racking features a unique, extended rod that makes hanging and removing bikes easier and a solid steel lock bar for maximum security. Both the front wheel and frame are U-lockable. The shelter will accommodate most standard-sized bicycles. 
If you are interested in purchasing a permit to access this space, please log into your Western Parking Account and select "Bike Shelter" under your list of permits available for purchase.
Access to the bike shelter is granted through your Western ONECard.  Only those with an active, paid bike shelter permit will have access to the shelter. Bike shelter permits are virtual; no hang tag is required.
Activation of your Western ONECard for access to the bike shelter happens by 9 a.m. of the first business day following your online purchase of the Bike Shelter permit.
Shelter Location:  Alumni Thompson parking lot
 Permit Rates:
| | |
| --- | --- |
| Permit Period | Cost (plus HST) |
| Term (4 months) | $25 |
| Academic Year (8 months) | $50 |
| Annual (12 months) | $75 |
| Refund Admin Fee | $25  |
Protect your bike!
A community-powered bicycle recovery program is connecting riders across the city and alerting the local cycling community if a bike is stolen or goes missing. It's free and easy to register.
How to renew your bike shelter permit:  Bike shelter permits expire at 11:59 p.m. on the last day of the arranged permit period. Permit holders who wish to renew their contracts may do so online through the parking portal. Space is limited, so failure to renew may result in the inability to purchase a permit and loss of access to the bike shelter.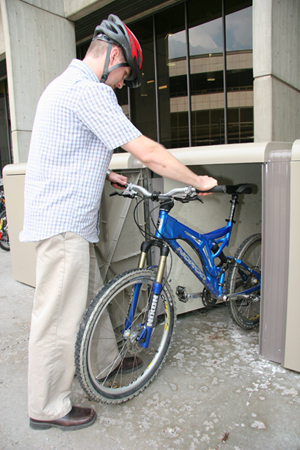 Bike Lockers
Located throughout campus, these spacious lockers will provide safety and protection for your bicycle and bike gear. Most standard size bikes will fit, although some tandem bikes or recumbent bikes may not fit into the lockers.
If you are interested in renting a bike locker, please send an email to wparking@uwo.ca to obtain information on bike locker availability.
Locker Locations:
UCC concrete beach near the Japanese Gardens
Behind the Support Services Building
Health Sciences Building
Locker Size:
4' 2" high, 6' 5" deep, 4' 8" wide
Rental Information:
Renters are required to provide a refundable $100.00 key deposit, in addition to their rental fees, before they obtain their locker key.
All rental agreements expire on the last day of the arranged rental period at midnight. Renters who wish to renew their contracts must notify the Parking Office of their desire to do so and provide payment at least 2 weeks before the end of the rental period. Failure to do so may result in renting the locker to another person.
Rental Rates:
| Rental Period | Cost |
| --- | --- |
| 4 Months | $40 |
| 8 Months | $80 |
| 12 Months | $100 |
| Refund Admin Fee | $25 |
Lockouts and Lost Keys:
Lockout situations are only available through Campus Police 519-661-3300 (24 hrs/day). A lost key should be reported to the parking office immediately. A replacement key could take up to a full day to process, and an additional $100 deposit will be required.