Executive Director
Lisa Cechetto
Contact: lcechett@uwo.ca
Administrative Support: Sherri Castrilli, Administrative Coordinator 
As the senior operating officer, provides information and advice, builds relationships, plans and executes projects, and manages financial, human and physical resources to support Western's research goals
Supports and leads the development and implementation of strategic plans to advance institutional objectives
Identifies opportunities for process improvements and designs and/or revises practices to ensure risk mitigation
Works in collaboration with other leaders to develop, implement and monitor processes that ensure Western's research success and compliance with regulations
---
Biography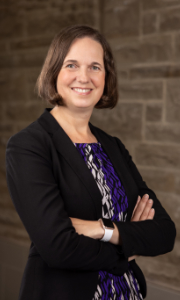 Lisa Cechetto was appointed Executive Director of Western Research in January 2021, following a seven-year tenure as Executive Director of WORLDiscoveries. Lisa holds a Master's of Science from McMaster University, as well as dual executive MBAs from the Kelley School of Business, Indiana University and Sungkyunkwan University.
At WORLDiscoveries, Lisa led the team to triple the number of licensed and options signed per year, a doubling in active licenses and a 70 per cent increase in timely assessment rates. She also initiated/expanded upon seven new programs that ensured WORLDiscoveries remained a top revenue-generating technology transfer office in Canada.
Lisa's previous roles also include Director of Business Development and Intellectual Property at Institut Pasteur Korea – where her responsibilities included the commercialization of the institute's research inputs, while balancing the interests of key stakeholders, including government, faculty and third parties – and Patent Manager and Project Leader at ARIUS Research Inc., a Toronto-based biotech company which has been subsequently acquired by Roche.