The Research Education Program at Western and its Affiliates
Starting in January, 2018 the Research Education program at Western and its affiliates is undergoing significant changes. While the first step, adding all personnel to be trained on the relevant AUPs, remains unchanged, below is a stepwise flowchart outlining the new ACVS Research Education Training Process: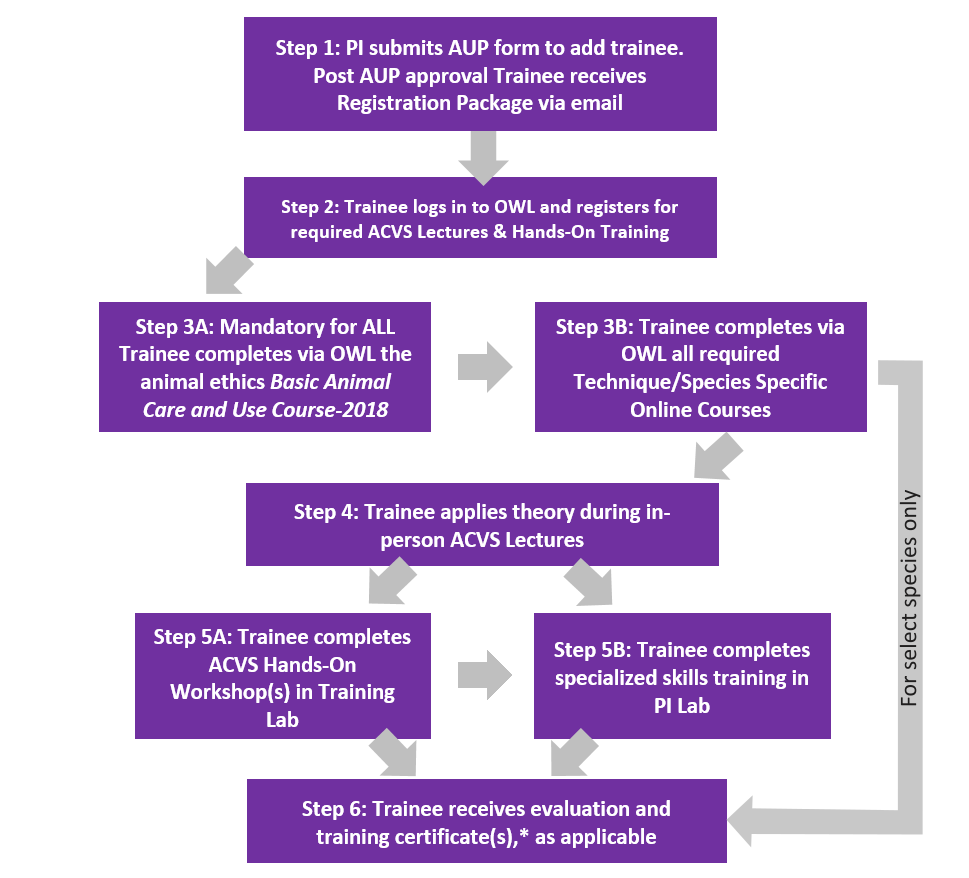 *Certification will be granted following successful completion of all required training elements.
 
Animal User Training Instructions
Step 1 - Animal User Training Outline
In your registration email, you will receive a Training Outline as an attachment. This outline details the individual training requirements associated with your specific activities within your/your PI's Animal Use Protocol.

Training Outline Requirements List – The attached outline indicates the required training including some or all of the following:
Online OWL course(s) (Step 3A &/or 3B)
In person ACVS Lecture(s) (Step 4)
Hands-On Skills Development Workshops (Step 5)

Core skills (rodents only) within Training Lab (WV 106) (Step 5A)
Specialized skills training within PI Lab (Step 5B)
Steps 2&3 – OWL Registration & Online Courses Completion
Module Registration
You will be registered by Research Education for the mandatory Basic Animal Care and Use animal ethics course hosted by Western University, which must be completed prior to any hands-on activities and within one month of registration, as per the Animal Care Committee (ACC), and other required techniques/species-specific OWL online course(s), in alignment with Animal Use Protocol (AUP) training requirements.

Completion of these courses is mandatory to obtain access to the ACVS lectures.

Depending on your experience with lab animals, the theory/quizzes will take an estimated time of 1.5 – 3 hours.
Access
Online access is available to you via Owl at Western using the email address associated with this notification.
Western Email Address Users - Use your usual email and password.
Non-Western Email Address Users

You will receive a notification following this email inviting you to join the Animal Care and Use 'Basic' and other 'technique/species specific' courses on OWL.
Click on "Accept this invitation". Then you will be directed to the OWL website.
On the side that says "I am new to OWL", enter your information.
Password - After the first time you log in, you must remember your confidential password, which you will use for all subsequent log ins.
If experiencing access problems after you have reviewed all information in this letter, please attempt access in another browser. If this does not resolve your problems, contact the WTS Helpdesk report your access problems and indicate that you are linked up to OWL.
Quizzes
There are typically two or more quizzes associated with the Basic Animal Care and Use OWL Course and techniques/species-specific OWL course(s). If you are unable to see the content please contact training@uwo.ca immediately
Step 4 - ACVS In-Person Lectures
Register via OWL for the ACVS in-person lectures associated with required hands-on workshops/skills training. Lectures must be completed in advance of hands-on workshop participation. Trainees should be familiar with their associated Animal Use Protocol prior to participation.
Step 5 - Hands-On Workshops
Pre-Requisites
Trainees must successfully complete/participate in the corresponding online OWL courses (minimum 2 business days prior to the workshop date) and participate in the associated ACVS Lecture. There are two types of workshops: Core Rodent and Specialized Skills Training.
Core Rodent Hands-on Workshops
This workshop is located within the Research Education Training Lab, West Valley Building Rm. 106. Request entry at the security door (LG of DSB extension), and then sign in at the reception desk.

Students are responsible to bring the following:
Fitted N95 Mask – As per Western's Animal Allergen Exposure Reduction Policy and the ACVS Managed Facilities Conventional Animal PPE SOP, participants must bring a fitted NIOSH approved respirator. All persons without masks will be denied participation in the workshop; a 'no show fee' will be charged.
Clean Lab Coat – In the event the participant does not bring a clean lab coat, a disposable gown will be provided for a cost-recovery fee.
Specialized Skills Training
All specialized skills training not provided within the Research Education Training lab will be held within the trainee's PI lab. Following registration via the OWL calendar, trainees will receive an outline of required supplies and equipment plus related instructions. When signing up for specialized training, please, when possible, find a time that is available for all of your research staff to attend. Additionally, if you require training in multiple skills, please select consecutive timeslots.
Workshop Rescheduling & Cancellations
Trainees needing to cancel a class registration must do so via OWL up to 48 hours prior to the hands-on workshop; for last-minute emergencies, please call and email the training team (see below). For trainees not communicating their withdrawal from a workshop, a 'no show' fee may apply.
In the event that a workshop is cancelled by ACVS Research Education, an email will be sent to the trainee and PI, and a notice will be posted under the 'Announcements' section of the OWL course for 'Basic Animal Care and Use'. Trainees will then be invited to register for a new session via OWL.
Support
For additional support, please email training@uwo.ca or call ext. 80275/86770.