Meet Our People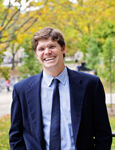 Alexander Meyer is interested in a broad range of topics related to the Roman world and focused on Greek and Latin inscriptions and documentary sources.  He is actively working on topics related to the Roman army as an agent of cultural transmission, Roman clocks, calendars and concepts of time, and travel in the ancient world.  In 2013 he published his first book, "The Creation, Composition, Service and Settlement of Roman Auxiliary Units Raised on the Iberian Peninsula."  Prof. Meyer is also an experienced field archaeologist and co-director of the Vindolanda Field School. Learn more
---
Charles Stocking's research and teaching focus on the interaction of ritual, politics, and the body in Greek literature and culture. He has published on topics ranging from sacrifice in early Greek poetry to the role of idealized Greco-Roman sculpture in modern physical culture and critical theory. In addition, Charles is involved with several international programs including the Center for Hellenic Studies, ANHIMA (Anthropologie et Histoire des Mondes Antiques), and the International Olympic Academy. Learn More
News
Congratulations to Jonathan Vickers, who has been awarded the prestigious Crake Fellowship for 2015-2016 at Mount Allison University in Sackville, NB.

---

Congratulations from the Department of Classical Studies go out to Sarah Taylor for successfully defending her MA Thesis, "Frontiers of Food: Identity and Food Preparation in Roman Britain", supervised by Elizabeth Greene, on Tuesday, April 7. Read more

---

Elizabeth Greene is being considered for promotion to Associate Professor and the granting of tenure. Click here to read the Public Solicitation notice.
---
What we offer
Undergraduate
Graduate
Program Highlights