Who We Are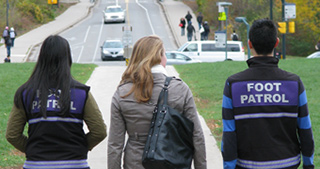 Western Foot Patrol is a volunteer driven service that provides safe escorts, deters crime and promotes safety awareness on the main and affiliate college campuses.
News & Events
Our iPad Air Contest is Back!
February 1, 2017 -  Our annual iPad Air Contest is running until Friday, March 31st at 11:59pm. Get 6 stamps on your card and enter to win! Each safe way home is good for 1 stamp. Stop by the office or stop a team for your stampcard. See here for details.
---
Reading Week Hours
February 15, 2017 -  Hours during reading week are as follows: Friday, February 17, 9pm-12am; Saturday, February 18 - Sunday, February 26 - closed. Normal houirs resume Monday, February 27, 2017. Have a fantastic reading week!