Who We Are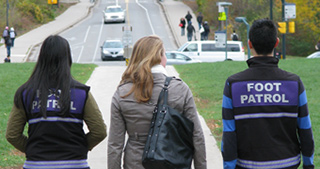 Western Foot Patrol is a volunteer driven service that provides safe escorts, deters crime and promotes safety awareness on the main and affiliate college campuses.
News & Events
Our iPad Air Contest Continues!
March 23, 2017 -  Our annual iPad Air Contest is running until Friday, March 31st at 11:59pm. Get 6 stamps on your card and enter to win! Each safe way home is good for 1 stamp. Stop by the office or stop a team for your stampcard. See here for details.
---
Closed March 24, 2017
March 23, 2017 -  Foot Patrol will be closed and not offering service on Friday, March 24, 2017. If you feel unsafe, please call Campus Police at 519 661 3300. Normal houirs resume Saturday, March 25, 2017.