Ready to quit smoking?
Western is on the path to a smoke-free environment.  This will be challenging for those who study or work at Western, and who smoke. In 2016, Western surveyed all faculty, staff and students and found that half of all respondents who said they smoke, said they want to quit in the next year. If you are ready to quit smoking, there is no better time than right now.  Western has some good resources to help you quit, and can link you to community and online supports as well. 
Not your first time trying to quit?  Don't worry – just keep trying.  Every day you do not smoke is a day when you are taking a step ahead.
Here are some of the resources available:
For Students
Leave the Pack Behind - Especially designed for students and young adults, LTPB is a tobacco control program on campus that offers a range of services including self-help booklets, access to free nicotine patches and gum, and email support.  Visit a display booth on campus for carbon monoxide testing, self-help programs, peer led services, and information about quit aides and clinical interventions available. Leave the Pack Behind quitting programs have been proven to be very effective!
If you are interested in receiving FREE nicotine replacement therapy, please visit Student Health Services (specific conditions apply).
LTPB also hosts the annual contest "Wouldurather" open to all young adults in Ontario. By entering this contest, you have the chance of winning $2500 by quitting smoking or staying smoke-free!  For more information visit LeaveThePackBehind.org.
Middlesex London Health Unit - The MLHU offers resources, workshops and more, for those who wish to quit.

Smokers' Helpline – Some of the best resources available are here - an online quit program, free help by phone and text messaging, and self-help workbooks.  You can visit their website or phone 1-877-513-5333.

Crush the Crave – an app developed especially to help young adults quit smoking.  Visit the Crush the Crave website or download the app.
Supports for Staff and Faculty Members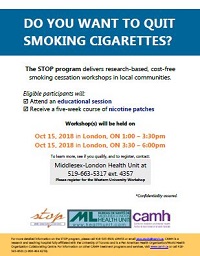 Special STOP workshop on campus May 22nd - the Middlesex-London Health Unit is partnering with Western to offer a special STOP smoking workshop on campus for those who work at Western.  The workshop includes an education session, a meeting with public health nurse, and a free five-week course of nicotine patch.  To find out more and to determine your eligibility, please contact the Health Unit at 519-663-5317 ext. 4357.  See the poster.
Middlesex-London Health Unit - the MLHU also runs STOP workshops regularly in the community, and can provide lots of good information and resources that can help you quit.  Visit the MLHU website for more information.
Extended Health Plan from Manulife - Smoking cessation aids make it easier than ever to quit smoking, and a number of choices are available.  Your family physician can offer advice and the Western Extended Health Plan provides coverage to cover the cost of smoking cessation aids.  The coverage is for aids prescribed by a medical doctor and dispensed by a pharmacist, and must have a valid Drug Identification Number (DIN) or have been assigned a Natural Product Number (NPN) licensed by Health Canada – such as transdermal patches and nicotine gum.  Eligible expenses are subject to a lifetime maximum of $500 per person.
Check your benefit book by going to "Your Benefits".  Select your employee group and look for the "Your Benefit Booklet" link.
The Manulife Plan Member website (you will need to register to access) also offers a number of Health eLinks, including information on smoking cessation.
Employee Assistance Plan - FSEAP - FSEAP, Western's provider of an Employee Assistance Plan offers a number of supports and referrals for those wishing to quit smoking.
Clients are offered access to Life Coaching services for personalized guidance to support this important life change.  Information is provided about treatment options for nicotine dependency and tips or suggestions to help "quitters" stay on track.
Clients are also referred to telephone support lines already available through public and community service providers.
Smokers' Helpline – Some of the best resources available are here - an online quit program, free help by phone and text messaging, and self-help workbooks.
Staying active can help you quit
Research conducted at Western's Exercise & Health Psychology Laboratory shows that exercise can combat cravings, and help you prepare to quit smoking. Read the latest research.  Here are some ways to get active on campus:
Living Well @ Western: Yoga, meditation, Zumba and more! All free for Western Staff and Faculty members. Visit Living Well.
Global Challenge: Faculty and staff members are invited to join this year's Global Corporate Challenge.  Put together a team of seven and get moving!  The challenge begins May 23, 2018.  Learn more.