10th Annual Biology Graduate Research Forum - 2019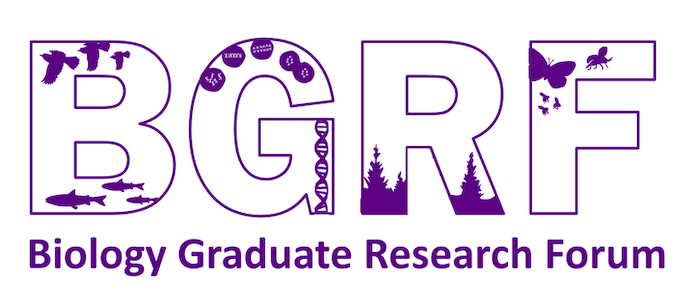 Presented by graduate students in the Department of Biology, Western University
Friday October 18th, 2019
Mission Statement
The Biology Graduate Research Forum (BGRF) is organized by graduate students in the Department of Biology at Western University. The primary mandate of this event is to provide a forum for graduate students and post-doctoral fellows to showcase their research in biological sciences through poster and selected oral presentations. This research forum also hosts an invited speaker to present their current endeavours within the field of biological sciences.
BGRF aims to bring together students within the multi-disciplinary umbrella of biological sciences to exchange novel and exciting ideas. It is also our hope that this annual event fosters interdisciplinary collaboration, which enhances the academic and scientific research experience of participants here at Western (Conference Code of Conduct).
Award Winners
Congratulations to the following award winners for BGRF 2019!
Best Morning Concurrent Session Talks: Adam Chin-Fatt & Matt Meehan
Best Afternoon Concurrent Session Talks: Mohamed Gatie & Jackie Lenbenzon
Best Poster: Brendon Samuels
Keynote Speaker
This year's keynote speaker is Dr. Roman Krawetz, Ph.D! Dr. Krawetz will give his talk on Friday October 18th, at 12:30pm in TBD.
Dr. Krawetz's lab is at the McCaig Institute for Bone and Joint Health at the University of Calgary, Alberta, Canada. His work seeks to understand the role of adult stem cells in joint inflammation and osteoarthrisis. 

Follow this link to his lab website: Krawetz Lab Website
All of the hand-drawn characters on this site were designed and drawn by Curtis Lubbe and polished by Heather Ward. They are under the following Creative Commons license: https://creativecommons.org/licenses/by-nc-nd/4.0/.

 

The BGRF 2019 logo was designed and drawn by Jackie Lebanzon.