Office Hours
Based on the current situation, and in order to protect the health of students and staff, we have made adjustments to the way our office is operating. The School of Physical Therapy Office is open Monday-Friday between 9:00 a.m. and 4:00 p.m. with a limited number of staff members on site each day. All visitors to the office are required to wear masks that cover both the mouth and nose. We ask that anyone requiring a meeting - either face-to-face or virtual - please contact the appropriate individual to arrange an appointment as our ability to manage drop-in appointments is limited.
PT News and Updates
Remembering Kathy Obright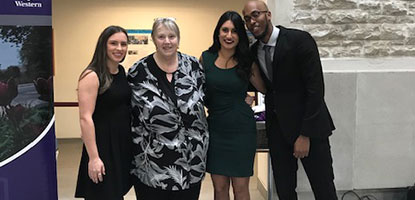 Former Western Physical Therapy lecturer and Professor Emerita Kathy Obright sadly passed away on Friday, June 5, 2020.
After more than 30 years at Western, Kathy retired on July 1, 2019, leaving behind the legacy of her impact on thousands of students who passed through the Physical Therapy program and went on to be leaders in the field.
An award-winning instructor, in 2010 she was presented with the Edward G. Pleva Award for Teaching Excellence, which is Western's highest honour recognizing outstanding contributions in the classroom.
As part of the School of Physical Therapy's 2020 Homecoming festivities, Kathy was celebrated and those attending the virtual event were asked to describe Kathy and the impact she had on them. Those responses were turned into a word cloud.
Kathy will be missed by many in the halls of Elborn College, and across campus, who considered her a colleague, friend and mentor. Her full obituary can be read here.
Land Acknowledgement
We acknowledge that Western University and the School of Physical Therapy are located on the traditional lands of the Anishinaabek (Ah-nish-in-a-bek), Haudenosaunee (Ho-den-no-show-nee), Lūnaapéewak (Len-ahpay- wuk) and Attawandaron (Add-a-won-da-run) peoples, on lands connected with the London Township and Sombra Treaties of 1796 and the Dish with One Spoon Covenant Wampum.
With this, we also acknowledge the health inequities caused by historical and ongoing injustices that Indigenous Peoples (e.g. First Nations, Métis and Inuit) endure in Canada, and the damaged health systems that remain. We accept responsibility as a public institution and as health and rehabilitation educators to contribute toward revealing and correcting miseducation and to work towards the restorative impacts of reconciliation.
Statement of Acceptance
As primary healthcare professionals we value the diversity and differences of all people. The School of Physical Therapy and Western University are committed to providing a working and learning environment that allows for full and free participation of all members of the community, and to support trauma-informed rehabilitation practices. There is zero tolerance for discrimination by or against any student, faculty, or staff member and any incident will be taken seriously. For more information, please refer to Western's Policy on Non-Discrimination/Harassment.