Two EF0 tornadoes in ON from June 16th
NTP investigations have resulted in the confirmation of two tornadoes in southern Ontario from the storms on June 16th storms: an EF0 in Brooklin and an EF0-Default in Carleton Place. These events were investigated with the help of Mark Robinson at TWN and Tom Stefanac for the Brooklin tornado, and the Quebec Vortex group for the Carleton Place tornado.
The preliminary event summaries are provided below.
Event Name: Brooklin, ON
Date: June 16, 2022
Time: 2:05 PM EDT (1805 UTC)
Final Classification: Tornado (Over Land)
Preliminary EF-Scale Rating: EF0
EF-Scale Damage Indicator / Degree of Damage: C-T/DOD-3
Start of damage track: 43.9788N, 78.9689W 
End of damage of track: 43.975N, 78.908W
Location of worst damage: 43.9785N, 78.9672W
Description: Witnesses in the Brooklin area captured close-range video of a tornado circulation lofting dirt and debris. Several minutes later witnesses further east in northern Oshawa captured video of the associated funnel cloud as the supercell tornado dissipated. Tree damage was reported and debris from a destroyed small wooden structure was documented. No injuries were reported. A drone survey by Tom Stefanac on behalf of NTP was completed on June 16, 2022 capturing imagery of weak tree damage along the tornado path. Damage assessed as EF0, with an estimated max. wind speed of 115 km/h, track length of 4.9 km and max. path width of 200 m. Tornado motion was from the W (approx. 275 degrees). Satellite imagery review revealed weak tree damage at several locations along the track.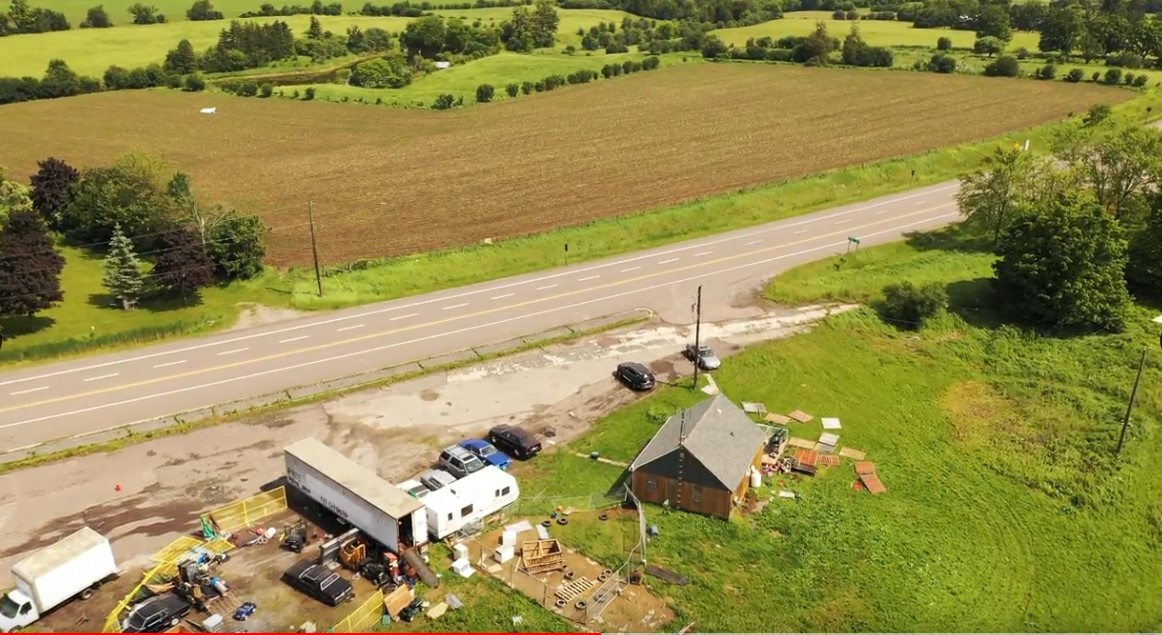 Drone image showing parts of small wooden structure scattered, fencing down, a tree across the road snapped, and debris far into the field across the road as well. Courtesy Tom Stefanac.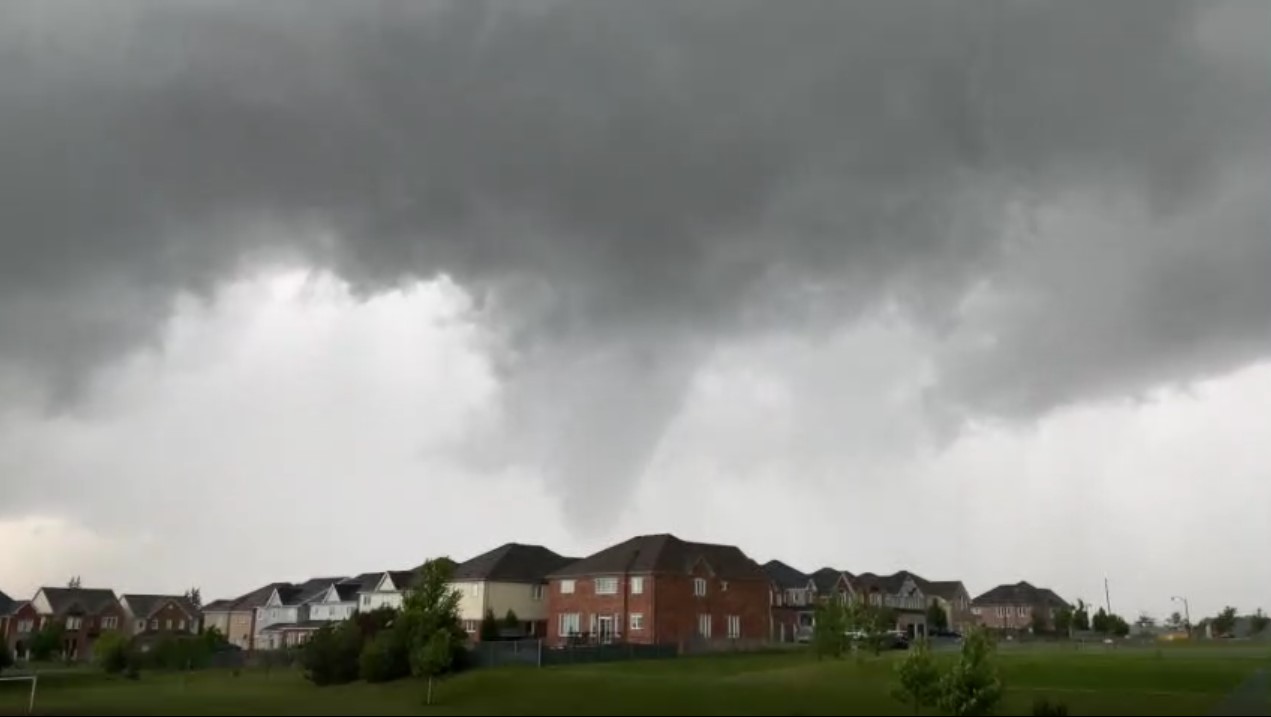 Image of the Brooklin EF0 supercell tornado as it was dissipating, taken from the NE side of Oshawa. Courtesy Jenny Lynne James-Mullings.
Event Name: Carleton Place, ON
Date: June 16, 2022
Time: 4:12 PM EDT (2012 UTC)
Final Classification: Tornado (Over Land)
Preliminary EF-Scale Rating: EF0-Default
Event location: 45.142N, 76.042W
Description: Witnesses captured video of a circulation lofting dust and debris beneath a supercell with visible rotation at cloud base. The tornado persisted for several minutes in an open field and caused no damage according to witnesses. With no damage indicators impacted the EF-scale rating is EF0-Default. Further investigation is pending, including satellite imagery review.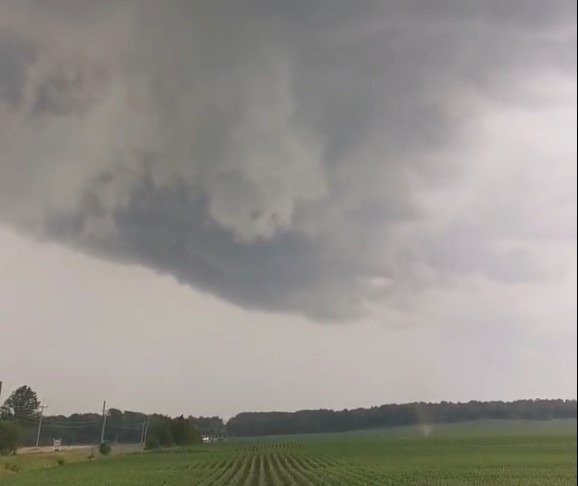 Image showing vortex in field under rapidly rotating wall cloud aloft associated with the parent supercell. The vortex actually circled counter-clockwise before heading off to the NE, reaching the treeline at the far end of the field - though it did appear to weaken as it did. Courtesy Quebec Vortex.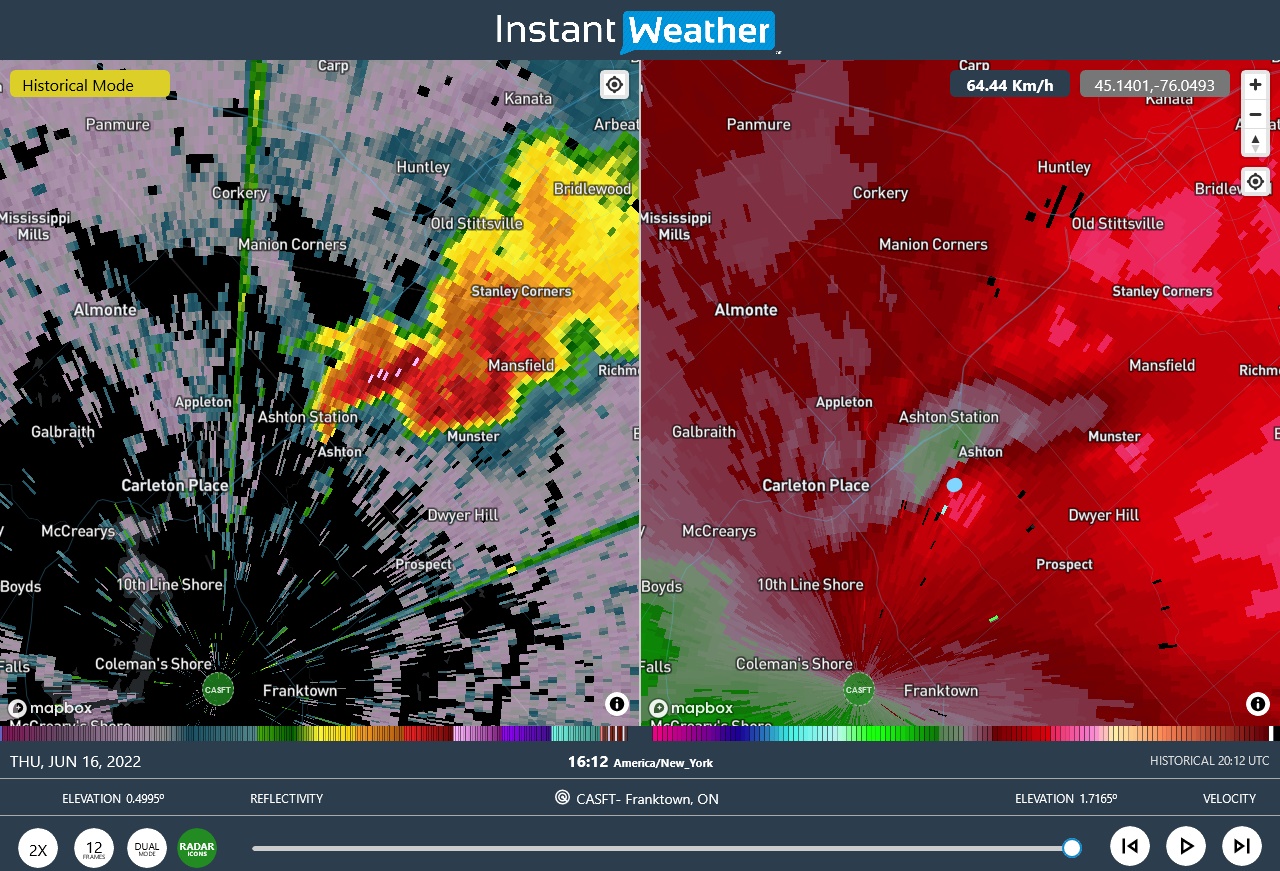 Radar image at the time the tornado was spotted by Quebec Vortex, with their location represented by the blue dot in the radial velocity couplet at right.