Future Students

What is WISc?
Integrated Science (WISc) is an exciting four-year Honours program in the Faculty of Science with a focus on collaboration, community-engaged learning, scientific literacy, and interdisciplinary scientific issues.
Admissions
Admission to WISc is competitive and is limited to only 60 students each year. Applying to the program is a two-step process. In addition to the general admission requirements for Science, students who are applying to Integrated Science also require Grade 12 Chemistry (SCH4U or equivalent).
Applying to the program is a two-step process:
Step 1:
On the website of the Ontario Universities' Application Centre, apply to Science (code ES). For your "Subject of Major Interest," choose Western Integrated Science (WISc).
Step 2
Prospective students need to complete the WISc supplemental application.
Applications for admission in September of 2023 will be reviewed starting April 3, 2023, and will continue until all spaces have been filled.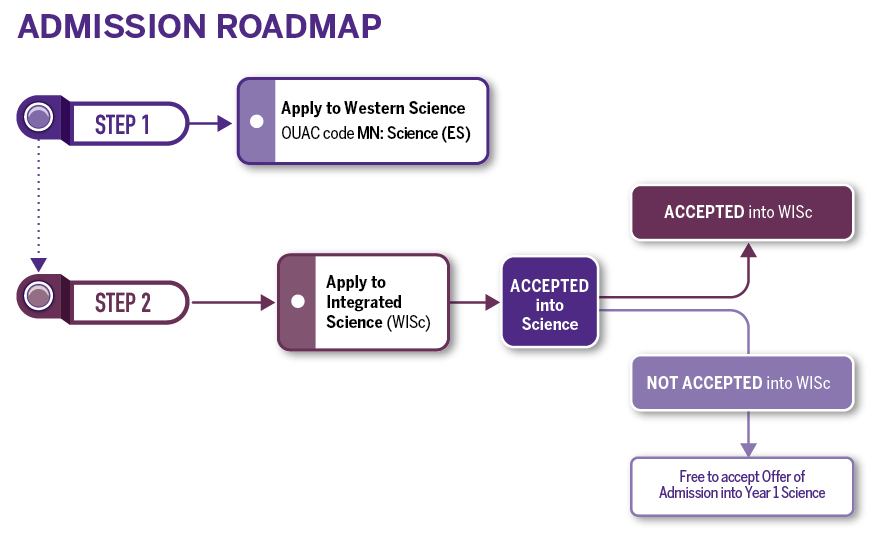 Connect with Us
Interested in discovering what WISc is about? Prospective students are invited to meet the WISc team, talk to current students, attend a class, and shadow a laboratory session when Integrated Science 1001X is taking place. Visits are usually scheduled between mid-January and the end of March.
If you are interested in this opportunity, please contact Felix Lee at flee32@uwo.ca