Western Award of Excellence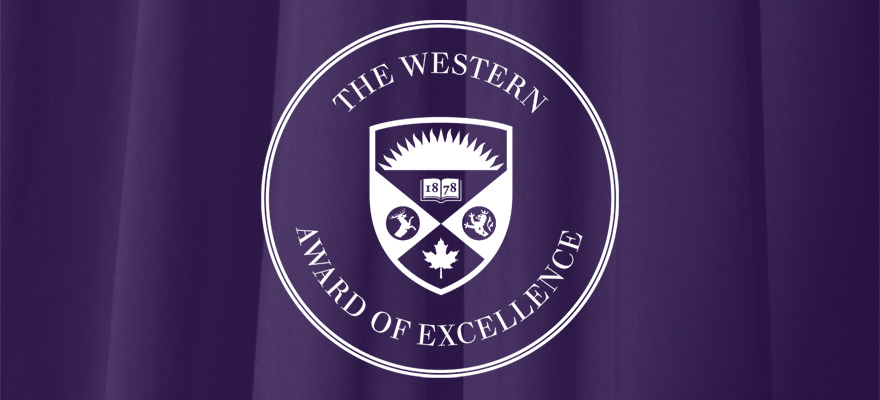 2022 Western Award of Excellence
Western is proud to recognize staff members who demonstrate exceptional commitment to the University's values and who contribute in a demonstrable way to Western's reputation as a leading institution of higher learning. The Western Award of Excellence provides meaningful and enriching recognition, offering respect and appreciation to outstanding staff and academic administrative leaders. Our goal is to have the Award of Excellence foster a culture of recognition across the University and to complement and encourage recognition programs at the department level.
Each year Western faculty, staff, students and alumni are invited to nominate an individual staff member or a team of staff who make an outstanding contribution to our campus community.
Congratulations to the 2022 Western Award of Excellence recipients and all those who were nominated for this award:
Carrie Schnurr – Hospitality Services
Darren Pitre – Western Research
Dominique Perreault – Western Technology Services
Jann Paquette-Warren – Research Development & Services
Jennifer Devlin – Anatomy & Cell Biology and Medical Biophysics
John-Derek Clarke – Ivey – Masters Program, Admissions
Lise Laporte - Western International
Indigenous Student Centre Team: Amanda Bragg, Arbor Morris, Ashley Kewayosh Samuel, Donna Noah, Joel Persaud, Kelly Nicholas, Kylie Bressette, Marisa Geris and Paul Porter
Read Western News coverage of the 2022 recipients.
The 2022 recipients were celebrated at a ceremony held in the Great Hall on February 8, 2023.