Chris Roulston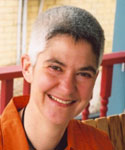 Téléphone:
519-661-2111 ext 88931
Bureau:
University College, room 4118
Courriel: croulsto@uwo.ca
---
1984 B.A. Hons English and French, University of Southampton, U.K.
1986 M.A. Comparative Literature, University of Toronto       
1993 PhD Comparative Literature, University of Toronto
General areas of academic specialisation
Eighteenth-century women's writing; marriage narratives; Mme de Graffigny; Anne Lister; Queer theory; Feminist theory; Poststructuralism
Current Research
Monograph in progress, titled School Daze: Queer Nostalgia in Modern Girls' Boarding School Narratives, funded by SSHRC Insight Grant (2020-2023) 
Edited collection in progress, titled Anne Lister: Her Life and World, eds Caroline Gonda and Chris Roulston
Publications
Monographs
Narrating Marriage in Eighteenth-Century England and France. Burlington, VT: Ashgate Press, 2010. 240 pp.
Virtue, Gender and the Authentic Self in Eighteenth-Century Fiction: Richardson, Rousseau, and Laclos. Gainesville: University Press of Florida, 1998.  211 pp.
Recent Articles and Book Chapters
"Graffigny, Zilia, et la question du mariage au XVIIIe siècle." Ed. Charlotte Simonin. Françoise de Graffigny (1695-1758), femme de lettres des Lumières. Paris: Classiques Garnier, 2020. 271-288.
"Representations of Marriage." A Cultural History of Marriage: Volume 4 The Age of Enlightenment (1650-1800). Ed. Edward J. Behrend-Martinez. London: Bloomsbury Academic Press, 2020. 115-132.
"Marriage and Its Queer Identifications in the Anne Lister Diaries." After Marriage in the Long Eighteenth Century: Literature, Law and Society. Eds. Karl Leydecker and Jenny DiPlacidi. London: Palgrave Macmillan, 2018: 181-203.
"Translating Desire: Queer Affect, Autobiography and Involuntary Love in Dorothy Strachey's Olivia (1949)." Modernism/Modernity 5.2 (July 30, 2020): . https://modernismmodernity.org/articles/roulston-translating-desire
"Queer Reflections on Childhood, Innocence and the Nation in Rosemary Manning's Boarding School Novel, The Chinese Garden (1962)." Twentieth-Century Literature, 65.4 (December 2019): 1-26.
"La théorie Queer: de ses origines aux débats actuels." Loxias Online Journal 53. Nice University, 12 June 2016. URL : http://revel.unice.fr/loxias/index.html?id=8338.
 Forthcoming chapters and articles
"Sexuality in Translation: Anne Lister and the Ancients." Journal of the History of Sexuality (JHS), in press.
Entry on Choderlos de Laclos, Dangerous Connections (1784). Cambridge Guide to the Eighteenth-Century Novel, 1660-1820, in press.
Articles Submitted for Publication
"Interpreting the Thin Archive: Anne Lister, Eliza Raine and the Boarding School Romance." Eighteenth-Century Studies, under review.
"Queer Parenting and the Challenge to Queer Theory." Special Issue of Studies in Canadian Literature: Queer Bodies/Corps Queer, under review.