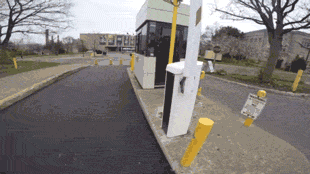 Project Progress
*Gate Activation* Activation requires the new hand tag for lot access. All lots have been activated except Huron Flats which will go live on September 6, following athletic events at TD Waterhouse Stadium.
*Database transfer* The parking database has moved. System are being phased back in resulting in a termporary service interruption to myAccount options including new permits, renewals and citation payments. PARKING PERMITS WILL BE AVAILABLE FOR PURCHASE ON AUGUST 29 @ 2pm, 2016.
*Hang tag distribution* Hang tags continue to be distributed. If you are a current permit holder and have not received your tag, please contact parkingupdate@uwo.ca
*Gate installs* is comlete. During the transition, the new gates will remain open until the new gates are install and the database is online. Parking will continue to enforce permit holder lots, as per usual.
*Civil work*  is complete.
Service Interruption
During gate installations, customers can expect delays which may be extended during the morning and afternoon commute. Please give yourself extra time. Gate installs begin in Early May.
Project Size:
Replace 43 parking gates in 19 locations and affiliated database system
Project Schedule
Total Duration: April - September 2016
Website Launch: April 4 *COMPLETE*
Civil Work (preparation): April 11 - July13 *COMPLETE*
Database transfer: Mid May June *COMPLETE*
Hang Tag Distribution (renewals): Mid May-Early August *COMPLETE*
Gate installation (main work): May-August *COMPLETE*
Project Location:
The project will modernize all parking lots across campus that are gated.
Stakeholder Engagement
April 7 - Focus Group - Representatives from staff and faculty groups across campus were engaged to discuss the project with the objectives of providing superior service throughout the project (and beyond).
April 8 - Permit Holder Email - Permit holders were notified of the civil work that will prepare the gated lots for modernization.
April 20 - Employee Groups - Representatives from the employee groups across campus were engaged to discuss the project.
April 27 - Permit Holder Email - Permit holders were notified of the complete scope of the project and timeline.
June 3 - Permit Holder Email - Current staff and faculty permit holders were notified of the distibution of the new hang tags.
June 8-15 - Hang Tag Distribution Road Show - Parking personnel travelled across campus to distribute hang tags to permit holders - Nearly 1,600 tags were handed out.
Aug 25 - Permit Purchase and Renewals - Permit purchases and renewals announced for the academic year.
Sept 26 - Permit Holder Email - Providing project progress and moving forward items. Key links include PDF guidelins on Access using WesternONECard and Approaching the Gates