Thirteen Questions with Abby Lynne Vincent
Thirteen Questions with Abby Lynne Vincent
Michelle Sadorsky (Honours BA in Creative Writing & English Literature and Arts and Humanities Student Council VP of Communications) sat down with Abby Lynne Vincent, recent Master's Graduate of Western University's Visual Arts Department shares what she's learned in her program, advice, and memories she's accumulated from her time at Western.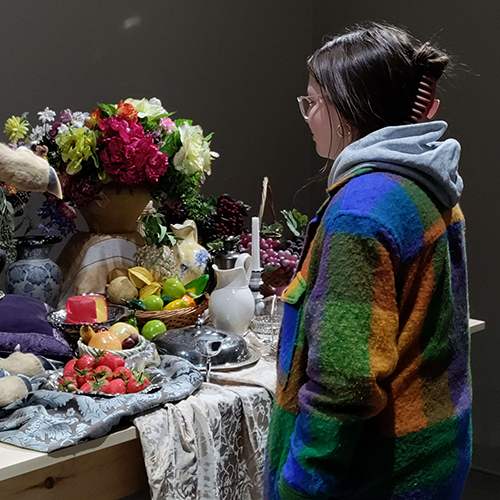 To start off, what is your degree?
I am about to graduate with a Master of Art in art history and curatorial studies.
What is your position here at the gallery?
I worked at Macintosh as a communications coordinator.
I am curious; how did you come across this position?
That's a good question! I think there are multiple different ways that you can come into a role like this. I specifically came in from my experience working in the gallery sector whereas someone else might have more of a communication specific avenue by taking like, FIMS or something like that. I graduated with a Bachelor of Fine Art from the visual arts program here at Western several years ago, and spent my time in between getting some work experience in London and came into this role. And what are your main responsibilities in this role? It's unique because this is a relatively small team here. At McIntosh. We all have broad work responsibilities. As communications coordinator, I'm responsible for all our social media, communications, web management, graphic design, that kind of more creative end the things. But I also take care of volunteer and work study, recruitment and training, staffing, and some really fun administrative tasks like finance, reconciling visa statements and issuing payroll and artists fees. So, it's unique for sure.
Going back to Western now; what was your most memorable experience here during your Masters?
It's tough because more than half of my degree was spent online so I didn't necessarily have the camaraderie with my cohort that maybe I could have had if it were a normal degree. But I would say that my most memorable experience was probably the opportunity to do my internship remotely with an organization that alternatively I wouldn't have been able to work with because they're based in Toronto, and because of the circumstance, I was able to work with them. Distance, which was really, really valuable.
What did you learn from that?
I learned a lot. The organization that I've been working with is called Partners in art. They've been around for about 20 years. It's a member based independent charity, based in the GTA, who have invested over $5 million in artists projects over the past 20 years. So, I've learned a lot about fundraising, about member relations, admin and a more fulsome kind of understanding of not for profit structure.
Who was your favorite professor here?
That's hard! I was really fortunate to have a closer relationship with my art history professors during this degree. Because I was coming out of a studio degree as my undergrad. So, I got to see a whole different side of the department. And I was fortunate enough to work closely with Professor Christine Spangler as my advisor, but for my coursework I definitely was very fortunate to work with Professor Sarah Basnet primarily. She's a wonderful, wonderful professor.
Favourite course?
It's probably the special topics seminar course that Sarah Bassnett taught called Artists Historian. It was unique in that it was cross listed with all the other graduate students. It's a really diverse group of studio students, art history, masters' students, some PhD candidates, so it led to some really wonderful conversations about how contemporary artwork can be in dialogue with past or past histories, and what those lines tell us about what society that we live in. That's actually the course that my major research paper was born out of!
And about your convocation! How excited are you to be done with your masters?
Pretty excited. It feels really good. I'm proud of my ability to have done this while I was working. Now that I'm done, I'm definitely feeling much lighter. I'm very fortunate that I work in an environment that supports my interest in continuing with my education.
Any events planned after convocation that you're looking forward to?
Personally? Not really! (laughs) I'm going back to work on Monday at McIntosh. And I've been fortunate that I was hired on part time to work with Partners in Art, so I'm juggling those two responsibilities right now. Right now, I'm focusing on powering through and trying to get as much experience as I possibly can and then enjoying all of the wonderful benefits of being able to go back out and see art in person and talk to people about how they feel about exhibitions and where they're at post-pandemic.
Are there any prospective projects you're anticipating in the future?
That's a good question. Right now, I'm definitely going to take a pause from graduate studies. But I am interested in community programming. Long term, I see myself hopefully working in a leadership role within the art sector, either as a director or administrative coordinator.
What advice would you give your old self coming into this program?
I would be careful about over-committing, because doing full-time work, part-time school, and an internship at the same time is a lot. I think being more mindful about your bandwidth for accepting new projects and try and be realistic about your time and try and maintain as healthy as possible work life balance. I think that's really difficult at the best of times, but doing school and working during a pandemic, when my living room became my office, and my study zone, and my writing room. That line became really blurry. So definitely trying to make space for myself.
And is there any advice you would like to give to prospecting master's students who are interesting in your program?
Get to know your local arts ecology. Attend events at nearby museums and galleries, consider becoming a member of your local artist-run centre, or volunteer with an organization in your spare time. Some of my most meaningful friendships and professional relationships have developed out of interactions with likeminded peers at opening receptions, on volunteer boards or at other public events. Never underestimate the value of simply showing up for your community, it accounts for a lot!