Meet Our New Team Members
Meet Our New Team Members
Campus Safety & Emergency Services (CSES) recently added seven new members to our Western Special Constable Service (WSCS) team.  Our new hires consist of one Communications Operator and six Special Constables.
Check out each employee's biography below and do not hesitate to stop by our office to introduce yourself.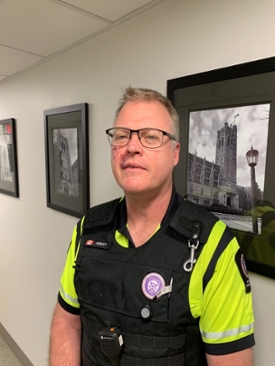 jEFF ADDLEY
My name is Jeff Addley and I am one of the newest members of the Western Special Constable Service, having started here in January 2022.
I have recently retired after a thirty-year career in public policing with the London Police Service. From that career I have experience in the areas of Patrol Operations, Criminal Investigations, Interviewing, Public Order Management as well as Search and Rescue Operations.
I look forward to working in a more relaxed and community-focused environment here at Western. I am the father of two daughters who are both attending post-secondary institutions. As a result, I am excited to bring my experiences to the Western Community in order to help foster a safe and welcoming learning environment, as I would hope for my own daughters.
---
Jonathas Blanco

     

                         
I am Jonathas Blanco , I was born in Brazil and moved to Canada 4 years ago with my family. 
I was a Police Officer for more than 13 years in my home country.  I joined the Western Special Constable Service because I am looking for a way to better serve the community. 
I am thrilled to have a chance to serve the Western Community and use the experiences I have acquired during my many years of service as a Police Officer.  The experiences I will gain by working at WSCS will provide opportunities to improve myself and assist the people in this community as they deserve.
---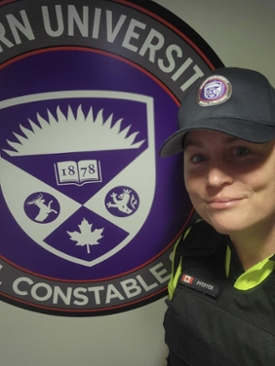 AMANDA PFEFFER 
A graduated varsity athlete of a rival Ontario university, Amanda would never have predicted that she would be adorning the purple Stangs gear with pride. However, being able to catch the best of the best of every varsity sport on campus while interacting with all of the incredible students cheering on their fellow Stangs has been, for her, one of the best parts of her new role on campus.
Amanda comes to Western with 20 years of previous experience most recently having been trained as a railroad conductor with CN. Amanda has always engaged with her community having volunteered with the Central Elgin Fire Service and her local Big Brothers, Big Sisters agency as both a Big Sister and board member. She is also a prior member of the London Middlesex Road Safety Committee and the Elder Abuse London Middlesex network.
Her passion for community and sport was also evident in her youth coaching endeavours; coaching both of her children on their teams in basketball and volleyball.
Amanda is looking forward to the warmer weather when she will able to travel through campus on a bicycle. After several close calls while on foot patrol she has concluded that the best way to escape the attacking geese is on two wheels.
Please don't hesitate to stop her and introduce yourself. She is really looking forward to meeting all of you! 
---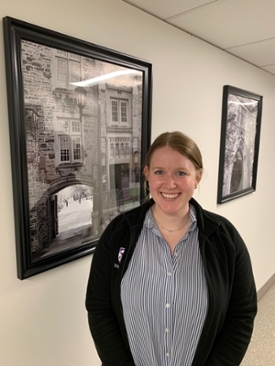 Kaylee WOOLHEAD
My name is Kaylee and I'm a new Communications Operator here with Western Special Constable Services.
My background includes a BA in Psychology and certificates in Emergency Telecommunications, Emergency Management and Crisis Intervention. I've worked as an emergency dispatcher for both Fanshawe College and St. Thomas Police Service, as well as a switchboard operator for LHSC.
I grew up in a policing family and have always had an interest in law enforcement and found that dispatching was a perfect fit for myself, as it provides me opportunity to help people while also experiencing something new daily.
I look forward to working with likeminded people to keep Western University a safe community.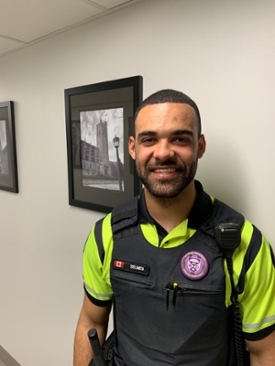 Donovan Selmes
I was born and raised in London, Ontario and attended HB Beal Secondary School. After high school I attended the University of Windsor where I studied/majored in Criminology & Sociology and graduated in 2019. I have also volunteered with Mission Services at the Rotholme Shelter.
My interests include reading a good book, listening to podcasts, watching documentaries and getting out for a run.
During my time with WSCS, I am looking forward to getting equipped with the hands-on training and experience in law enforcement that will help benefit my career. I am also looking forward to enhancing my skills that I have attained from my past experiences and lessons from my more experienced colleagues at WSCS.
---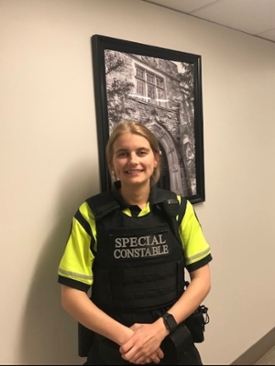 Melanie Thomas
My name is Melanie Thomas and I am a proud new member with the Western Special Constable Service.Prior to working with Western, I received my Bachelors Degree in Police Studies in 2019 and completed my co-op with Ontario Parks. I am an Auxiliary Sergeant with the Ontario Provincial Police, where I dedicate my time to serve within my community.
I love to spend my spare time outdoors with family and friends and of course, my two dogs.
I am excited to make new connections within the Western community!
---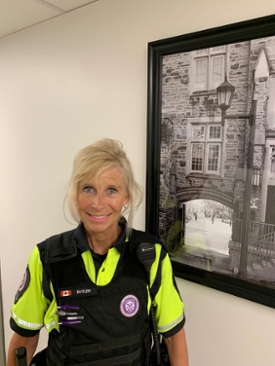 LEE Butler
My name is Lee Butler and I am very proud to say that I am a new Special Constable at Western University.
Prior to starting my new role, I was with the London Police Service for 38 years. I had an incredible career that included the Police Coordinator position for the London and District Crime Stoppers Program, where my involvement included working with local high school students.  I was the Assistant to the Detective Superintendent of the Criminal Investigation Division for many years which gave me a great background in administration and budget issues. 
My last ten years were spent being a Special Constable in the Court Prisoner Unit where I prided myself on being able to show strength and empathy to the people in my care. I bring that strength and empathy, along with my many years of experience, to my new position with Western. 
I look forward to ensuring that all of Western's students, faculty and staff know that I am here to help and support each and every one of them.
---