WSCS Annual Property Sale
WSCS Annual Property Sale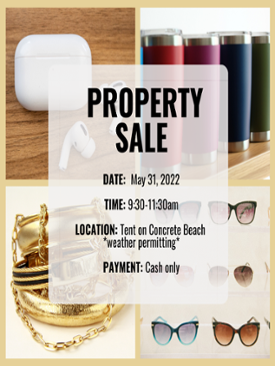 Western Special Constable Service (WSCS) will be hosting their annual unclaimed property sale on Tuesday, May 31st, 2022. The sale will begin at 9:30am and conclude at 11:30am or sooner if all items are purchased early.

The sale will take place under the large tent at the Concrete Beach of the University Community Centre (UCC).

it is recommended to arrive early to line up as the sale will be done on a first come first served basis.
Items range from headphones, sunglasses, jewellery, calculators, water bottles, device charging cords and many more.

There will be a limit on the number of items each person can purchase.  All items at fixed prices and all purchases are CASH only.
As the sale being held outdoors, an alternative date will be arranged for another day if the weather does not cooperate.