Ford-Gilboe named to Canadian Academy of Health Sciences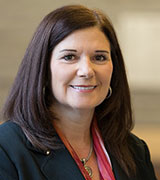 Arthur Labatt Family School of Nursing professor Marilyn Ford-Gilboe has been recognized for her commitment to teaching, research and advocacy in health care access and intimate-partner violence with a fellowship in the Canadian Academy of Health Sciences.
A leader in the areas of women's health, violence, health equity and place, her research has contributed foundational knowledge about the health consequences of violence and effective health interventions for women experiencing intimate partner violence, including rural-dwelling women and people those who face significant barriers to care. This work is strengthening health care and social service responses to violence, trauma and inequity. Her research is advancing the measurement of intimate partner violence, with implications for global policy.
The Canadian Academy of Health Sciences informs policy and practice by mobilizing some of the country's top scientific minds to provide independent and timely evidence-based assessments of critical health challenges affecting Canadians.