Summer Construction Projects 2017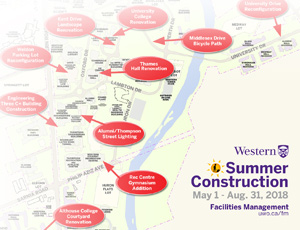 Facilities Management is creating and maintaining infrastructure to enhance services to the campus community. This summer and into the new academic term, projects to modernize campus and accommodate growth may have an impact on vehicular and pedestrian traffic.
There are hundreds of maintenance, repairs, and infrastructure upgrade projects underway throughout the year. Being mindful of the potential impact to customers on campus, Facilities Management highlights the summer initiatives that may have an impact on the landscape of the campus, enhance pedestrian safety, and/or lead to any significant interruption to services.
This page is dedicated to summer (and ongoing) construction projects, providing updates on milestones and what commuters can expect in the coming days and weeks.

Upcoming Service Interruptions
| Interruption | Location/Project | Duration |
| --- | --- | --- |
| Sidewalk closure | Between Natural Science and Chemistry Building/Concrete work | July 17-August 11 |
| Western Road lane shifts 2 | Western Road near Engineering Three C Plus | July 17-28 |
| Parking lot space closures | Alumni/Thompson parking lot / Lot reconfiguration and lighting enhancements | July 24-August 25 |
| Lane shift, sidewalk restriction | Western Road, east lane, near Engineering Three C Plus | July 24-27 |
| Western Road lane shifts 3 | Western Road near Engineering Three C Plus | August TBD |
List of Construction Projects - Infrastructure Enhancements
| Project | Timeline | Features |
| --- | --- | --- |
| Parking Gate Installation - Ivey Lot | Early to Mid-May | A new automated gate is being installed to control access to the Ivey lot located to the South of the Ivey Business School building. |
| City of London Watermain replacement | Throughout May | The project to replace the watermain is complete. Crews are working to restore the nearby natural features and infrastructure. |
| Street Lighting - Elborn College | Throughout June / July | Enhanced outdoor lighting in select locations on campus. |
| Street Lighting - Alumni / Thompson Corridor | July 24-August 25 | Enhanced outdoor lighting in select locations on campus. |
| Street Lighting - Lambton Drive | TBD | Enhanced outdoor lighting in select locations on campus. |
| Resurface Upper Heating Lot | TBD (Mid-Summer) | Freshen up the surface of the lot. |
List of Construction Projects - Major Capital Construction
| Project | Timeline | Features |
| --- | --- | --- |
| Western Interdisciplinary Research Building | Completion in 2017 | The new building was master programmed and planned to include an initial 120,000 sf phase one science building including 24,000 sq.ft. of shelled space. The phase one building will house dry laboratories, teaching and research space, classrooms, public amenities and a public plaza.  |
| Music Building - Phase 2 | Completion in 2017 | The remaining older section (west wing) of the Music Building is being removed and the end will be capped to complete the Phase 1 renovations. Service to pedestrian and motorist routes will be affected and/or closed. Please be cautious when travelling in the area. |
| Engineering Building | Completion in 2018 | With Engineering's undergraduate enrolment expected to jump more than 25 per cent in the next couple of years, the timing could not be better to break ground on a new building. With the goal of enhancing teaching and learning spaces, a new 100,000-square-foot building is set to take shape this fall, connecting to the Spencer Engineering Building and Boundary Layer Wind Tunnel Laboratory (BLWTL), along Western Road. The BLWTL will remain, but office space will removed during construction. |
| University College Modernizaton | Completion in 2018 | The current renovation project will include a major interior modernization and opening of more common space. The renovation will include complete replacement of electrical, plumbing and HVAC systems, The project will renovate approximately 117,534 sqft (almost all) of the existing University College Building. |
Feedback