Deb Lucy, Physical Therapy professor, passes away at 69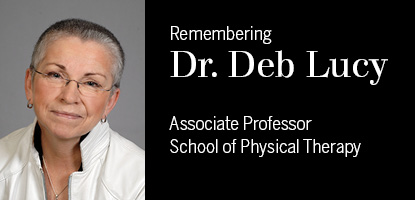 Surrounded by her family, Dr. Deborah (Deb) Lucy, associate professor in the School of Physical Therapy, passed away on Saturday, April 28, after a brief illness.
Deb's contributions to Western, the School of Physical Therapy and the Faculty of Health Sciences were many. In all, she held four Western degrees and was most certainly purple and proud through and through. After graduating from Western's Physical Therapy program in 1971, she joined the School as a Clinical Instructor in 1975 and later became a full-time faculty member.
She taught and inspired hundreds of students and was a leader in the field of cardiorespiratory research. She chaired many committees in the School of Physical Therapy, and served as Acting Director of the School in 2012-13. Following that assignment, she was Chair of the MPT program, and most recently, was Chair of the Student Affairs Committee. Through it all, Deb was a calm, thoughtful, and important part of the School and Faculty who will be missed by many.
Visitation will be held on Thursday, May 3 from 2-4 p.m. and 7-9 p.m. at AMG Funeral Home, 60 Ridout Street South in London, with a memorial service scheduled for Friday, May 4 at 1 p.m., also at AMG Funeral Home. Deb's full obituary can be read here - http://www.amgfh.com/condolences/obituary.aspx?id=174013  
Please join us in keeping Deb's family in your thoughts, including her brother, David, her daughter, Kristin, and her grandchildren, Ethan and Kyle.