Welcome home, Kinesiology: Thames Hall

By Wendy Haaf, June 2022
Both when construction was finished in 1949 and after the completion of its current transformation, Thames Hall has reflected Western University's position as a leader in what is now named kinesiology.
When the former field house originally opened, Western was one the first Canadian universities to grant a degree in physical education and create a cutting-edge curriculum for training future physical education teachers.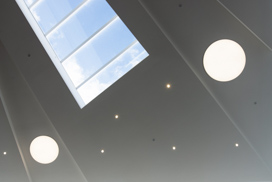 This iconic building's beautifully renovated interior continues to honour the rich history of the School of Kinesiology. As well, it is purposely designed to cultivate collaboration and facilitate active learning, aligning and highlighting research in specialized areas of study to support and promote physically active lifestyles throughout the lifespan. This approach highlights the School's core values of wellness, equity and accessibility.
The stunning new atrium pays homage to the former Thames Hall gymnasium. The new centralized common space, with its living green wall and skylights that bring natural light to the room, offers a welcoming study, event, and collaboration space. Windows into teaching and research spaces also serve a secondary purpose of showcasing the great being done in Kinesiology.
"People often don't know what kinesiology is all about, so we wanted people to be able to see what we do in areas like our athletics injuries lab or exercise and fitness testing area", says Laura Misener, Director of Western's School of Kinesiology.
Another focus of the renovation was ensuring that all areas of the building included an emphasis on wellbeing. While formal sports facilities like basketball courts are now located elsewhere on campus, physical activity spaces that support the School's teaching and research mission are incorporated in the new design. With Western's Health and Wellness services now also relocated to Thames Hall there are great synergies in the space ensuring Western students have access to integrated supports.
We worked closely with the Office of Student Experience and other campus partners throughout the design process.
The living wall and use of natural materials throughout the building also represent a connection to the land, including the 'Deskan Ziibi', the traditional Anishinabek name of the Thames River.
"Something we thought about and worked closely with the Office of Student Experience and other campus partners on throughout the design process was ensuring these spaces are safe and inclusive," Misener says. "One example of this is the non-gendered and accessible spaces, such as changerooms and washrooms."
Similarly, planners thought a lot about how to create accessible spaces for students, particularly when it came to supporting learning objectives.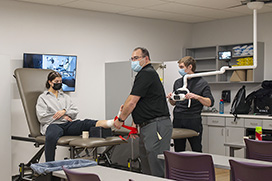 "We integrated types of technology that would be better for students with differing needs," explains Misener. "In the athletics injury lab, for example, instead of students crowding around the instructor, a camera and multiple monitors allow them to see the action up close from anywhere in the room. Individual stations are accessible and equipped to adapt to the needs of students with varying access requirements."
Learning and teaching spaces also were designed to meet the needs of students studying for an increasingly diverse range of occupations.
"Many of our students are going into health, or fitness and exercise prescription, whether that be through a rehabilitation program, sport or personal training, or becoming a clinical kinesiologist," Misener says. "We needed to be thinking about creating spaces that train our students to be adaptable and flexible. That really drove the design and elements we wanted to see integrated into Thames Hall."
The renovation project provided an opportunity to make better use of available space and bring together researchers and students around shared interests and activities. As the School of Kinesiology has expanded over the last 30 years, research labs were scattered across campus wherever space was available.
"There wasn't necessarily a lot of coherence to how it happened," says Misener. "We had the exercise biochemistry lab on one side of the hall across from the Athletics rowing room. At the same time, we were also expanding our scope of research and teaching, and we didn't have the space to grow."
Our members wanted a place where they could connect and have informal conversations, which is an important part of the culture for research and teaching that we are trying create.
Now, with the extensive renovations complete, kinesiology researchers have a home in Thames Hall or the in the adjoining 3M Centre, positioned around the School of Kinesiology's research pillars: Social Impact, Brain Health and Mobility.
"It brings all of our faculty essentially back into one building," says Misener. "Previously, we were spread across different parts of campus, which created a lot of disconnect – there wasn't the same level of faculty culture and fewer opportunities for collaboration."
Bringing the faculty back under one roof is only part of the School's long-term plan to create a fertile environment for collaboration. A new, more equitable and sustainable method of allocating lab space will also help further that agenda.
"We are shifting to an approach with shared lab spaces that are purpose built for specific types of research. This means that all of our researchers – whether they're sociologists, psychologists or physical scientists – have space they need. We see it as a more effective use of space and more successful way to encourage collaboration."
An notable feature that marries the best of Thames Hall's history and its present – the Tower Room – should also help foster collaboration among faculty members and external partners, leading to an enhanced culture of research.
"It has become a gathering space," says Misener. "Our members wanted a place where they could connect and have informal conversations, which is an important part of the culture for research and teaching that we are trying create. We've only been here a couple of months, and it's the thing that people talk about most. People are excited about it."
"Supporting our students and ensuring they have the knowledge and skills necessary to succeed is our top priority," Misener says. "We will continue to adapt and adjust to ensure their learning experience is second to none."
IMAGE GALLERY (click an image to open)