Canada Research Chairs
Western's Faculty of Health Sciences is home to a number of Canada Research Chairs, each of whom is an international leader in their field. The Canada Research Chairs program was created by the Government of Canada in 2000. It is intended to help Canadian universities in retaining their most distinguished researchers, developing Canadian research expertise, and becoming world-class institutions for research and training.
Digital Health for Equity (Tier 2)
Tarun Katapally, PhD (School of Health Studies)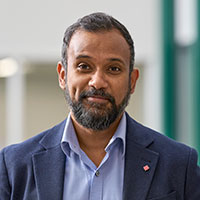 Health Studies professor Tarun Katapally is a physician and patient-oriented research leader whose research team in the Digital Epidemiology and Population Health Laboratory is working to develop a sustainable program of digital health research through scaling up the Smart Platform – a citizen science and digital epidemiological platform, which enables the engineering of digital health solutions by harnessing the power of big data, with an emphasis on ethical citizen engagement, data sovereignty, and Internet equity. Professor Katapally's team conceptualizes, develops and implements digital health platforms by intersecting citizen science and social innovation.


---
Mobilizing Knowledge on Gender-Based Violence (Tier 1)
Nadine Wathen, PhD (Arthur Labatt Family School of Nursing)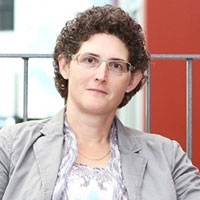 Wathen's primary research goal is to understand the interplay between gender (and other social identities and locations) and experiences of violence, with a specific focus on intimate partner violence against women and ways to reduce it and its impacts on women, families, and society. In addition to generating new knowledge through a variety of research methods and processes, she works closely with partners of various kinds to ensure that the research has a pathway to policy, practice and the public. Using an integrated knowledge mobilization approach, a first question is always: "Is this a timely and relevant question, and are the right people involved to make sure it's asked, answered and shared to maximize impact?"
She also studies the process of mobilizing knowledge in this "wicked" problem area. For example, asking "how does "evidence" interact with values and context to shape decisions?" "What do we mean by "evidence" in different decision-making contexts?". "How do we acknowledge and work within the "messiness" of real decision processes with imperfect knowledge?". These and other questions problematize the entire "knowledge translation/mobilization" discourse, and try to recognize and value different forms of knowledge and knowledge processes for different tasks and contexts.


---
Musculoskeletal Rehabilitation (Tier 1)
Trevor Birmingham, PhD (School of Physical Therapy)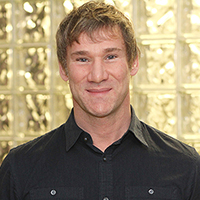 Using new biomechanical and imaging tools, Birmingham is leading a trans-disciplinary team of researchers who are investigating how rehabilitative and surgical interventions can be combined to change the way the knee bears weight during walking. The goal is to slow, halt or even reverse the progression of knee osteoarthritis, which affects more than 250 million people globally, causing tremendous personal distress and adding to health care costs.
---
Musculoskeletal Health Outcomes and Knowledge Translation (Tier 1)
Joy MacDermid, PhD (School of Physical Therapy)
Musculoskeletal (MSK) conditions can range from carpal tunnel syndrome to tendonitis, sprains and various bone, muscle and joint problems. Physical Therapy professor Joy MacDermid is developing new approaches to orthopedic surgery and musculoskeletal rehabilitation that combine technology advances with patient-centred approaches.
People with musculoskeletal conditions (or injured workers) will give MacDermid and her research team input into their needs, the design of the proposed interventions and the usability analyses. Interventions that show promise during the development phase will be tested in rigorous clinical trials. Ultimately, this research may lead to better access to rehabilitation, less reliance on opioids, better targeting of patients who need surgery, and shorter wait times for treatment.