Building Ventilation
Western and Facilities Management is committed to providing a safe and healthy work environment for the entire campus community. This is especially true in our approach to maintaining a safe indoor environment through the operations of our heating ventilation and air conditioning (HVAC) systems controlled by the Western Environmental System.
We follow the ASHRAE (American Society of Heating, Refrigeration and Air-conditioning Engineers) standards and guidelines. Although indoor space ventilation is considered a secondary issue for managing COVID-19 risks, ASHRAE through its COVID-19 Epidemic Task Force, published Core Recommendations for Reducing Airborne Infectious Aerosol Exposure. Western has followed these guidelines carefully and has adopted a number of practices to support ventilation improvements. 
Western's Classroom Ventilation Database
The health and safety of our entire community is our highest priority. Classrooms are expected to be at or near capacity with all students wearing masks. Vaccination remains the most important factor in protecting the community, and all students, faculty and staff are required to be fully vaccinated unless exempt under the Ontario Human Rights Code or for medical reasons. Those who are not vaccinated will be subject to additional health and safety protocols, such as regular testing.
The Facility Development & Engineering team undertook an analysis of all classrooms on campus. We brought in an external consultant to independently assess the air flow in a representative 15% of classrooms across a number of buildings. The findings from this assessment are that the ventilation in all classrooms at Western meet, and most even exceed, the designed ventilation for the spaces.
Further, we have conducted an analysis of the Equivalent Air Changes (eACH) per hour in some 408 classrooms and general spaces on campus. While there are no regulated targets for Equivalent Air Changes (eACH) per hour, Western has followed the air-exchange recommendations outlined by the Harvard T. H. Chan School of Public Health, through their Healthy Buildings for Health program as follows: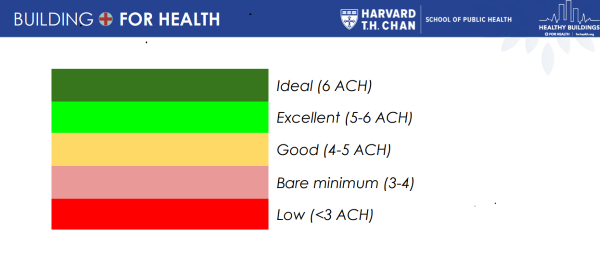 The analysis found 99% of rooms have ideal or excellent ratings when buildings draw maximum airflow from outside. Even when the outside air intake is reduced to 'minimum' levels (to cool a building more efficiently and provide greater comfort in humid weather, for example), 98% of classrooms are at ideal or excellent ratings.
The individual eACH can be found for buildings and rooms below.
The eACH values listed below assume minimum outside air intake. Rooms with air purifiers are denoted by an *.
| | |
| --- | --- |
| Room Number | eACH |
| 1056 | 6 |
| 1059 | 8 |
| 1200 | 7 |
| 2094* | 5 |
| 2099 | 6 |
| 2100 | 5 |
| 2200 | 6 |
| 2202 | 5 |
| 3109 | 6 |
| | |
| --- | --- |
| Room Number | eACH |
| 1050 | 24 |
| 1052 | 6 |
| 1054 | 6 |
| 1100 | 13 |
| 1114 | 10 |
| 1118 | 11 |
| 1162 | 6 |
| 2011 | 12 |
| 2013 | 8 |
| 2015 | 6 |
| 2017 | 6 |
| 2021 | 6 |
| 2023 | 6 |
| 2025 | 6 |
| 2027 | 6 |
| 2029 | 6 |
| 2035 | 5 |
| 2036 | 7 |
| 2038 | 5 |
| 2040 | 7 |
| 2042 | 7 |
| 2046 | 7 |
| 2049 | 7 |
| 2051 | 6 |
| 2054 | 5 |
| | |
| --- | --- |
| Room Number | eACH |
| 17* | 7 |
| 101 | 10 |
| 200 | 6 |
| | |
| --- | --- |
| Room Number | eACH |
| 1410* | 4 |
| 1415* | 4 |
| 1420* | 4 |
| 1450 | 9 |
| | |
| --- | --- |
| Room Number | eACH |
| 9 | 9 |
| 11 | 11 |
| 14 | 8 |
| 35 | 7 |
| 40 | 8 |
| 236 | 10 |
| 240 | 10 |
| | |
| --- | --- |
| Room Number | eACH |
| 1B02 | 6 |
| 1B04 | 6 |
| 1B06 | 7 |
| 1B08 | 6 |
| 1R40 | 6 |
| 2B02 | 7 |
| 2B04 | 6 |
| 3B02 | 7 |
| 3B04 | 6 |
| | |
| --- | --- |
| Room Number | eACH |
| 153 | 12 |
| 165 | 16 |
| 1056 | 12 |
| | |
| --- | --- |
| Room Number | eACH |
| 9 | 9 |
| 115 | 10 |
| | |
| --- | --- |
| Room Number | eACH |
| 0010 | 10 |
| 1002 | 7 |
| 2016 | 9 |
| 3008 | 6 |
| 0142H | 6 |
| 2005A-1 | 6 |
| 2005A-2 | 6 |
| | |
| --- | --- |
| Room Number | eACH |
| 1330 | 20 |
| 1534 | 4 |
| 1538 | 5 |
| 1543 | 6 |
| 1547 | 6 |
| 1548 | 5 |
| 1563 | 6 |
| 1576 | 5 |
| 2130 | 15 |
| 2155 | 8 |
| 2168 | 8 |
| 2180 | 7 |
| 2508 | 8 |
| 2510 | 12 |
| 2525 | 15 |
| 2578 | 7 |
| 1520C | 5 |
| | |
| --- | --- |
| Room Number | eACH |
| 1200 | 8 |
| 1220 | 8 |
| 1240 | 10 |
| 1250 | 10 |
| 1270 | 8 |
| 2210 | 8 |
| 2220 | 8 |
| 2230 | 11 |
| 2240 | 11 |
| 2324 | 7 |
| 2330 | 7 |
| 2360 | 5 |
| 3210 | 10 |
| 3220 | 11 |
| 4070 | 6 |
| 4110 | 6 |
| 4130 | 5 |
| | |
| --- | --- |
| Room Number | eACH |
| H 9 | 13 |
| H018 | 14 |
| H062 | 7 |
| H064 | 6 |
| H066 | 6 |
| H068 | 7 |
| H19 | 12 |
| H62 | 7 |
| H64 | 6 |
| H66 | 6 |
| H68 | 7 |
| | |
| --- | --- |
| Room Number | eACH |
| 102 | 5 |
| 110 | 6 |
| 114 | 9 |
| 1150 | 13 |
| 1157 | 10 |
| 3350 | 11 |
| 3351 | 12 |
| 3370 | 13 |
| 3372 | 10 |
| 1150A | 6 |
| 1150C | 8 |
| | |
| --- | --- |
| Room Number | eACH |
| K103 | 7 |
| K106 | 12 |
| K203 | 8 |
| K208 | 8 |
| | |
| --- | --- |
| Room Number | eACH |
| 34 | 11 |
| 36 | 6 |
| 38 | 7 |
| 44 | 12 |
| 51 | 5 |
| 52* | 6 |
| 100 | 13 |
| 202 | 8 |
| 204 | 9 |
| 205 | 7 |
| 206 | 5 |
| 207* | 6 |
| | |
| --- | --- |
| Room Number | eACH |
| 1218 | 7 |
| 1227 | 7 |
| 2205 | 6 |
| 2210 | 6 |
| 3220 | 4 |
| 2270C | 7 |
| | |
| --- | --- |
| Room Number | eACH |
| 204 | 13 |
| 3204 | 10 |
| | |
| --- | --- |
| Room Number | eACH |
| 16 | 12 |
| 17 | 11 |
| 18 | 13 |
| 22 | 14 |
| 23 | 13 |
| 27 | 15 |
| 28 | 13 |
| 29 | 13 |
| 146 | 8 |
| 148 | 10 |
| 190 | 11 |
| 282 | 13 |
| 384 | 13 |
| 193A | 10 |
| 193B | 13 |
| 193C | 10 |
| 193D | 14 |
| | |
| --- | --- |
| Room Number | eACH |
| 17 | 14 |
| 104 | 13 |
| 106 | 13 |
| 107 | 12 |
| 108 | 13 |
| 110 | 10 |
| 204 | 12 |
| 300 | 5 |
| 316 | 8 |
| 320 | 9 |
| 105B | 6 |
| 105C | 10 |
| 15A | 5 |
| 15B | 8 |
| 16A | 15 |
| 16B | 15 |
| | |
| --- | --- |
| Room Number | eACH |
| MB140 | 6 |
| MB227 | 5 |
| MB241 | 10 |
| MB254 | 7 |
| MB321 | 9 |
| MB341 | 9 |
| MB441 | 9 |
| MB541 | 8 |
| | |
| --- | --- |
| Room Number | eACH |
| 1 | 6 |
| 7 | 6 |
| 145 | 6 |
| 153 | 4 |
| | |
| --- | --- |
| Room Number | eACH |
| 101 | 5 |
| 105 | 7 |
| 113 | 7 |
| 114 | 7 |
| 117 | 7 |
| 283 | 7 |
| 284 | 6 |
| 285 | 8 |
| 293 | 19 |
| 295 | 9 |
| 296 | 12 |
| | |
| --- | --- |
| Room Number | eACH |
| 26 | 15 |
| 34 | 10 |
| 36 | 12 |
| 48 | 7 |
| 49 | 7 |
| 100 | 9 |
| 106 | 9 |
| 108 | 9 |
| 117 | 6 |
| 148 | 9 |
| 150 | 9 |
| 327 | 11 |
| | |
| --- | --- |
| Room Number | eACH |
| 1100 | 10 |
| 1120 | 11 |
| 1130 | 11 |
| 1140 | 11 |
| 1200 | 11 |
| 1210 | 11 |
| 1220 | 11 |
| 1230 | 11 |
| 1240 | 11 |
| 1310 | 7 |
| 1320 | 7 |
| 1330 | 7 |
| 1340 | 7 |
| 1350 | 7 |
| 1360 | 8 |
| 1370 | 10 |
| 1380 | 8 |
| 1390 | 9 |
| 2115 | 18 |
| 2120 | 18 |
| 2125 | 18 |
| 0140A | 8 |
| 0140B | 8 |
| 102A | 5 |
| 102B | 6 |
| | |
| --- | --- |
| Room Number | eACH |
| 1004 | 5 |
| 1032 | 8 |
| 1059 | 6 |
| 1425 | 7 |
| 2020 | 8 |
| 2024 | 8 |
| 2028 | 6 |
| 2032 | 10 |
| 2036 | 9 |
| 2050 | 5 |
| 2257 | 11 |
| 3006 | 10 |
| 3010 | 10 |
| 3014 | 9 |
| 3018 | 8 |
| 3022 | 5 |
| 3024 | 5 |
| 3026 | 8 |
| 3028 | 7 |
| 3102 | 9 |
| 3108 | 9 |
| 3120 | 12 |
| 3219 | 6 |
| 3220 | 7 |
| 3221 | 6 |
| 3227 | 9 |
| 3315 | 12 |
| 4032 | 9 |
| 4103 | 9 |
| 4105 | 8 |
| 4107 | 8 |
| 4112 | 9 |
| 4161 | 9 |
| 4255 | 10 |
| 4317 | 9 |
| 5220 | 15 |
| 5230 | 7 |
| 5235 | 8 |
| 5406 | 8 |
| 5427 | 7 |
| 5428 | 8 |
| 7200 | 5 |
| 7210 | 6 |
| 7236 | 7 |
| 7409 | 7 |
| 8409 | 16 |
| 8440 | 7 |
| 3207C | 6 |
| | |
| --- | --- |
| Room Number | eACH |
| 2316 | 8 |
| 2317 | 7 |
| 2355 | 10 |
| 3305 | 5 |
| 3307 | 5 |
| 3315 | 6 |
| 3317 | 6 |
| 3345 | 13 |
| 3350 | 5 |
| 3355 | 4 |
| 3359 | 6 |
| | |
| --- | --- |
| Room Number | eACH |
| 1119 | 7 |
| 1140 | 6 |
| 1145 | 5 |
| 1155 | 7 |
| 1157 | 7 |
| 2166 | 6 |
| 3101 | 10 |
| 3166 | 10 |
| | |
| --- | --- |
| Room Number | eACH |
| 100 | 6 |
| 101 | 7 |
| 128 | 6 |
| 141 | 10 |
| 201 | 8 |
| 202 | 8 |
| 203 | 8 |
| 204 | 8 |
| 205 | 8 |
| 303 | 8 |
| 305 | 8 |
| 309 | 9 |
| 310 | 8 |
| 340 | 5 |
| 341 | 8 |
| 342 | 8 |
| 343 | 8 |
| 345 | 8 |
| 357 | 8 |
| 302B | 10 |
| | |
| --- | --- |
| Room Number | eACH |
| 2100 | 6 |
| 2192 | 8 |
| 2198 | 9 |
| 3101 | 17 |
| 3103 | 10 |
| 3106 | 7 |
| 3107 | 10 |
| 3118 | 7 |
| 3190 | 17 |
| 3191 | 11 |
| 3193 | 13 |
| 3194 | 7 |
| | |
| --- | --- |
| Room Number | eACH |
| 1105 | 7 |
| 1110 | 8 |
| 1225 | 6 |
| 2105 | 8 |
| 2110 | 7 |
| 2115 | 8 |
| 2120 | 8 |
| 3110 | 16 |
| 3120 | 11 |
| 3220 | 8 |
| 3225 | 7 |
| 3305 | 11 |
| 3320 | 9 |
| 3415 | 9 |
| 4401 | 13 |
| | |
| --- | --- |
| Room Number | eACH |
| 37 | 9 |
| 41 | 13 |
| 56 | 7 |
| 58 | 7 |
| 59 | 9 |
| 60 | 7 |
| 61 | 8 |
| 63 | 6 |
| 65 | 7 |
| 66 | 6 |
| 67 | 6 |
| 146 | 7 |
| 54A | 7 |
| 54B | 7 |
| | |
| --- | --- |
| Room Number | eACH |
| 100 | 6 |
| 247 | 8 |
| 249 | 6 |
| | |
| --- | --- |
| Room Number | eACH |
| 120 | 8 |
| 121 | 10 |
| 258 | 9 |
| | |
| --- | --- |
| Room Number | eACH |
| 1150 | 7 |
| 4004 | 11 |
| 4005 | 12 |
| 4006 | 8 |
| 4010 | 10 |
| 4117 | 6 |
| 4119 | 7 |
| 4121 | 7 |
| 4123 | 7 |
| 4125 | 8 |
| | |
| --- | --- |
| Room Number | eACH |
| 1110 | 8 |
| 1120 | 10 |
| 1130 | 9 |
| 1160 | 6 |
| 1170 | 6 |
| 3000 | 15 |
| | |
| --- | --- |
| Room Number | eACH |
| 55 | 7 |
| 240 | 5 |
| 248 | 5 |
| | |
| --- | --- |
| Room Number | eACH |
| 20 | 6 |
| 36 | 5 |
| 20E | 5 |
| 20F | 5 |
`