Landscape Services team prepares for upcoming winter season with mock snow event
November 2021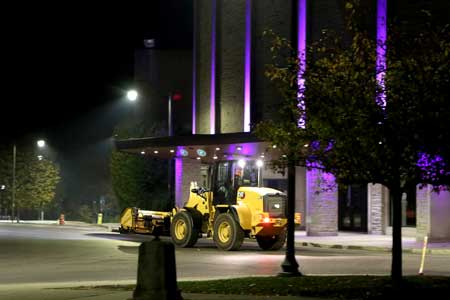 It's not uncommon to have an early-season snow storm rip through as a reminder to Londoners of the imminent weather that lays just ahead. Although the region was spared with only a mild sprinkling last week, that hasn't slowed the planning efforts of Mike Lunau, manager of landscape services at Western, and the Landscape Services team.
Earlier this week, the team proactively rolled out a full complement of snow removal vehicles for their third annual mock snow event. The dry-run had all-hands-on-deck running all routes and using all 13 snow-specific machines to simulate dealing with a real winter storm.
"It's important to re-enact a full snow event so we are ready when the snow really starts to fly," says Lunau. "It's a great way to help the team switch gears from cutting grass and blowing leaves to clearing ice and plowing snow."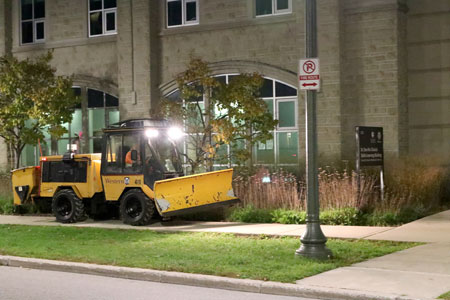 During the event, the Landscape Services crew pay close attention to equipment performance. With a handful of units coming through rental, only minor issues were reported, including a finicky wing on one of the plow blades. Furthermore, weight and space restrictions in areas, such as concrete beach, have also forced the team to trial different equipment options, including a lightweight front-loader that can navigate tight spaces.
"Simple things like raised sewer covers or surfaces that have heaved since last year can snag our blades and slow down our operation," says Lunau. "Mapping out those problem areas and strategizing will save us time when we need it most – during active snow fall."
Running routes, the team also reviewed new surfaces, such as Kent North, which will require special care with the interlocking brick work and new concrete seating. Some routes have overhanging growth that will tangle with the machines; for example, low tree limbs were marked for trimming near the Social Science Centre parking lot.
"We knew ahead of time that construction zones, like around Biomed, would be fluid and require operators to be extra cautious," says Lunau. "However, driving through the space before being obscured by snow helps to get a lay of the land – we even noted some extension cords that could have been problematic if not discovered now."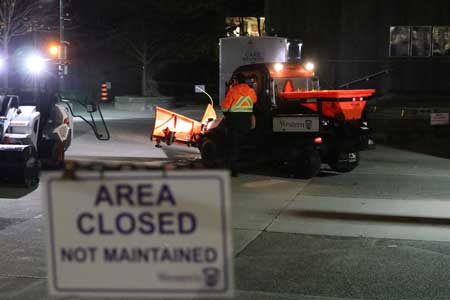 Lunau is familiar with the heightened level of care. Keeping campus beautiful during warm weather operations and keeping surfaces clear in the winter is what the campus community has come to expect.
"It is different than our summer work and in many ways snow and ice management can be more demanding on the team – often resulting in late nights and early mornings," says Lunau.
The mock run began at 4 AM and continued for roughly four hours, which is about half the time it takes to clear an average snow fall. It wouldn't be uncommon for larger, active snow events to require a rotating schedule leading to 24 hours of coverage throughout the week.
Select areas on campus will be closed again this year to facilitate safe passage and provide overflow space for snow removed from adjacent surfaces. Low volume and redundant stairways and walkways, for example, are targeted and roped off.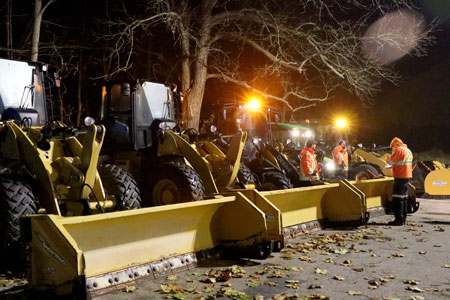 Western's expansive campus and variable surfaces is a factor in the snow and ice management strategy. The campus is connected by 15 kilometres of roadway and pathway, has more than 7,000 parking spaces, and hundreds of building entrances. Thousands of staff, faculty, students and community members travel through campus daily. Keeping all travelable surfaces clear and safe is critical and particular focus is put on pedestrian pathways. The strategy has identified areas of primary focus should the snow fall faster than can be cleared.
With in-person classes returning to campus this year, the Landscape Services team remains committed to maintaining a safe and accessible campus.
"Obviously, last year was an anomaly," say Lunau. "We cleared snow as per usual, but found traffic loads were lighter and we were able to navigate campus more easily – it won't be the same this year."
__
How and when to report worsening conditions to Facilities Management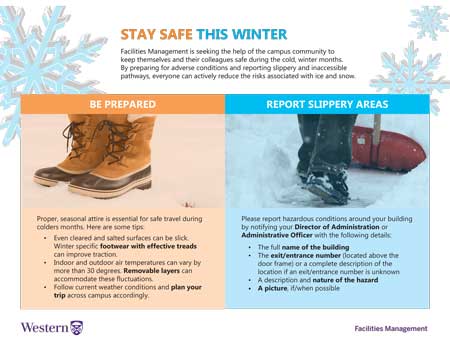 Bryan Wakefield, director of facilities operations, is hopeful that returning staff and faculty will continue their role in reporting hazardous conditions. Last year, the procedure changed to accommodate the limited number of administrators working on campus. The return to more normal operations has Wakefield seeking a return to the normal reporting process.
"We are once again working together with administrative officers to help triage calls regarding weather-related conditions," Wakefield said. "We are also taking the opportunity to remind the campus community to take proper precautions, dress for the weather, and plan their trip across campus."
Wakefield notes that the team often prioritizes areas during long snow events and reminds the campus community to only report areas that have been left for a significant amount of time or are slippery.
"The team is ready to go, but ongoing snow storms will have an impact on our strategy," says Wakefield. "Our objective during large-scale events is to stay ahead of accumulation on emergency routes, accessibility infrastructure, daycare facilities, and high-volume travel paths."
To report snow and ice management issues, staff and faculty members should notify their office administrators, while students are encouraged to call Facilities Management Client Services, 519-661-3304. Client Services phones are actively answered by a live agent 24 hours a day, 7 days a week.