Employers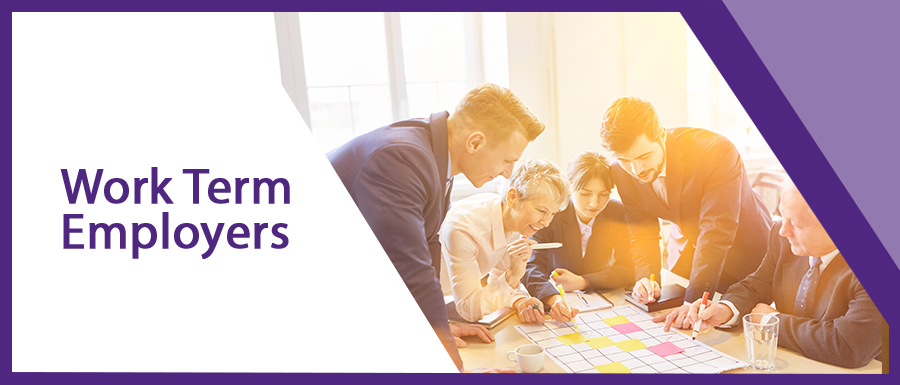 The Master of Data Analytics (MDA) is a one-year, full-time, interdisciplinary, professional science master's program designed to produce high-skilled professionals ready to pursue an analytics-focused career. Once our students have gained the necessarily technical and business skills through their coursework, they must complete an Experiential Learning Term which will provide them with at least 500 hrs of "real-world" experience . The MDA program prepares our students for positions at all levels of government, not-for-profit organizations, and private companies. They are ideally suited for positions with titles like: Data Scientist, Big Data/Data Architect, Business Analyst, Operations Analyst, Data Engineer. 
Employer Benefits
Gain access to innovative, motivated students who have both advanced technical knowledge in data analytics and an understanding of business concepts and ethics, communications and finance.
MDA students are a reliable, responsible, and cost-effective solution for many employers seeking data analytics solutions.
Opportunity to build a talent "pipeline" to provide on-going support to business projects while supporting Western and the Faculty of Science in developing industry-ready graduates who will be able to meet a growing need for data analytics expertise within your organization.
The Master of Data Analytics (MDA) is a recognized co-operative education program with the Ministry of Colleges & Universities and enables an employer to be eligible for the Ontario Co-operative Education Tax Credit that can reimburse an employer up to $3,000 of the costs incurred as a result of hiring an MDA student.
The ability to 'test drive' potential employees during the experiential learning term allowing organizations to identify a strong 'fit' for full-time positions that may be available in the near future.
Given the timeframe of the program, should a strong 'fit' be identified, employers may choose to offer our students short-term contracts or full-time jobs, which are still eligible for the Ontario Co-operative Education Tax Credit. The first four months of any such option will still be considered as aiding a student in meeting the experiential learning requirements of the program and thus be eligible for a tax credit to offset up to $3,000 in costs to the employer.
Employer Expectations
As a organizational host, we ask that you commit to:
Offering the students work projects that are relevant, and degree-related
Providing orientation and training for the student when they begin their experiential learning term
Imparting your experience and wisdom through regular supervision and mentorship
Typical Salary and Costs
The hourly wage for an MDA student averages about $27/hr and is typically within $24-30/hr.  For a four-month term, which equals approximately 500 hours of work, the overall cost (excluding benefits) will typically range from $11,500 - $15,000.
Each experiential learning opportunity may be eligible for The Ontario Co-operative Education Tax Credit (maximum credit $3,000 per four-month placement). Other funding for employers include the MITACS – Accelerate program ($15,000 per four-month term), where grants are available to offset the cost of employing students.
Hiring a Student – The Process
Students complete academic studies between September-April and then need to complete an experiential learning term of 500 hours to meet the program's degree requirements. 
The MDA program team works to support organization's recruiting efforts in real-time. While some organiztions may wish to promote opportunities for students in the fall term the most significant recruiting period for positions with start dates from May 1st forward occurs between January-April with organizations posting opportunities, students applying, organizations interviewing selected candidates, and formal offers being extended to students throughout the months of February, March and April.
Action Timeline

Employment opportunities (start dates of May 1st forward)
posted to MDA class*

On an on-going basis (Beginning in Sept)
Applications for posted positions typically due
January  - March 
Interviews for posted positions held
January -  April
Students begin their experiential learning term
From May 1 onward
Identification of learning outcomes and professional development for students
Within the first month of the experiential learning term
Mid-term evaluation of learning outcomes
At the end of 8 weeks (approx. 250 hrs)
End-of-term evaluation of learning outcomes
End of experiential learning term (approx. 500 hrs)
Review of student final report
August
*Please note: Employers are encouraged to submit employment opportunities with start dates of May 1st or later postings by January 31 at the latest in order to gain access to the greatest number of applicants.