Future Students

Western Science's Master of Environment and Sustainability (MES) program is your next step in taking your passion for the environment and turning it into a rewarding and fulfilling career.
Deepen your knowledge and build professional skills to be prepared upon graduation to address some of today's most pressing environmental and sustainability challenges such as climate change, waste reduction and conservation.
No matter what your background is, whether it's in science, engineering, social science, arts and humanities or business, the interdisciplinary MES degree will prepare you for a range of career options in the environmental and sustainability sector.
Accelerated professional program
Complete all of your coursework in 8 months, then apply what you've learned in the co-op term and graduate in 12 months.
Enrich your knowledge and perspectives by working and learning from peers with diverse disciplinary backgrounds and leverage your combined expertise to approach complex environment and sustainability problems.
Gain real work
experience
Take what you learn in the classroom and apply it in real-life settings during the co-op term. The co-op is a great chance to explore career opportunities, establish a professional network and start your professional career.
PLUS over 90% of students receive paid co-op placements!
Solve problems for real clients
As part of an interdisciplinary consulting team, you will work directly with a real client, on a real problem, to provide real-world solutions.
Your role as an environmental consultant will take the client from proposal to final report and build skills in project management, stakeholder engagement and professional report writing.
Professional development workshops
There is nothing like learning from the best in the field. That's why industry experts lead 5-7 intensive professional workshops only for MES students.
The workshops are tailored to current and emerging trends in the environmental and sustainability job markets, and arm students with key skills to be successful across the sector.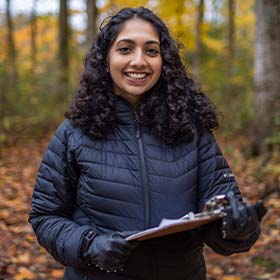 What makes us different from other programs?
The MES program develops graduates with the knowledge and professional skills needed to jump-start a career upon graduation through a layered experiential learning approach.
What makes the MES program unique is its fast-paced, dynamic, interdisciplinary nature designed to develop graduates who are competitive in the job market for environment professional positions with the potential for industry leadership.
Bringing together students from various backgrounds, you will build lifelong connections with tomorrow's leaders, develop new perspectives from a diverse group of like-minded individuals and prepare to enter a workforce equipped to make a meaningful difference.
---
Learn about our graduates
MES graduates go on to work in all levels of government, private enterprise and industry including NGOs, not-for-profits and social enterprise organizations.