The Master of Environment and Sustainability (MES) requires completion of a four-month (minimum of 500 hours), full-time co-operative work term to complete the degree. The co-op work term runs from May to August and follows the first two academic terms which allows students to put their learning directly into practice. Along with the work term, the co-op programming includes a series of seminars through September to April, helping students to market themselves, properly prepare for an interview, and get ready for the labour market.
Past employers have hired students for a multitude of roles, from creating a greenhouse gas inventory to writing policies for procurement to social media and marketing of "green" initiatives. The MES program develops relationships with potential employers with co-op opportunities that are either field-based, in an office environment or a mix of both with a goal of developing opportunities that match the diversity and multidisciplinary nature of the program, the MES cohort, and that offer solid opportunities for skills development. Co-op employers include all levels of government, not-for-profit organizations, social enterprises, and private companies.
At a glance: 2021-2022
26000
Hours of work experience
41
Student placements and completions
Spotlight on Success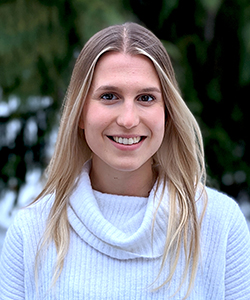 Sara Wollschlaeger, MES '20 completed her co-op at the Pembina Institute, Vancouver Coastal Health. Recently, she has published the findings of her co-op research in City and Environment Interactions.
Sara's paper showcases the percentage of long-term care facility occupants in B.C. with health conditions that are likely to worsen under some of the impacts of climate change: extreme heat, changes in infectious agents, flooding and reduced water quality, and wildfires and reduced air quality. She discusses how these climate change impacts affect the health of long-term care facility occupants. Her work highlights which building design strategies can be used to mitigate these impacts.