Avery Brundage Collection
The Centre maintains its own copy of the Avery Brundage Collection, making Western one of the few institutions in the world to own two complete microfilm copies of the entire historical resource, amounting to 150 microfilm reels in total. This collection provides an unparalled look into the office of an IOC President: Avery Brundage. Brundage was elected to the IOC in 1936 and quickly moved up the administrative ranks, becoming IOC Vice President in 1945, and IOC President in 1952, an office he held until 1972. From 1929-1953, he was also President of the United States Olympic Committee, in addition to serving as the long-time President of the Amateur Athletic Union of the United States. He competed in track and field at the 1912 Olympic Games in Stockholm, Sweden.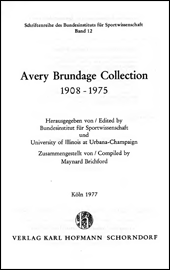 Guide to the Collection 
The original Brundage Collection is housed at the University of Illinois, Urbana-Champaign; Brundage bequeathed the collection to his alma mater in 1974-75. Production of the microfilm copy was undertaken at the initiative of the Bundesinstitut für Sportwissenschaft, Cologne, Germany. 
Maynard Brichford, University of Illinois, Urbana-Champaign, compiled a detailed description of the Avery Brundage Collection, cataloguing the contents at the folder level. It was published by Karl Hoffmann Verlag, Germany, in 1977, and is now accessible at the Internet Archive (pdf). Brichford's inventory makes no reference to the reel numbering system.