News & Events
---
Stephanie Dennie - Blog post part 1 (authored by Kim Solga) and part 2 (authored by Stephanie) on the Activist Classroom blog about interdisciplinary co-teaching and her research as part of the Teaching Fellowship from the Center for Teaching and Learning.
---
Bernd Steinbock – As a Research Fellow and Visiting Professor at the University of Trento, Italy (March 7-27), Dr. Steinbock will teach a doctoral seminar on "Social Memory and Trauma in Ancient Greece" and work on his current research project "Coping with Defeat: The Trauma of the Sicilian Expedition in Athenian Social Memory." During his research stay he will also deliver two public lectures on the Sicilian expedition as a collective trauma and Thucydides' historiography as a way of working through trauma, respectively. Interview
---
Alexander Meyer – Guest blog post entitled "Illuminating the Vindolanda Tablets" on LatinNow
---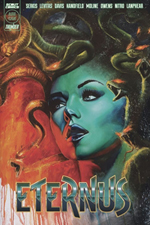 Kelly Olson
and
Kyle Gervais
are serving as historical consultants for a new comic book series called "
Eternus
", created by Andy Serkis and Andrew Levitas. A preview was exhibited at the New York Comic Con this month, and the full seven-issue series will be published in 2022.
---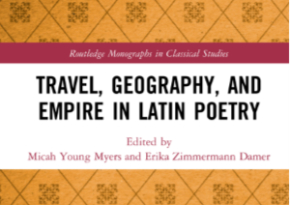 Alexander Meyer
- Chapter entitled "Travelers and texts: reading, writing, and communication on the roads of the Roman West" has been published in
Travel, Geography, and Empire in Latin Poetry
---
Kyle Gervais and Neil Bernstein (Ohio University; Distinguished Scholar in Residence at Western Classics in 2019) have published a multimedia student commentary on Seneca's Hercules Furens for the Dickinson College Commentaries Series. Link to commentary
---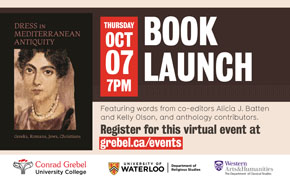 Kelly Olson - Book Launch Oct 7, 2021 - 7pm
Dress in Mediterranean Antiquity: Greeks, Romans, Jews, Christians. View pdf for more information.
---
Kelly Olson recently spoke to Andrew Schiestel about Roman clothing on his Ithaca Bound podcast. Listen to Ithaca Bound: Ancient Roman Clothing with Dr. Kelly Olson.
---
Stephanie Dennie wins Graduate Fellow funded by Dr. Kim Solga's Arts and Humanities Teaching Fellowship from the Center for Teaching and Learning. She will be working collaboratively with Dr. Solga and Dr. Leora Swartzman on the research and further development of a pair of courses that brings together students in theatre studies and community psychology as they undertake a research project into migration in London and the challenges and barriers newcomers face in the city. These courses are in partnership with City Studio London and the London and Middlesex Local Immigration Partnership. Her role will include project management as well as undertaking research on the process of teaching and learning in such an interdisciplinary community-based course/program.  
---
Kelly Olson - Clothes Make the (Ro)man - learn about the clothing, makeup, and hair styles of Roman men and women and the status that clothing displayed. Video
---
Kyle Gervais – What he did on sabbatical. Read about his research here
---
Charles Stocking - Talk June 18, 2021 via zoom for the Getty villa titled "Boxing for Blood: Violent Sport and High Culture in a Roman Mosaic" Click Here for more Information
---
Elizabeth (Beth) Greene and her research on the Roman leather and shoes from the site of Vindolanda in the UK are featured in this season's opening episode of "Peopling the Past", an award-winning podcast that highlights research on the everyday people and things in the Greek and Roman worlds. Hear about her current research project and learn about everything 2000-year-old shoes can tell us here
---
Bernd Steinbock was awarded a DAAD (German Academic Exchange Service) scholarship for a research stay at the Freie Universität Berlin in the summer of 2021 to work on his project "Working through Trauma: Thucydides' Account of the Sicilian Expedition."
---
Kyle Gervais - Winner - Graham and Gayle Wright Distinguished Scholar Award for 2021-22 - This award is given by the Faculty of Arts & Humanities in recognition of the scholar's contribution to their field of research.
---
Kyle Gervais gave a series of six remote lectures for universities in western Canada as the 2020 CAC Western Tour Speaker. The lectures focussed on the poems of Virgil, Ovid, and Statius and their reception from antiquity to modern pop culture. One of the lectures, on Virgil's Aeneid and its reception, may be viewed here.
---
Elizabeth (Beth) Greene
- Winner of a Faculty Scholar Award - These awards are limited in number and recognize scholarly achievements of a faculty member at a critical point in his or her career. The award celebrates the complete scholar who has maintained an excellent record in teaching and research, and who has recently achieved prominence in one of these two domains.
---

Catherine Pratt publication - Oil, Wine, and the Cultural Economy of Ancient Greece: From the Bronze Age to the Archaic Era - In this book, Catherine E. Pratt explores how oil and wine became increasingly entangled in Greek culture, from the Late Bronze Age to the Archaic period. Using ceramic, architectural, and archaeobotanical data, she argues that Bronze Age exchange practices initiated a strong network of dependency between oil and wine production, and the people who produced, exchanged, and used them. After the palatial collapse, these prehistoric connections intensified during the Iron Age and evolved into the large-scale industries of the Classical period. Pratt argues that oil and wine in pre-Classical Greece should be considered 'cultural commodities', products that become indispensable for proper social and economic exchanges well beyond economic advantage. Offering a detailed diachronic account of the changing roles of surplus oil and wine in the economies of pre-classical Greek societies, her book contributes to a broader understanding of the complex interconnections between agriculture, commerce, and culture in the ancient Mediterranean.
---
Elizabeth (Beth) Greene recently gave a series of public talks for the Archaeological Institute of America in the "Archaeology Abridged" series. The talks focus on Hadrian's Wall, the site of Vindolanda (where Western Classics students take part in an archaeological field school) and the spectacular objects found on the site (Roman shoes!). The talks are recorded and can be accessed here on the AIA website. Enjoy! 
---
Kelly Olson - The Archaeology Show talking about Cleopatra podcast
---
Elizabeth (Beth) Greene - named Canada Research Chair in Roman Archaeology at the Faculty of Arts & Humanities (Tier 2 CRC, funded by the Social Sciences and Humanities Research Council) Western News Article
---
Bernd Steinbock wins a Graham and Gale Wright Distinguished Scholar Award for 2020-21. This Award recognizes and rewards top faculty by providing them with teaching relief to focus on their research programs.
---
Rowan Ash and Mary Deminion have published chapters in Exploring Gender Diversity in the Ancient World, a new edited volume from Edinburgh University Press. Rowan writes on "Wit, Conventional Wisdom, and Willful Blindness: Intersections between Sex, Gender, Class, and Ethnicity in the Fifth of Lucian's Dialogues of the Courtesans", and Mary's chapter is entitled "Manly and Monstrous Women: (De-) Constructing Gender in Roman Oratory".
---
Read. Watch. Listen.
with
Debra Nousek
- Western News article
---
Bonnie MacLachlan, Professor Emerita and Adjunct Research Professor, spoke in Syracuse, Sicily in October 2019 at a conference entitled Pindar in Sicily. In 2018 she gave a keynote address in Lausanne, Switzerland: "Non-elite Couples in the Hellenistic Period."
---
Bernd Steinbock
gave a keynote speech on "The
Epitaphios Logos
of Pericles: Thucydides' Ambivalence towards the Funeral Oration" at the international conference
The Funeral Oration and Nicole Loraux
, held at the University of Lyon, France, on February 19, 2020.
---
Kyle Gervais
' emendation to Aeneid 7.5, published in the Classical Journal (full text here), has been accepted into the text of G. B Conte's new Teubner edition of Virgil's Aeneid.
---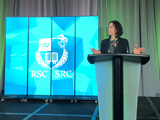 Elizabeth Greene was inducted in November into the Royal Society of Canada's College of New Scholars, Artists and Scientists in Ottawa. Her work on the women, children and families in Roman military communities and her ongoing research at the renowned archaeological site of Vindolanda in Northern England was recognized for its important contributions to research on Roman frontier and provincial communities set in the context of conquest and imperialism.
---
Radio Western - Professors Beyond Jobs - Kelly Olson: Fashion is the way you talk to the world without saying anything
---
Enjoy selections tailor-made for enjoyment - Read. Watch. Listen. by Kelly Olson - Western News article
---
Kelly Olson gave a keynote speech at the conference "Adornment as an expression of everyday identity in ancient and medieval life," held at the Norwegian Institute in Rome, Italy.
---
Alice Munro Chair in Creativity 2020 - Interested applicants - click here for more information.
---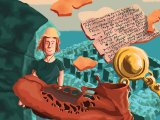 Elizabeth Greene Chats with Nino Ricci - In this episode, Nino and guest Elizabeth Greene dig deep into the world of archeology. An Associate Professor of Classics in Western's Faculty of Arts & Humanities, Beth investigates Roman sites in northern England. She co-developed and co-leads a six-week intensive field school program at Vindolanda where Western students engage in field archaeology through invaluable experiential learning.
---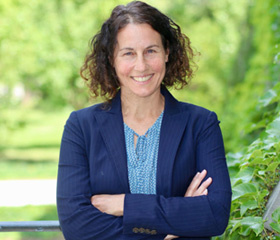 Elizabeth Greene awarded SSHRC Partnership Development Grant
Dr. Elizabeth Greene has been awarded a SSHRC Partnership Development Grant for a joint project with the Vindolanda Trust in the UK. The project concentrates on the assemblage of leather and shoes from the Roman fort at Vindolanda, which is one of the most internationally known Roman sites in Britain because of the anaerobic archaeological environments that preserve organic remains of leather and wood. The leather assemblage is the largest from any Roman site in the empire and the museum holds the largest single-site collection of archaeological leather artifacts. The 3-year SSHRC grant will allow a team of Western faculty, graduate students and undergrads to take part in the exciting initiatives at Vindolanda with research taking place both in the museum and on the excavations. Students will help create a digital database of the Roman leather that will foreground not only data organization, but the ability for researchers to retrieve data on scientific questions surrounding demography of the site, patterns of loss in an ancient community and contexts of organic preservation on the site, among many other things. The development phase of the project will run from 2019-2022 and will hopefully continue beyond that to provide full documentation of this unique and extraordinary archaeological material. 
---
Kelly Olson introduces initiatives to support faculty members
Dr. Kelly Olson recently introduced a series of initiatives to support and encourage faculty members in their research-writing endeavours through the Faculty Writing Support Program.
---
 Colloquium sponsored by Department of Classical Studies
Environmental Entanglements: Climate and Physis in the Ancient World is a colloquium sponsored by the Department of Classical Studies that will be held on Saturday, September 21, 2019. Registration is free but space is limited. For more information and to register for the conference, please refer to our Conferences page. 
---
Alum Peter Miller appointed 2019 Chancellor's Research Chair
Peter Miller (PhD 2014) has been appointed as the 2019 Chancellor's Research Chair at the University of Winnipeg. 
---
Kyle Gervais features on the inaugural episode of Iconocast
Dr. Kyle Gervais was interviewed for the inaugural episode of Iconocast, an arts and culture podcast. Listen to him speak here about Classical stories and contemporary pop culture.
---
Catherine Pratt and Charles Stocking participate in roundtable discussion
Dr. Catherine Pratt and Dr. Charles Stocking participated in a roundtable discussion called "A Prehistory for Posthumanism? Antiquity and Anthropology Today" at the Center for Hellenic Studies in Washington DC. The discussion was streamed live on the CHS website. 
---
Bernd Steinbock attends international workshop
Dr. Bernd Steinbock attended an international workshop on Combat Stress in the Pre-Modern at Manchester Metropolitan University. 
---
Kelly Olson gives talk at the Art Institute of Chicago
Dr. Kelly Olson's lecture examined works of art and literary sources to reveal evidence of elegance. She looked at the gem-laden jewelry, sumptuous colors like purple and scarlet, and luxurious garments that were essential for upper-class identity, and explores the ways that Romans of lesser means tried to create the same effects at lower cost. 
---
Read. Watch. Listen. with Alexander Meyer
Dr. Alexander Meyer participated in Read. Watch. Listen., which asks participants to answer three questions about their reading, viewing, and listening habits. Read about his favourites here. 
---
Kelly Olson gives talk for Canadian Opera Company
Dr. Kelly Olson was invited to give a talk, "Sexualities in Ancient Rome", at the interdisciplinary conference Hearing Hadrian: An Opera for Our Time. 
---
Alex Meyer and team unearth remarkable horse 'shoes'
Dr. Alexander Meyer and his team at Vindolanda unearthed four early Roman hipposandals. Read more about this amazing find at Western News. 
---
The CS3050G: Study Tour to Italy participants have arrived in Rome!
The students arrived in Rome on Friday and had their first successful day on the sites. They had a whirlwind day touring the Colosseum, Arch of Diocletian, Ludus Magnus, Baths of Caracalla, and the Circus Maximus. On Saturday they spent a whole day in the Forum and on the Palatine. To follow their adventures you can visit the Classical Studies blog and their Instagram page @westerninrome
Feeling travel envy? For more information about our Study Abroad opportunities, visit our Study Abroad page!
---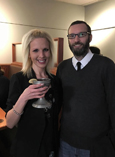 Congratulations, Dr. Sugar! 
The Department of Classical Studies is proud to report that Michelle Sugar, one of our PhD students, successfully defended her dissertation on April 13th, 2018. Michelle's dissertation, supervised by Professor Randall Pogorzelski, is entitled "Guilt in Vergil's 'Aeneid' and Lucan's 'Bellum Civile'". Congratulations, Dr. Sugar!
---
New edition of the Corpus Caesarianum now available:  http://thelandmarkcaesar.com
Debra Nousek has published three essays as part of The Landmark Julius Caesar

project. Spanning some 800 pages in print, and a further 300+ pages of freely available online material, The Landmark Julius Caesar is the definitive edition of the five works that chronicle the military campaigns of Julius Caesar. Together, these five narratives present a comprehensive picture of military and political developments leading to the collapse of the Roman republic and the advent of the Roman Empire. Debra's contributions cover Caesar's reputation as a literary author, his legacy as a classroom text, and the literary features of The Gallic War in particular. The full range of Web Essays can be found via the above link.
---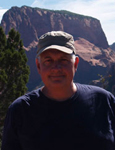 Chris Brown was recently invited to give the sixth annual Lecture in Hellenic Civilization in Winnipeg as part of Classics CXL, a celebration of 140 years of classics at the University of Manitoba. The lecture was entitled "On Love, Lesbos, and the Reputation of Sappho: Anacreon's Girl with Ornate Sandals."
---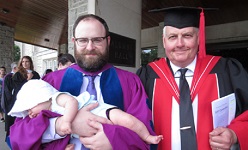 Congratulations, Dr. Wright!

Tim Wright received his PhD at Spring Convocation. Dr. Wright defended his dissertation, supervised by Prof. Christopher Brown, in December and has accepted a position at Queen's University.
---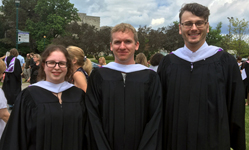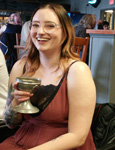 Congratulations to our recent MA grads, Cody Andersson, Edin Gurdic, Morgan Kostiew, and Meagan Robinson! 
---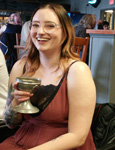 The Classical Studies Department congratulates Morgan Kostiew on successfully defending her MA thesis, "Xenia in Classical Economies: The Function of Ritualized Interpersonal Relationships in Athenian Trade", supervised by Bernd Steinbock. 
---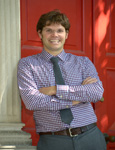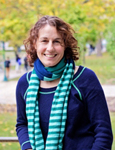 Congratulations to Beth Greene and Alex Meyer for their successful SSHRC Connection Grant! This grant will bring together a group of international scholars for a two-day symposium called "Unlocking the Provinces: Defining and Prioritizing Roman Provincial Studies." The conference is a collaboration between researchers across Canada, the US, UK and Europe to share varied perspectives and approaches to Roman provincial research. The symposium addresses the need for a globalized and cross-disciplinary dialogue on the subject, informed by the fast-paced changes and shifting perspectives in scholarship and research around the world today. 
---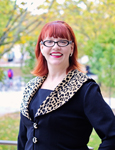 Dr. Kelly Olson discusses the bedrooms of the Romans on Newstalk 1290 CJBK. Read more here.  
---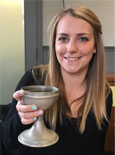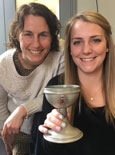 The Classical Studies department congratulates Sarah VanderPloeg on sucessfully defending her MA thesis, "The Real Housewives of Rome: Epigraphic and Literary Evidence for the Economic Contribution of Women", supervised by Elizabeth Greene
---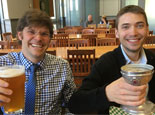 Congratulations to Rob Woodcock on sucessfully defending his MA thesis, "Identity and Language Contact in Roman Britain", supervised by Alexander Meyer.
---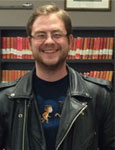 The Department of Classical Studies is pleased to announce that Benjamin Moore, 3rd year Honors Specialization student in Classical Studies, has been awarded the Harry C. Maynard Scholarship for Study Abroad for his essay titled "Of Laws of Kings". Benjamin will be using this award towards his summer excavation plans at the Vindolanda Field School. Congratulations Benjamin!
---
Congratulations to Dr. Peter Miller, who graduated from our PhD programme in 2014, on being appointed to a tenure-stream position in the Department of Classics, University of Winnipeg.
---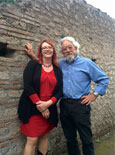 Kelly Olson has recently returned from a trip to the ancient city of Pompeii, where she was interviewed about Roman sexuality and the brothel for a documentary entitled "Raising Pompeii," a co-production of iTV (Britain) and CBC. The host for the British version of the show was UK's Michael Buerk, and the host for the Canadian version was none other than David Suzuki! Kelly had a wonderful time filming with cast and crew, and enjoyed taking David Suzuki around the Pompeiian brothel. Look for the show to air this winter on CBC.
---
Interested in archaeological excavation? Thinking about spending a summer abroad?
Click Here to learn more about the Vindolanda Field School in England offered through the Department of Classical Studies at Western.
---
"Griffin Warrior"
Dr. Catherine Pratt was a part of the UC archaeological team in Pylos that discovered a rare warrior tomb filled with bronze age wealth and weapons. 
Click Here to view the New York Times article
Click Here to view the UC Magazine article
---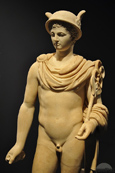 2016 Graduate Student Conference
"Voyages and Journeys in Antiquity"
March 18-19, 2016
The Department of Classical Studies
The University of Western Ontario
1151 Richmond St
London, ON N6A 5B8
---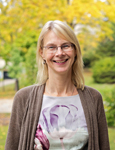 Dr. Aara Suksi is the CAC/ACA Atlantic Tour Speaker this Fall. She will travel From September 23 - October 3rd to 7 Universities in the Atlantic provinces: St. Mary's University, Dalhousie, University of New Brunswick, Mt. Allison, Acadia, Memorial University of Newfoundland (both the Grenfell and St Johns campuses). The lectures will be on topics in Greek literature from Homer to Aeschylus.
---
PhD Student Successfully Defends Thesis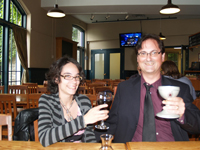 The Department of Classical Studies is proud to report that Dwayne Meisner, one of our PhD students, successfully defended his dissertation on August 25, 2015. Dwayne came to us from the MA program at the University of Regina and has had a stellar career during his time at Western, with his research excellence having been recognized by both SSHRC and OGS. Dwayne's dissertation, directed by Professor Christopher Brown, is entitled "Zeus the Head, Zeus the Middle": Studies in the History and Interpretation of the Orphic Theogonies". Congratulations, Dr. Meisner!
---
"Sport, Society, and Culture" in Olympia, Greece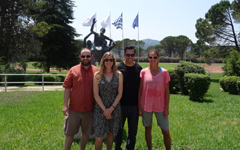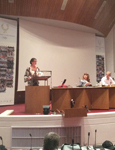 Tim Wright, Catherine Pratt, Charles Stocking, and Janice Forsythe (Kinesiology, ICOS), and Guy Schultz (UWO Cross Country. Track and Field, not pictured) all participated in the fourth annual symposium, "Sport, Society, and Culture" in Olympia, Greece, July 5th-July 9th 2015, sponsored by the International Olympic Academy and the Harvard Center for Hellenic Studies. The symposium brought together over 80 professors and students from around the world in order to focus on the history of the ancient Olympics and the challenges posed by the reception of the ancient Olympics in the modern world.
---
Vindolanda Field School 2015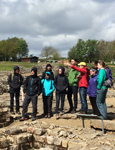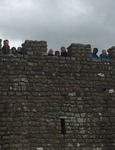 The field school students have been introduced to Vindolanda! Everyone arrived on Saturday and we spent the weekend getting settled. Today we went down to site for the first introduction to this fabulous place. It's chilly but as you can see the sun is shining for now! This week we'll visit other sites and museums along Hadrian's Wall, starting with Newcastle's Great North Museum tomorrow. Don't forget to follow us on the blog to keep up with our adventures and hear about student experiences: westernclassicalstudies.wordpress.com
---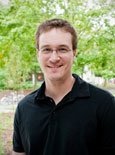 Congratulations to Jonathan Vickers, who has been awarded the prestigious Crake Fellowship for 2015-2016 at Mount Allison University in Sackville, NB.
---
Congratulations Sarah Taylor!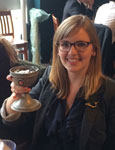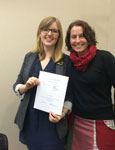 The Classical Studies department congratulates Sarah Taylor on sucessfully defending her MA thesis, "Frontiers of Food: Identity and Food Preparation in Roman Britain", supervised by Elizabeth Greene.
---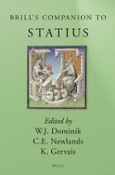 Congratulations to Kyle Gervais from the Department of Classical Studies on the publication of Brill's Companion to Statius, the first companion volume to be produced on the most important Roman poet of the Flavian period. Thirty-four chapters from international experts examine the social, cultural, and political issues surrounding Statius' poetry; his controversial aesthetic; his use of the poetic tradition; and his scholarly and literary reception in subsequent ages to the present.
---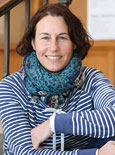 The Department of Classical Studies would like to congratulate Elizabeth Greene, winner of the 2014-2015 Marilyn Robinson Award for Teaching Excellence.  The award is "...named after Physiology professor and Educational Development Office coordinator Marilyn Robinson, who became captivated with the idea of exciting students by means of active learning and problem solving" (Western News). Elizabeth Greene teaches Archaeology to Western University students not only in the classroom, but also through the Vindolanda Field School, a historic Roman site near Hadrian's Wall in England. Read the Western News article here.
---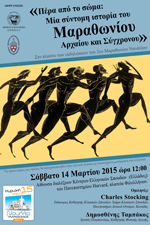 Charles Stocking,  Assistant Professor of Classical Studies at the UWO and a former Fellow of the Center for Hellenic Studies, delivers a lecture withDemosthenes Tampakos,  Olympic gold medalist and Professor of Physical Education, on the occasion of the 2nd Marathon Run at Nafplion. View the poster and translation from Greek, here.
---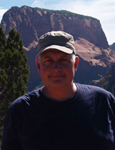 Chris Brown recently gave the 38th annual Crake Lectures at Mount Allison University in Sackville, NB. The lectures explored the confluence of poetry, philosophy, and religion in Magna Graecia during the fifth century BC.
---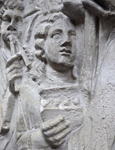 Beth Greene's research at this year's annual meeting of the Archaeological Institute of America in New Orleans has been featured in a variety of news outlets. The magazine New Scientist ran a story about her research focusing on the presence of women and children on Trajan's Column in Rome. The individuals are shown taking part in religious ceremonies associated with the campaigns of the emperor Trajan in Dacia and reveals something about the activities of women traveling with the Roman army on campaign. Her research has since been featured by Radio Canada International (http://www.rcinet.ca/en/tag/elizabeth-greene/) and by our own Western News (http://news.westernu.ca/2015/02/women-present-no-second-fiddle-in-roman-military/). It will be in print form in Current World Archaeology Magazine later in 2015.
---
Congratulations to Sarah Taylor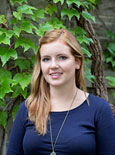 Sarah is the winner of the 2014 Bea Loveseth Memorial Award. The award is presented in recogition of the best student paper presented at the Chacmool 2014 Conference, at the University of Calgary.