Joy MacDermid recognized with 2022 IFSHT Lifetime Achievement Award
School of Physical Therapy professor Joy MacDermid was honoured with a 2022 International Federation of Societies for Hand Therapy (IFSHT) Lifetime Achievement Award presented at the 2022 IFSSH, IFSHT & FESSH Combined Congress. The award recognizes outstanding contributions to the field of hand therapy on an international scale.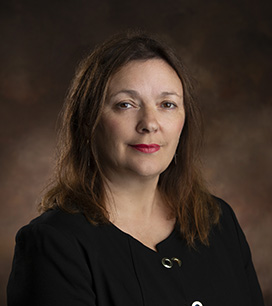 MacDermid's passion for hand therapy began at Western University while she was training to be a physiotherapist and she attended a clinical placement in hand therapy.
"I fell in love, immediately with this specialty area of practice, because your hands are so critical to everything you do - your job, your ability to communicate, your ability to interact with your family and touch perception with the outside world," says MacDermid. "When your hand is injured, it impacts so much of your life."
After graduation, she took a clinical position with Victoria Hospital in London, and later joined the Roth | McFarlane Hand and Upper Limb Centre (HULC) as a full-time physiotherapist specializing in hand and upper limb rehabilitation. Her clinical work experience generated her research interests and eventually, she split her time between clinical work and research, having returned to school to complete her PhD. After finishing her PhD, she took a faculty position in order to dedicate herself to her research.
The HULC played a role in the evolution of hand therapy; the centre had a clear vision of applied research to help patients. They were a leader in collecting patients' reports on their pain.
"I fell in love, immediately with this specialty area of practice, because your hands are so critical to everything you do"
"HULC was really a leader in creating some of the first outcome measures used to allow patients to quantify how much pain and problems in daily life they were having", says MacDermid.
MacDermid's current research is highly patient-centred and focuses on capturing patient reported outcomes. She acknowledges that patients are best able to quantify pain levels or other complications they are experiencing in daily life. Her work also looks at clinical trials, comparing surgical outcomes for different surgeries and various rehabilitation interventions. As her research move forward, it will incorporate modeling to predict which patients will benefit from certain interventions in order to choose the most appropriate course of treatment to achieve the best outcomes.

An opportunity to share her passion for hand therapy and a great match for her expertise, MacDermid is teaches in Western's Advanced Health Care Practice program in Upper Extremity Rehabilitation. The program is designed for practicing physiotherapists and occupational therapists who have chosen to obtain graduate-level education in a clinical specialty.
MacDermid collaborates on research with a number of international groups, and currently holds two grants with a group from Erasmas University in the Netherlands. She also takes part in international consensus panels, and teaches at conferences and workshops around the world.
She currently holds two Chairs, the Canada Research Chair in MSK Health Outcomes and Knowledge Translation and the Dr. James Roth Chair in Musculoskeletal Measurement and Knowledge Translation, in addition to being Co-director at the Clinical Research Lab, Roth | McFarlane Hand and Upper Limb Centre, and a Distinguished University Professor, in both Physical Therapy and Orthopedic Surgery at Western.