Anita Kothari, PhD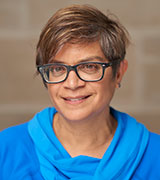 Professor
Room 222, HSB
519 661-2111 x81302
akothari@uwo.ca
Education
PhD (McMaster)
BSc, MHSc (Toronto)
Academic Appointments
Core Faculty Member - Joint Graduate Program in Health Information Science
Cross Appointment - Department of Epidemiology and Biostatistics
Supervising Graduate Students
Research Interests
Supporting the use of research and knowledge in healthcare decision-making (knowledge translation)
Integrated knowledge translation or research co-production (partnered research)
The impact of research and evidence
Public health systems and services
Health equity
Additional Information
Kothari A, *Boyko JA, Conklin J, Stolee P & Sibbald SL. (2015). Communities of practice for supporting health systems change: A missed opportunity. Health Research Policy and Systems, 13, 33, 2015.
Kothari A, Hovanec N, Sibbald S, Donelle L & Tucker T. (2015). Process Evaluation of Implementing Knowledge Management Tools in Public Health. Knowledge Management Research and Practice, 27 April 2015; doi: 10.1057/kmrp.2015.4.
Sibbald S, Wathen N & Kothari A. (2015). An empirically based model for knowledge management in health care organizations. Health Care Management Review, doi: 10.1097/HMR.0000000000000046, March.
Kothari A, Campbell-Davidson A & *Boyko J.A. (2015). An exploratory review of the nature of informal knowledge underlying theories of planned change used fork knowledge translation. BMC Research Notes, 8, 424, 1-7.
Jenkins E, Johnson JL, Bungay V, Kothari A & Saewyc EM. (2015). Divided and Disconnected - An examination of young people's experiences with emotional distress within the context of their everyday lives. Health & Place, 35, 105-112.
Sibbald S & Kothari A. (2015). Creating, synthesizing and sharing: The management of knowledge in public health. Public Health Nursing, (32)4, 339-348.
Salter KJ & Kothari A. Using realist evaluation to open the black box of knowledge translation: A state-of-the-art review. Implementation Science, 9, 155.
MacGregor JCD, Wathen CN, Kothari A, Hundal PK & Naimi A. (2014). Strategies to promote uptake and use of intimate partner violence and child maltreatment knowledge: An integrative review. BMC Public Health, 14, 862.
Research Associate - National Collaborating Centre for Methods and Tools in Public Health
Research Affiliate - Population Health Improvement Research Network
Knowledge Translation
Health Promotion
Methods: Multilevel Modelling, Social Network Analysis
Royal Society of Canada (RSC) College of New Scholars, Artists and Scientists (2016)
CIHR New Investigator Award: 2010-2016
Ontario Ministry of Health and Long Term Care Career Scientist Award: 2005-2010