Staying ahead of the spread
Staying ahead of the spread
March 30, 2020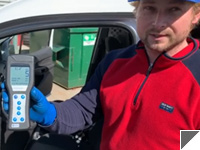 An essential services model at Western means that some Facilities Management (FM) staff members continue to report to campus on a rotating schedule. Our highest priority is mitigating risk to personal wellbeing and the campus community, and so FM is implementing new internal processes and some related new products.
In FM, vehicles are a commonly shared resource and have been the focus of sterilization measures since the outset of the Division's response to COVID-19.  These sterilization measures have included wiping down equipment and touchpoints. The Division's vehicle fleet is now getting added attention.
FM has engaged London-based sterilization experts, All Clear Disinfecting, to apply a proactive system that will protect surfaces for up to 30 days. All 48 fleet vehicles, landscaping equipment, and five Campus Police and Fire Safety vehicles have been treated with advanced anti-microbial solutions.
"Our operations team continues to sanitize tools and equipment when working on campus," says Director of Facilities Operations Bryan Wakefield. "This is an added layer of protection."
Prior to disinfecting vehicles, All Clear Disinfecting provided a baseline by swabbing the handles and interior of a sample vehicle. Each vehicle in our fleet was then treated with non-toxic anti-microbial products, SteraMist and Microbe Shield. Once the products dried, the sample test was repeated to ensure full coverage.
"We have peace of mind knowing that this solution is approved by Health Canada and the EPA and is proven to be effective," says Wakefield.
The product performance will be monitored and tested over the coming weeks. Wakefield plans to treat the vehicles as frequently as needed.