Summer Construction Projects 2018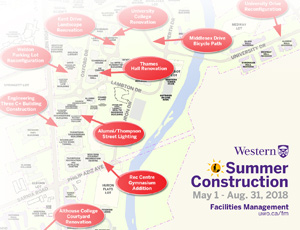 Facilities Management is creating and maintaining infrastructure to enhance services to the campus community. This summer and into the new academic term, projects to modernize campus and accommodate growth may have an impact on vehicular and pedestrian traffic.
There are hundreds of maintenance, repairs, and infrastructure upgrade projects underway throughout the year. Being mindful of the potential impact to customers on campus, Facilities Management highlights the summer initiatives that may have an impact on the landscape of the campus, enhance pedestrian safety, and/or lead to any significant interruption to services.
This page is dedicated to summer (and ongoing) construction projects, providing updates on milestones and what commuters can expect in the coming days and weeks.
Upcoming Service Interruptions
Temporary interruptions to service as a result of the projects below are added to this list.
List of Construction Projects - Infrastructure Enhancements
Following approval, many projects can take a few weeks to line up a contract. TBAs are currently in development and dates will be announced once contracts are finalized. Timelnes will be fluid as poor weather and unforseen factors impact construction. 
| Project | Timeline | Features |
| --- | --- | --- |
| South valley steam and chilled water repairs | May 01 - Ongoing | Interruptions to loading areas for HSB, FNB, and PP. The project will repair steam and chilled water infrastructure. |
| Social Science Centre - Manhole | June 11 - August 5 | Fix heaved and unlevel concrete between Social Sciences Centre and University Community Centre. |
| South Valley Lot | June 11 - August 12 | Lot expansion |
| Alumni/Thompson lot - Sidewalk ehancements | June 19 - July 2* | Widening the sidewalk outside Thompson Engineering Building. |
| Lambton Drive - Lighting ehancements | June 25 - September 30 | Remove and replace of road and pathway lights along Lambton Drive. New LED fixtures will improve appearance, light levels and reduce energy consumption. |
| Weldon parking lot reconfiguration | July 12 - 23 | Weldon lot will be reconfigured to accommodate safer traffic flow. As a result, permit types may change and access to the loading area will be restricted. |
| Chemistry Lot | July 25 - 27 | Gate relocation and lane work. |
| Middlesex Drive - Bicycle lane | August | The project will feature separated lanes running on either side of the road, including barriers and standard green lane paint. Enhancements will follow current Ontario standards. |
| Campus-wide, sidewalk and curb work | | Repair and replace concrete |
| University Drive - removal of median parking and lane work | | Parking and stopping along University Drive will be restricted with the parking spots along the inside lanes being removed. |
| Althouse College - roadway resurfacing | | Road repairs to select sections around Althouse College. Work is expected to complete in a day. |
| University Community Centre - loading lane | | Road repairs to select sections of the laneway. |
| Lambton Drive - roadway resurfacing | | Road repairs to select sections of Lambton Drive. |
List of Construction Projects - Major Capital Construction
| Project | Timeline | Features |
| --- | --- | --- |
| Three C+ Engineering Building | July/August 2018 | With Engineering's undergraduate enrolment expected to jump more than 25 per cent in the next couple of years, the timing could not be better to break ground on a new building. With the goal of enhancing teaching and learning spaces, a new 100,000-square-foot building is set to take shape this fall, connecting to the Spencer Engineering Building and Boundary Layer Wind Tunnel Laboratory (BLWTL), along Western Road. The BLWTL will remain, but office space will removed during construction. |
| University College Modernizaton | June 2018 | The current renovation project will include a major interior modernization and opening of more common space. The renovation will include complete replacement of electrical, plumbing and HVAC systems, The project will renovate approximately 117,534 sqft (almost all) of the existing University College Building. |
| Alumni Hall Renovation | August | Adjustments and updates to space in Alumni Hall to accommodate unit(s) moving from Thames Hall. |
| Althouse Courtyard Renovation | December 2018 | A 10,000 sq. ft. addition that will include a new classroom, meeting rooms and office space. Construction is underway and will be complete by the end of the year. |
| Western Student Recreation Centre Gymnasium Addition | October 2018 | Construction on a sixth gymnasium began in early April and will wrap up by the end of the year. The added space will create more flexibility and greater capacity for WRC programming. The site is located at the bend where Philip Aziz Drive and Huron Drive meet. |
| Thames Hall Renovation | 2020 | A major renovation to Thames Hall will provide updated space for the School of Kinesiology, general use classrooms and space, and house The Western Health and Wellness Centre. The project is located on the north-east corner of the Alumni Circle. Construction is slated to begin in early 2019, with units moving to temporary locations beginning August 2018. |
*Information has been updated
Feedback