The team that keeps Western humming over the holidays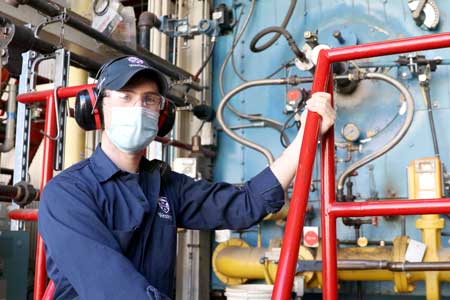 Stationary engineer, Liam Hand is scheduled for three 12-hour shifts in the Power Plant over the break, including Christmas Eve and New Year's Eve.
---
December 16, 2021
By Facilities Management Communications Staff
When the work of Western's Facilities Management (FM) operations team goes unnoticed, it's typically a good thing.
FM services support other departments on campus – including snow removal, electrical, structural, plumbing, steam supply and mechanical maintenance – and when they're done well, they produce seamless results.
As things quiet down over the next couple of weeks, Bryan Wakefield, director of operations, ensures that many of his team will continue to be on campus to monitor and protect Western's infrastructure and assets.
"To put it plainly, if our services were interrupted over the break, pipes would freeze, ventilation could deteriorate, and our roadways would be treacherous," said Wakefield. "There are some services we can put on pause and others we simply can't stop."
While you're away
One of these necessary services is heat in buildings, which are kept at a lower-than-normal temperature during the winter break. The power plant team provides a steady source of steam to most of the facilities on campus and to University Hospital, which also uses it for heat and to sterilize equipment. Plant operators rotate through a twelve-hour shift schedule that ensures at least one person is on-site all hours of the day.
Working hand-in-hand with the power plant staff is the Western environmental systems team, which further supports building automation and monitoring of air handling infrastructure and other critical systems. This team, along with FM's on-call trades, monitor building "health" and tend to in-person repairs as required.
Another, more visible, service is snow clearing. Wakefield notes the landscape services team is critical for freeing sidewalks and roadways from snow and ice accumulation. Though sparsely populated, there are still some people on campus, and Londoners continue to cut through these paths, requiring safe passage.
While landscape services handles most of the exterior requests, the vast majority of service calls – or call-ins – are directed to the two electrical and mechanical on-call trades for in-building issues. A rotation that includes two operations staff at a time can require several hours of work on campus – even on Christmas and New Year's days.
"We expect upwards of 50-plus call-ins over the holidays," said Wakefield. "Unfortunately, those calls can happen at any time."  
For these on-call staff, essential service calls don't stop during the holidays. Wakefield recalled one instance when the on-call electrician had to leave an otherwise relaxing Christmas day with the family to respond to an alert of a faulting panel in the medical precinct. He was called in to campus two more times that night and spent nearly a full work day on campus.
"That's tough and you can't help but feel for him, but it really speaks to the dedication and the importance of their work," said Wakefield.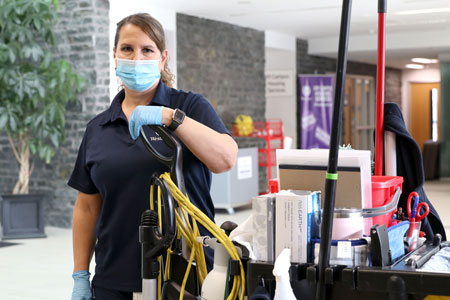 Caretaker, Belinda Couto will report to work at Ontario Hall Residence over the holidays to support the students remaining on campus.
---
Taking care of business
Chris Bumbacco, director of building services, has a small contingency of caretakers on campus. He said the nature of their work allows for a more scheduled approach and emergency call-ins are rarer than they are with Wakefield's operations team.
"Caretakers may be required to come to campus in the aftermath of a flood, for example, but it's not common," said Bumbacco.
Building services has a dozen employees on campus between the beginning and end of the academic break. With some scheduled in housing – mostly supporting international students in residence – and with Platt's Lane and University Apartments remaining occupied, caretakers continue selective cleaning and waste/recycling removal. Western Special Constable Services in Stevenson Hall and the power plant building also retain caretaking services. Most of the work completed by caretakers during this time is standard service, however, Bumbacco noted that there are two unique requests that are earmarked in the team's calendar.
"Through the break this year, the caretakers in the Law Building will be delivering exams right up to and including Dec. 23," said Bumbacco. "Also, in some apartments, we have people who may leave on the last day in December and our team could need to complete turnarounds for new occupants by the following day."
Bumbacco echoed Wakefield's comments and likened Facilities Management's work behind-the-scenes as "Western's soundtrack", which enhances the main action on campus.
"You often don't hear it when watching a movie, but you would definitely notice if it wasn't there," said Bumbacco.