Featured Award Recipient
Yolanda Hedberg: Wolfe-Western Fellow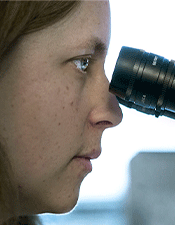 Of the seemingly infinite list of things to which people can be allergic, metals do not usually come to mind. After all, we hold railings and cook with utensils, and certainly have a hand or two on an electronic device at all moments of the day. But the entire periodic table of elements can cause allergic reactions, according to Yolanda Hedberg, professor in Western University's Department of Chemistry and Canada Research Chair in Corrosion Science. "About 35 per cent of the population is allergic to a metal," said Hedberg, who came to Western from KTH Royal Institute of Technology in Sweden in October 2020 to continue her ground-breaking work on humans' physiological reactions to metals, and has just been named the Wolfe-Western Fellow At-Large, an award acknowledging the work and promise of a young researcher and newly recruited faculty member. "Many common allergic reactions can be traced to cosmetics, toiletries, clothes and jewellery – all of which also contain metals, whether in small or large amounts," said Hedberg, who is studying how the human body can cause metal surfaces to corrode and how this morphing metal causes different reactions over time. Read the full story on Western News .
Canada Research Chairs
The Canada Research Chairs Program fund some of the world's most accomplished and promising minds. Meet the Canada Research Chairs at Western Science:
Peter Brown 
Research Focus: Dr. Peter Brown studies small bodies of the solar system with particular emphasis on meteors, meteorites, meteoroids, and asteroids answering basic questions about the origin and evolution of small bodies in the solar system.
Katsuichiro Goda 
Research Focus: Dr. Katsuichiro Goda is developing an integrated multi-hazard framework for enhancing disaster risk preparedness and management related to earthquakes. He and his research team will integrate a wide range of new, state-of-the-art hazard and risk models into a comprehensive methodology by considering uncertainty associated with predictions of hazards and risks. The resulting assessment tools will improve current practices related to preparing multi-hazard maps. They will also improve the ability of households, municipalities, and insurers to bear financial risks.
What do three things as diverse as medical implants, drinking water quality, and that metallic smell in the subway have in common? They are all influenced by the never-ending interface between metals and biomolecules, where physical, chemical and electrochemical reactions happen constantly and influence each other.
By understanding these materials and their reactions, we can make better use of them in areas like health care. Dr. Yolanda Hedberg, Canada Research Chair in Chemistry, aims to increase the safety and use of biomedical materials. She and her research team are doing this by predicting reaction mechanisms and rates at metal-bio interfaces, such as for metallic implant materials and metal nanoparticles used in medicine. In particular, they are trying to understand these metal devices' corrosion mechanisms, which depend on their composition, design and manufacture as well as on a patient's infection status.
Miko Karttunen 
Research Focus: Dr. Karttunen is developing reliable, quantitative, predictive and faster computer simulations capable of accurately modelling bio-based materials. He uses computational modelling to understand biomaterial properties, to demonstrate how bio-inspired materials interact with biological materials, like cell membranes, and uses simulations to inform the development of biocompatible materials for drug delivery.
Fred Longstaffe 
Research Focus: Dr. Fred Longstaffe's main focus is environmental chemistry and climate reconstructions of past environments. A recent advancement, however, has allowed his laboratory to expand into new research areas including the investigation of anthropological materials to examine past diet and agricultural practices, as well as the investigation of meteoritic material to better understand the building blocks of our solar system.
Stanimir Metchev
Research Focus: Stanimir Metchev's research is on planetary systems around nearby stars and on the atmospheres of brown dwarfs and exoplanets. He also uses the spectra of extrasolar planets to directly probe the physical extent of planetary systems and of the chemistry of exoplanetary atmospheres.
Natasha Mhatre
Research Focus: Interested in understanding how different animals, particularly invertebrates, perceive sounds and also vibrations. Natasha's research uses different experimental techniques like laser vibrometry and 3D uCT imaging, and couples them with physics and mechanics based modelling to understand how these two types of mechanosensory systems function.
Patrick O'Donoghue
Research Focus: The O'Donoghue lab investigates how proteome diversity, generated by either protein modification or mistranslation, impacts pathways to cancer and neurodegeneration. My lab established a leadership role in the area of genetic code expansion to investigate the role of disease-linked protein modifications. The lab engineers new methods to produce proteins with programmed modifications and elucidates their role in signaling pathways linked to disease. We recently developed novel fluorescent reporters to visualize errors in protein synthesis or mistranslation in live cells. The lab is now leading efforts to reveal the ability of naturally occurring transfer RNA (tRNA) mutants to induce proteome-wide mistranslation in models of neurodegenerative disease.
Over the past decade, the demand for transplant tissues and organs has greatly exceeded available donor organs. But tissue engineering and regeneration therapy are slowly becoming viable alternatives for clinicians, who may soon be able to replace injured tissues with living tissues designed and constructed to meet the specific needs of individual patients.
Dr. Arghya Paul, Canada Research Chair in Advanced Cell-instructive Materials and Biotherapeutics, is applying his expertise in bioactive nanomaterials and cellular engineering to design a new class of cell-instructive hydrogels (synthetic materials that can absorb large quantities of water or biological fluids). These hydrogels can be used to precisely control cell behaviour and 3D bioprint complex living tissue structures that can be implanted in our bodies.
By improving our understanding of how different materials influence cell behaviour at the cellular and molecular levels, Paul and his research team will shed light on how to design and develop new biomaterials for tissue engineering applications. In particular, his team uses acellular tissue components to engineer new hydrogels. Polymeric networks of these hydrogels are then reinforced with nanoparticles to enhance their structural stability and printability, and to introduce specific functions.
Manufacturing custom-made living tissues for musculoskeletal disorders is one of several applications Paul's team is currently investigating. Ultimately, Paul's innovative research will advance the field of regenerative tissue engineering and pave the way to developing fully personalized tissue implants for patients who need organ transplant or tissue replacement.
Christian Bravo Roman
Research Focus: Credit Scoring,  Artificial Intelligence,  Profit-driven Analytics .
TK Sham
Research Focus:  Experimental and theoretical investigation of the electronic structure of matter and its interplay with materials properties, materials performance in a designed functionality, and spectroscopy. Emphasis is placed on nanomaterials in general and energy materials and nanocarrier for drug delivery in particular. Major ongoing thrusts are (1) synthesis, assembly and characterization of nanomaterials and composites; (2) development and applications of synchrotron capabilities at the  Canadian Light Source , a national facility in Saskatoon, and the  Advanced Photon Source  at Argonne National Laboratory. A detailed description of research areas can be found at the research group homepage.
Grace Yi
Research Focus: With the rapid advancement of technology in acquiring data, large data sets are becoming more accessible than ever before. However, the quality and complexity of data make it challenging to extract useful information for sensible decision-making. Yi's work addresses these issues in an effort to generate valid, evidence-based results. This research aims to develop novel and flexible modeling, estimation, and learning tools to handle multi-dimensional data that has measurement error and missing observations. Through innovative methodology, this research targets to advance foundational work that leads to scientific applications in public health, medical studies, and data science.
Previous Industrial Research Chairs Listing

| | | |
| --- | --- | --- |
| Name | Project | Dates Active |
| Atkinson, Gail | NSERC Industrial Research Chair in Hazards from Induced Seismicity | 2014-2018 |
| Banerjee, Neil | NSERC/Yamana Gold Inc. Industrial Research Chair in advanced Mineral Exploration | 2015-2020 |
| Chronik, Blaine | NSERC/Synaptive Medical Inc. Industrial Research Chair in Magnetic Resonance Systems Development | 2015-2020 |
| Mitchell, Ian | NSERC/AECL Industrial Research Chairs in Surface and Materials Science | 1991-1996 |
| Norton, Peter | NSERC/AECL Industrial Research Chair in Surface and Materials Science | 1991-1996 |
| Osinski, Gordon | NSERC/MDA/CSA Industrial Research Chair in Planetary Geology | 2010-2015 |
| Osinski, Gordon | NSERC/MDA/CSA/CEMI Industrial Research Chair in Earth and Space Exploration | 2015-2020 |
| Shoesmith, David | NSERC Industrial Research Chair in Nuclear fuel and waste container corrosion processes under permanent waste disposal conditions | 2000-2005 |
| Shoesmith, David | NSERC/Ontario Power Generation Industrial Research Chair in Nuclear Fuel and Waste Container Corrosion under Waste Disposal Management Conditions | 2005-2010 |
| Shoesmith, David | NSERC/Nuclear Waste Management Organization Industrial Research Chair in Nuclear Fuel and Waste Container Corrosion under Waste Disposal Management Conditions | 2010-2015 |
| Tiampo, Kristy | NSERC/Benfield/ICLR Industrial research Chair in Earthquake Hazard Assessment | 2006-2011 |
| Wren, Clara | NSERC/AECL Industrial Research Chair in Radiation Induced Chemical Processes in Nuclear Reactor Environments | 2005-2015 |
| Wren, Clara | NSERC/NWMO/UNENE Industrial Research Chair in Radiation Induced Corrosion | 2015-2020 |
Faculty of Science Distinguished Research Professorship
Distinguished Research Professorship - 1980s

| | | |
| --- | --- | --- |
| Date | Recipient | Department |
| 1987 | J.D. Landstreet | Astronomy |
| 1987 | V.P. Snaith | Mathematics |
| 1987 | D.B. Walden | Plant Sciences |
| 1988 | R.J. Puddephatt | Chemistry |
| 1988 | R.F. Mereu | Geophysics |
| 1989 | B.G. Atkinson | Zoology |
| 1989 | F.J. Longstaffe | Geology |
Distinguished Research Professorship - 1990s

| | | |
| --- | --- | --- |
| Date | Recipient | Department |
| 1990 | J.M. Marlborough | Astronomy |
| 1990 | G.M. Kidder | Zoology |
| 1991 | W.J. Meath | Chemistry |
| 1991 | R.B. Podesta | Zoology |
| 1992 | S. Caveney | Zoology |
| 1992 | P.J. Schultz | Physics |
| 1993 | N.P.A. Huner | Plant Sciences |
| 1993 | J.F. Jardine | Mathematics |
| 1994 | H. Jüngensen | Computer Science |
| 1995 | W.K. Hocking | Physics |
| 1995 | A.C. Weedon | Chemistry |
| 1996 | G.M. Bancroft | Chemistry |
| 1997 | V.W. Elias | Applied Mathematics |
| 1998 | X. Wu | Computer Science |
| 1999 | R.M. Corless | Applied Mathematics |
Distinguished Research Professorship - 2000s

| | | |
| --- | --- | --- |
| Date | Recipient | Department |
| 2000 | C.D Ankney | Zoology |
| 2001 | N.O. Petersen | Chemistry |
| 2001 | H.W. Nesbitt | Earth Sciences |
| 2002 | P.R. Norton | Chemistry |
| 2002 | S. Watt | Computer Science |
| 2003 | S.M. Singh | Biology |
| 2003 | J.P. Guthrie | Chemistry |
| 2004 | D.W. Shoesmith | Chemistry |
| 2004 | J. Mináč | Mathematics |
| 2005 | V.A. Miransky | Applied Mathematics |
| 2005 | T.K. Sham | Chemistry |
| 2006 | M.A. Lachance | Biology |
| 2007 | J.S. Millar | Biology |
| 2007 | J.D. Christensen | Mathematics |
| 2008 | R. Lipson | Chemistry |
| 2009 | M. Karttunen | Applied Mathematics |
Distinguished Research Professorship - 2010s
Date
Recipient
Department
2010
H.-B. Kraatz
Chemistry
2011
Xingfu Zou
Applied Mathematics
2012
Chris Guglielmo
Biology
2013
Peter Brown
Physics & Astronomy
2013
Irena Creed
Biology
2014
Blaine Chronik
Physics & Astronomy
2014
Charles Ling
Computer Science
2014
Yuri Boykov
Computer Science
2014
Zhifeng Ding
Chemistry
2015
Charles Trick
Biology
2015
Clara Wren
Chemistry
2016
Lars Konermann
Chemistry
2016
Charles Ling
Chemistry
2017
Paul Ragogna
Chemistry
2018

Lianna Zanette 

Biology
2018
Joe 

Gilroy

Chemistry
2018

Rick Jardine

Mathematics
2018
Stan Metchev
Physics & Astronomy
2019
Zoe Lindo
Biology
2019
Jamie Noel
Chemistry
2019
Pauline Barmby
Physics & Astronomy
2019
Marcos Escobar
Statistical and Actuarial Sciences
Distinguished Research Professorship - 2020s

| | | |
| --- | --- | --- |
| Date | Recipient | Department |
| 2020 | Brent Sinclair | Biology |
| 2020 | Clara Wren | Chemistry |
| 2020 | Jamie Noel | Chemistry |
| 2020 | Sheri Molnar | Earth Sciences |
| 2020 | Jan Minac | Mathematics |
The Hellmuth Prizes for Achievement in Research
Hellmuth Prize Recipients in Science

| | | |
| --- | --- | --- |
| Year | Recipient | Department |
| 1998 | William S. Fyfe | Earth Sciences |
| 1999 | G. Michael Bancroft | Chemistry |
| 2000 | Richard J. Puddephatt | Chemistry |
| 2001 | Michael Locke | Biology |
| 2003 | Peter Norton | Chemistry |
| 2005 | Ian V. Mitchell | Physics and Astronomy |
| 2015 | Shiva Singh | Biology |
| 2017 | Tsun-Kong Sham | Chemistry |
| 2018 | Gail Atkinson  | Earth Sciences |
| 2020 | Jeremy McNeil | Biology |
Distinguished University Professors
Distinguished University Professors in Science - 2005 - 2015

| | | |
| --- | --- | --- |
| Year | Recipient | Department |
| 2005 | Fred J. Longstaffe | Earth Sciences |
| 2005 | Richard J. Puddephatt | Chemistry |
| 2006 | Shiva M. Singh | Biology |
| 2006 | Robert M. Corless | Applied Mathematics |
| 2008 | Richard Kane | Mathematics |
| 2011 | Stephen Watt | Computer Sciences |
| 2014 | Jeremy McNeil | Biology |
| 2015 | Tsun-Kong Sham | Chemistry |
| 2021 | Kim Baines | Chemistry |
Faculty Scholars
Faculty Scholars - 2000 - 2015

| | | |
| --- | --- | --- |
| Year | Recipient | Department |
| 2005 | Matthew Davison | Applied Mathematics |
| 2005 | Richard Secco | Earth Sciences |
| 2005 | Mark Workentin | Chemistry |
| 2006 | John Corrigan | Chemistry |
| 2006 | Hanan Lutfiyya | Computer Science |
| 2007 | Shantanu Basu | Physics and Astronomy |
| 2007 | David Eaton | Earth Sciences |
| 2008 | Daniel Christensen | Mathematics/ Applied Mathematics |
| 2008 | Michael Kerr | Chemistry |
| 2008 | Mark Muser | Applied Mathematics/ Physics and Astronomy |
| 2008 | Bryan Neff | Biology |
| 2009 | Lucian Ilie | Computer Science |
| 2010 | Robert Hudson | Chemistry |
| 2010 | Heinz-Bernhard Kraatz | Chemistry |
| 2010 | David Riley | Mathematics |
| 2010 | Eugene Wong | Physics and Astronomy |
| 2011 | Kristy Tiampo | Earth Sciences |
| 2012 | Jan Cami | Physics and Astronomy |
| 2012 | Christopher Guglielmo | Biology |
| 2012 | Paul Ragogna | Chemistry |
| 2012 | Robert Solis-Oba | Computer Science |
| 2013 | Brent Sinclair | Biology |
| 2014 | Masoud Khalkhali | Mathematics |
| 2014 | Desmond Moser | Earth Sciences |
| 2014 | Paul Wiegert | Physics and Astronomy |
| 2015 | Zhifeng Ding | Chemistry |
| 2015 | Sean Shieh | Earth Sciences |
Faculty Scholars - 2015 - 2020

| | | |
| --- | --- | --- |
| Year | Recipient | Department |
| 2016 | Liana Zanette | Biology |
| 2016 | Victor Staroverov | Chemistry |
| 2016 | Sarah Gallagher | Physics & Astronomy |
| 2017 | Rogemar Mamon | Statistical & Actuarial Sciences |
| 2017 | Els Peeters | Physics & Astronomy |
| 2018 | Margaret Campbell-Brown | Physics & Astronomy |
| 2018 | Joseph Gilroy | Chemistry |
| 2018 | Gordon Osinski | Earth Sciences |
| 2019 | Lars Konermann | Chemistry |
| 2019 | Zoe Lindo | Biology |
| 2020 | Martin Houde | Physics & Astronomy |
| 2020 | Graham Denham | Mathematics |
| 2020 | David Smith | Biology |
| 2021 | Danielle Way | Biology |
| 2021 | Francois Lagugne-Labarthet | Chemistry |